Bernie Sanders Starts an Important Fight in the Democratic Party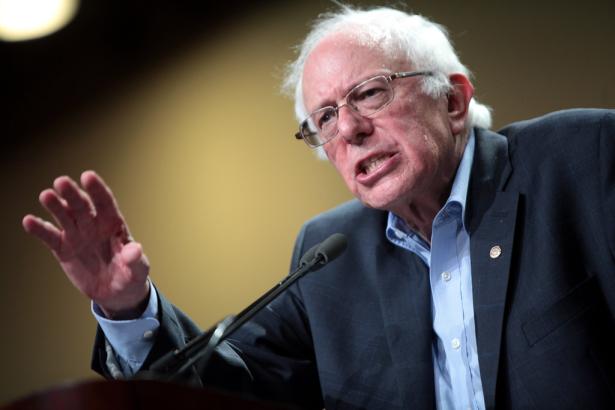 Bernie Sanders, Gage Skidmore (CC BY-SA 2.O)
In the wake of the terrorist attack by Hamas in October, in which roughly 1,200 Israelis were killed and hundreds taken hostage, the White House, along with a slew of American lawmakers, have highlighted the need to aid Israel. But some Democrats in Congress have raised concerns about the humanitarian need in Gaza, as Israel has embarked on a military campaign with the stated goal of eradicating Hamas, resulting in the deaths of more than 11,000 Palestinians, many of them children, according to the Health Ministry in Gaza. Meanwhile, the growing calls for either a cease-fire or a temporary pause in the conflict are mounting, amid growing backlash to Israel's response among younger Americans and Democratic voters.
On Saturday, Vermont Senator Bernie Sanders said in a statement that military aid to Israel should be conditioned on a "fundamental change in their military and political positions." Those conditions include "an end to the indiscriminate bombing which has taken thousands of civilian lives and a significant pause in military operations," allowing displaced Gazans to return to their homes, forbidding the "long-term Israeli re-occupation or blockade of Gaza," ending settler violence in the occupied West Bank and "a freeze on settlement expansion," as well as a renewed commitment to peace talks and a pursuit to a two-state solution to the decades-long conflict.
"While Israel has the right to go after Hamas, Netanyahu's right-wing extremist government does not have the right to wage almost total warfare against the Palestinian people," Sanders said, referring to Prime Minister Benjamin Netanyahu. Sanders, who is Jewish, had faced blowback from progressives for not explicitly supporting a cease-fire.
Sanders's fellow Vermonter, Representative Becca Balint, became the first Jewish member of Congress to endorse a cease-fire earlier this month, saying in an op-ed in VTDigger that "what is needed right now is an immediate break in violence to allow for a true negotiated cease-fire."
"Israel has a moral responsibility to ensure that civilians are protected at all costs, even in the midst of war," Balint wrote. "Even with Hamas operations intentionally embedded among civilians, Israel cannot bomb targets in densely populated areas. The United States must demand it."
Politico had reported last week that progressive Democrats in Congress are tentatively discussing conditioning military aid to Israel. However, support for these preliminary talks is far from universal, and the report earned almost immediate backlash from several Democrats.
"Conditioning aid to Israel will only have one outcome: it would help Hamas in their goal of completely annihilating Israel and the Jewish people. It would weaken America's national security and our fight against terror," Representative Josh Gottheimer said in a statement on Saturday. "Any legislation that conditions security aid to our key democratic ally, Israel, is a nonstarter and will lose scores of votes."
Democratic Representative Jared Moskowitz said on the social media site X that "if Bernie Sanders puts political requirements on the Aid to Israel, I will work in the House to remove those conditions or condition Aid to Gaza that requires the removal of Hamas." "Let's not play this game. Send the aid to both," Moskowitz wrote. Another Democrat, Representative Steny Hoyer, called the discussions "an irresponsible move."
Congress has yet to approve any aid to Israel; lawmakers are currently working on a package that would also include aid to Ukraine and revamp the nation's policies regarding the southern border. The House passed a stand-alone Israeli aid bill, but it was blocked in the Senate. It's unclear when a finalized aid package will be ready for a vote, making the prospect of aid to Israel ever more tenuous.
Some Democratic lawmakers have argued that respecting humanitarian needs is critical for Israel's global position. "I​​n order to maintain international support, they have to demonstrate that they are abiding by the Geneva Conventions and our basic expectations," Senator Brian Schatz told me earlier this month.
Indeed, while the U.S. continues to be a staunch supporter of Israel, there are growing international calls for a cessation in hostilities. On Wednesday, the United Nations Security Council voted in favor of a resolution calling for pauses in the conflict to allow for humanitarian aid to be brought to Gaza, although the U.S., the United Kingdom, and Russia abstained on the measure. Last month, 120 countries voted in favor of a resolution calling for a "humanitarian truce" to the war. The U.S. was one of 14 countries to vote against the truce, and 45 other countries abstained.
"There's more and more of us who can't ignore the reality that Israel does not have a plan," Democratic Senator Peter Welch of Vermont told Punchbowl News over the weekend. Although the need for humanitarian aid is clear, Welch added, "the best humanitarian aid is to have a war plan that doesn't create such a humanitarian catastrophe."
The White House has been left to toe a delicate line in recent weeks. When asked whether the U.S. was violating the so-called "Leahy law," which prohibits providing aid to governments committing human rights abuses, a White House official demurred, in a Sunday interview with CBS's Face the Nation.
"I'm not going to get into legal determinations in public," said White House principal deputy national security adviser Jon Finer. However, Finer added that while Israel has the right to "embark on combat operations" in southern Gaza, the White House has "a real concern" about the hundreds of thousands of Gazans that have fled to the south at Israel's behest.
"We think that their operations should not go forward until those people—those additional civilians—have been accounted for in their military planning," Finer continued.
Recent polling has shown a growing generational divide in opinion of the war. A Quinnipiac poll published last week showed that while 54 percent of voters overall say their sympathies lie more with Israel than with Palestine, 52 percent of voters between the ages of 18 and 34 say their sympathies lie more with Palestinians. Sixty percent of Democrats disapprove of Israel's response to the October 7 attack by Hamas, along with 66 percent of voters between the ages of 18 and 34.
The news is also grim for Biden, as a new poll by NBC News shows that majorities of voters in all parties disapprove of his handling of foreign policy and the Israel-Hamas war. The survey showed that 70 percent of voters between the ages of 18 and 34 disapproved of his handling of the war. As young voters will be critical to his electoral chances in 2024, these figures arrive at an inopportune time for the president.
Earlier this month, a coalition of groups dedicated to mobilizing young, progressive voters sent an open letter to Biden warning that his response to the Israel-Hamas war could demotivate Millennials and Gen Zers.
"We write to you to issue a very stark and unmistakable warning: you and your Administration's stance on Gaza risks millions of young voters staying home or voting third party next year," the letter said. "Young people are a cornerstone of a winning Democratic coalition, and the vast majority of young people in this country are rightfully horrified by the atrocities committed with our tax dollars, with your support, and our nation's military backing."
Grace Segers @Grace_Segers is a staff writer at The New Republic.
Support fierce, independent journalism. Subscribe to The New Republic today!