labor
The Hero Teachers of Newtown; Teachers Are First Responders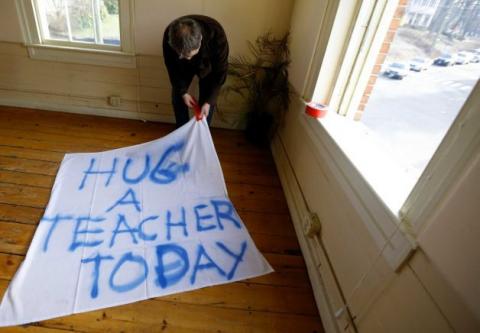 Gary Seri, general manager at the Stone River Grille, prepares to hang a message written on a table cloth in honour of the teachers who died at Sandy Hook Elementary School. Picture: AP Source: AP,Source: AP
by Diane Ravitch
December 17, 2012 
This much is clear: the teachers and staff at the Sandy Hook Elementary School reacted with astonishing courage to the unthinkable, the terrifying intrusion of a man intent on murdering them and their students. With no thought of their own safety, they defended their children..
Everyone of them is a hero, those who died and those who survived.
Six of them died protecting the children.
We don't know the names of the survivors, but we know who made the ultimate sacrifice. For their courage and selflessness, they are heroes of American education.
The principal, Dawn Hochsprung, 47, and the school psychologist, Mary Sherlach, 52, ran towards the intruder to try to stop him. They both were killed.
The killer went in search of defenseless babies and teachers. The teachers heard the gunfire, tried to hide their children, hid them in closets and cabinets.
Vicki Soto, 27, put herself between the killer and her children. He killed her. Somehow some of them escaped. Six ran to a nearby house. They told the surprised homeowner,, "We can't go back to our school. Our teacher is dead. We don't have a teacher."
Anne Marie Murphy, 52, was a special education teacher who was devoted to the children she taught. When her body was found, little Dylan Hockley was in her arms.
Rachel D'Avino was a new teacher, who was getting her doctorate in special education. She was a behavioral analyst. Her boyfriend planned to ask her to marry him during the Christmas holiday. Like the other teachers, she died shielding students.
Lauren Rousseau, 30, had joined the faculty in November. She was thrilled. All her life, her mother later said, she wanted to be a teacher.
Every one of the teachers was a career educator. Every one was doing exactly what she wanted to do. they've worked in a school that was not obsessed with testing but with the needs of children. This we know: the staff at Sandy Hook loved their students. They put their students first, even before their own lives.
Oh, and one other thing, all these dedicated teachers belonged to a union. The senior teachers had tenure, despite the fact that "reformers" (led by ConnCAN, StudentsFirst, and hedge fund managers) did their best last spring to diminish their tenure and to tie their evaluations to test scores. Governor Malloy said, memorably, to his shame, that teachers get tenure just for showing up. No one at Sandy Hook was just "showing up."
Governor Dannell Malloy has led the effort in his state to expand charter schools and high-stakes testing. He appointed a state commissioner of education who co-founded a charter chain. He said, memorably, that he didn't care how much test prep there was so long as scores go up. Sandy Hook is not that kind of school.
Let us hope Governor Malloy learned something these past few days about the role of public schools in their communities.
Newtown does not need a charter school. What it needs now is healing. Not competition, not division, but a community coming together to help one another. Together. Not competing.
[
About Diane Ravitch... http://dianeravitch.net/about/ "My website is dianeravitch.com. I am a historian of education and Research Professor of Education at New York University. I was born in Houston, Texas, attended the Houston public schools from kindergarten through high school, and graduated from Wellesley College in 1960. I received my Ph.D. in the history of American education in 1975. I am the mother of two sons. They went to private schools in New York City. I have three grandsons: two went to religious schools and the third goes to public school in New York City. I live in Brooklyn, New York.
]
By Deborah Dunton
December 18, 2012 
After the unspeakable horror that occurred in Newtown, Conn., a few days ago, we were reminded that the first first responders at schools are the administrators, paraprofessionals and teachers.
All at Sandy Hook Elementary School displayed courage. They did their jobs.
The teachers acted instinctively to shield, hide and ultimately to save most of their students, with the heartbreaking exception of 20. The bravery, compassion and love with which these teachers acted came from their hearts and souls. It emanated also from their dedication and commitment to the children and families with whom they live every day for 182 days of the year. These children became their kids, too.
Yet these same teachers are members of a profession that is increasingly being attacked for what we don't do, for how much money we make, for how powerful some of our unions have come to be. After the dreadful tragedy in Newtown, it is time to reestablish our faith in our nation's teachers.
We need to remind ourselves why teachers do what they do, how they care for our children, how they are co-guarantors, along with parents, of our future. Far beyond instruction, fidelity to curriculum, Common Core State Standards and the like are the daily challenges of teaching children who come to school with a limitless supply of problems and struggles.
It is true that we teach because we want children to learn, grow and succeed in this tough world. But there is so much more that we do.
We dry tears.
We try to keep sleep-deprived students alert enough to keep their heads off their desks.
We hug and hold students who have experienced a death in the family, a drug overdose, the incarceration of a parent or sibling, a shooting in the neighborhood, physical or sexual abuse, the emotional trauma of their parents' separations and divorces, abandonment.
We comfort students who are pregnant or seriously ill.
We purchase and distribute clothes (including socks and underwear), books, food, even beds, so that our students will have one less worry to distract them from learning.
We hand out stickers, trinkets, candies and treats.
We break up fights, mediate conflicts and mentor curious and creative children.
Frequently, we are the first to recognize signs of mental illness.
Every day at school, we are the first first responders.
The press, public, legislators, government officials and those ever-important tests often seem to reduce teaching to standardized exams, using test data to drive instruction and then judging teachers based on how their students performed on one test on one day. It doesn't matter if students have a bad morning, or were exhausted, or had a family crisis the night before or couldn't read the test because of a learning disability.
Add to the mix a never-ending deluge of student surveys of teachers, often unreasonable demands from parents and performance appraisals from subjective principals and other administrators. This significantly hampers our ability to do all the things we need to do to help our students focus on learning. And, evidently, after all of that, we still fall short.
We absolutely do need to evaluate teachers' performance. The task of finding an equitable, objective way to identify the ineffective, tired teachers and escort them out of the system is incredibly important. Identifying best practices and instituting them in the schools needing assistance and support is an urgent undertaking. Addressing racial achievement gaps and their underlying causes, as well as equity issues in inner city schools, districts and communities across this land is long overdue.
But at its core, teaching still has to be about the relationships and connections we make with our students. That is the pathway to tolerance, respect, achievement and professionalism.
I don't know one teacher at Sandy Creek Elementary School in Newtown, but I would bet my bottom dollar that they are the kind of teachers with whom I have taught for most of my nearly 30 years in the field. Their love for and commitment to their students' safety and well-being brought a response that was swift, wise and loving when their students were endangered. They were the first first responders.
A few weeks back, one of my favorite students invited me to lunch and paid for it with some Pizza Hut coupons she had earned from reading books. As we sat together in my classroom, munching pizza and sipping water, she looked at me and said that this was the best day of her life and that she loved me. I would be her first first responder in a heartbeat.
[Deborah Dunton is a special education teacher at Pittsburgh Greenfield K-8 and lives in Highland Park.]