Israel admits it was holding Prisoner X after court eases gagging order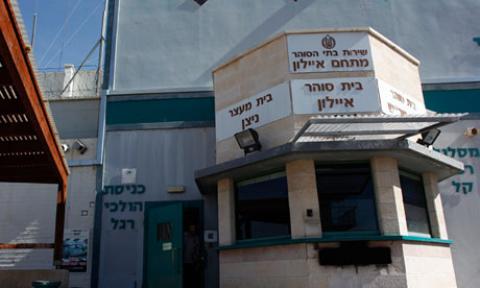 Ayalon prison in Ramle near Tel Aviv, where 'Prisoner X' killed himself in 2010. , Photograph: Nir Elias/Reuters
In the midst of an escalating international row with Australia, the Israeli government has been forced to admit that it secretly imprisoned a "dual-nationality" citizen – known as "Prisoner X" – who subsequently killed himself while being detained in Ayalon prison.
Prisoner X has widely been reported as being 34-year-old Ben Zygier, who had both Australian and Israeli citizenship and has been described as an agent of Israel's external intelligence agency, the Mossad, who was arrested in Israel in 2010 on serious but unspecified charges.
The information was released after a draconian gag order preventing reporting of the case in Israel was partially lifted by a court on Wednesday evening after media and political pressure.
According to reports earlier in the week, Zygier had been held in circumstances of such secrecy and isolation that even his prison guards did not know his identity or alleged offence.
The document released admitted that an inmate was registered under a false identity "for security reasons", but added that his family in Australia – who have refused to comment on the case – were notified immediately upon his arrest.
It added that the secret detention of Prisoner X was authorised by the most senior officials in Israel's justice ministry.
It added that the prisoner – referred to as "John Doe" – had been represented by three Israeli lawyers but did not make clear either the charge he was faced or whether the lawyers were appointed by the state in secret.
Israel's belated admission of the existence of Prisoner X follows a two-year effort to gag any media reporting about the controversial case which saw the office of Israel's prime minister, Binyamin Netanyahu, threaten editors with fines or jail if they disclosed details about the case earlier this week.
That effort backfired as Israel faced a deluge of embarrassing revelations about the case which appeared to expose the detailed workings of its overseas intelligence agency in the most graphic detail, as well as the growing irritation of Israel's allies over the Mossad's behaviour.
The disclosure came at the end of a day of extraordinary new details about the alleged double life of Zygier. It emerged that Zygier had been confronted shortly before his arrest by Australian journalist Jason Koutsoukis of Fairfax newspapers, who accused him of being a spy.
Koutsoukis told the Guardian Zygier had been identified to him as one of three Australian-Israeli citizens working for the Mossad under the cover of a European front company that sold electronic equipment to Iran.
He also said Zygier was under investigation by the Australian intelligence services and was close to being arrested for using his Australian passport for espionage.
As the scandal over Zygier's treatment and suicide in Israel's Ayalon prison continued to grow, the Australian government was forced to admit that Israeli officials had briefed Australian diplomats over the case.
Australian foreign minister, Bob Carr, said a review would be conducted of his department's handling of the prisoner, who was found hanged in an Israeli prison cell in 2010.
In Israel, meanwhile, the media was on Wednesday able to report parts of the story for the first time after the government partially lifted its ban on reporting any details of Zygier's imprisonment, imposed by an Israeli court after his arrest.
The case has triggered demands by Israeli opposition politicians, human rights groups and sections of the media for Netanyahu's government to supply more information about his imprisonment and death, and to reform its antiquated and authoritarian military censorship rules.
Zygier, who was married to an Israeli and had two young children, was found hanged in his cell in late 2010. His body was flown to Melbourne for burial the following week.
While the case remains murky, the new revelations will be deeply embarrassing to the Mossad, not least because they shed new light on how the Israeli spy agency acquires cover identities for agents.
In the last three years the Mossad department charged with providing cover identities has been caught out in a series of high-profile bungles as it has been found to have been improperly using foreign passports for its operations.
According to Australian media reports, Zygier had applied for Australian passports using three identities over the years – those of Ben Alon, Ben Allen and Benjamin Burrows.
It is still not clear whether he was actively working for the Mossad, or whether he simply acquired passports for the spy agency to use in its overseas operations.
There has also been no official explanation from Israel for why Zygier was secretly imprisoned without trial, and information on his case ruthlessly suppressed. But speculation is growing that he may have offered to provide information to a foreign power.
Zygier, known as Benji, was approached by Koutsoukis shortly before his arrest in 2010 and asked whether he was an Israeli spy after being accused of travelling back to Australia to change his name and obtain a new Australian passport.
At the time Zygier said: "I have never been to any of those countries that you say I have been to, I am not involved in any kind of spying. That is ridiculous."
In recent years the issue of the Mossad operations involving citizens of friendly nations and use of passports of allies has become a source of serious friction with governments usually friendly with Israel.
"There are informal rules," said one person familiar with intelligence co-operation arrangements. "You inform your allies if you want to speak to someone or do something. There is a feeling the Israelis don't play by the rules."
The Mossad's use of foreign passports led to an international storm not long before Zygier's secret arrest and detention when it was revealed that the spy agency had used almost a dozen such passports in its assassination of Hamas's Mahmoud al-Mabhouh, in a Dubai hotel, in January 2010.
In seven cases it turned out that the passports used were in the name of Jews who had moved to Israel from Britain and Germany and had no knowledge someone using their identity had visited Dubai.
In a further deeply embarrassing development for the Canberra government, Carr was forced to revise his claims that the Australian embassy in Tel Aviv knew nothing of the case until after Zygier died when his family, a prominent Jewish family in Melbourne, asked for his body to be repatriated.
Carr's office now admits an Australian diplomat (not the ambassador) was aware Zygier was being held.
The case has provoked a host of unanswered questions, as Zygier's family and friends in Australia remained tight-lipped about the circumstances of his death, refusing to discuss the case with the media.