labor
Low Pay at Weight Watchers Stirs Protest as Stars Rake It In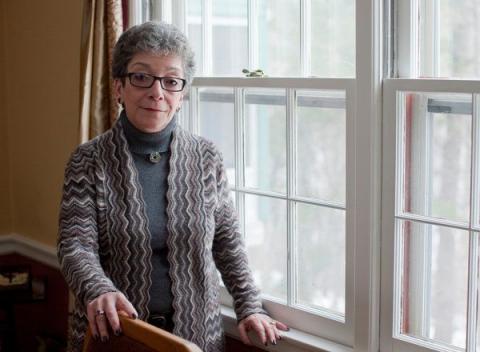 Teri Weatherby, a group leader in Hartford, says the company uses the leaders' commitment to the work to exploit them., Wendy Carlson
Tammy Williams became a Weight Watchers leader in Texas five years ago after losing 97 pounds in the program. The supplies that she handles fill a bedroom in her home, and she holds four meetings a week advising more than a hundred customers about the diet regimen.
The problem, Ms. Williams said, is that she works so many hours and is paid so little. "They know my love for the program, but I can't say we're treated right," she said. "We are professionals, we have to dress nice, but we are paid less than kids who work at McDonald's."
As the highly competitive weight-loss industry continues to suffer from the sluggish economy — Weight Watchers reported a 15.6 percent decline in earnings last year — hundreds of its rank-and-file workers are waging an open rebellion that management is scrambling to address.

This frustration reflects a growing discontent among low-wage workers, as seen in the recent protests at dozens of Walmarts, at high-end retailers in Chicago and at fast-food restaurants in New York. Low-wage workers have become more assertive out of dismay that while corporate profits have rebounded to record levels since the recession, wages have floundered.
Many also feel trapped as the gap between haves and have-nots has widened. Some employees at Weight Watchers expressed irritation at being paid the minimum wage while the company lavishes millions of dollars on celebrities like Jessica Simpson and Jennifer Hudson to advertise its weight-loss program.
Executives at Weight Watchers say they are paying attention to their employees' concerns, and have hinted they will increase compensation.
The company's chief executive, David Kirchhoff, wrote to employees earlier this month, saying, "One of our top priorities is to improve your working life at Weight Watchers, and in particular, the way we reward you for the incredible work you do."
Employees — many of them leaders like Ms. Williams who run meetings — have inundated an internal company Web site with complaints about poor wages and being pressured to work many hours unpaid.
Some leaders say that the $18 base rate for running meetings has not increased in more than a decade, and many complain that they receive no mileage reimbursement for the first 40 miles driven each day. Some also assert that a major reason Weight Watchers keeps its pay so paltry is that the overwhelming majority of its employees are women.
"We are not working for a charity or a nonprofit corp," one Weight Watchers leader posted on the Web site. "This is a multimillion-dollar company with enough cash to advertise relentlessly on TV, and pay celebrities tons of money to lose weight."
The restlessness over low pay extends across the weight-loss industry to Weight Watchers' rivals, including Jenny Craig and Nutrisystem. A pending lawsuit asserts that Jenny Craig's employees in New York State typically work through their lunch hour, but are not paid for that time — a claim the company denies. That comes after Weight Watchers reached a $6.2 million settlement two years ago to end a class-action lawsuit in California in which employees complained about minimum wage violations, off-the-clock work and receiving paychecks that did not explain how wages were calculated.
"People feel they did everything right. They're working hard, they have higher levels of education than ever before, and they find the job market is offering them a wage that they can't live on," said Janice R. Fine, a professor of employment relations at Rutgers University.
For Weight Watchers, one of the world's oldest and largest dieting companies, keeping its leaders happy is crucial to the company's future, because it relies on them to recruit and retain members through the nearly 50,000 face-to-face meetings the company runs each week worldwide.
The leaders, often highly educated professionals who were hired after losing dozens of pounds in the program, sometimes sound like religious disciples, so eager are they to help others lose weight.
But their disillusionment over compensation is not unique to their industry. Sharon H. Mastracci, an expert on women's employment at the University of Illinois at Chicago and author of "Breaking Out of the Pink-Collar Ghetto," said these complaints parallel those in other fields with mostly female workers, like child care and social work.
"It's a female-dominated job, it's in the service industry, and it's caring work," Professor Mastracci said of Weight Watchers. "Caring work is undervalued, and they're taking for granted that you care so much you're going to be there no matter what."
The appeals for higher pay come at a difficult time for Weight Watchers; its earnings slid last year to $257.4 million on slightly higher revenue of $1.83 billion. It forecasts lower earnings this year because of problems recruiting new members to its meetings. Members pay $42.95 a month on average to belong to the program.
Mr. Kirchhoff, who made $2.96 million in 2011 according to Forbes magazine, wrote that revamping the compensation system was complicated and would "require careful consideration." In a second note, last Wednesday, corporate leaders said they would begin online discussions with 80 employees about the "changes and enhancements" they are seeking.
Stacie Sherer, the company's communications director, said a large majority of employees earned "significantly more than minimum wage" for their meetings through sales commissions. She dismissed the notion that pay levels were low because most employees were female.
Kelley Brickfield, a leader in Tampa, also defended the company, saying she liked being able to increase her pay through sales commissions. She praised it for having a better benefits package than many other companies.
But Ms. Williams complained that she was paid just $7,600 last year for leading four meetings a week in Wichita Falls, Tex. She receives extra pay as a local coordinator and commissions for selling company products like recipe books, scales and smoothie mixes.
While the company pays for two and a half hours of work to run a meeting, Ms. Williams, who is planning to quit, said it could take three hours or more to set up chairs, weigh in members, give talks, sell products and clean up. (For meetings that attract 50 or 60 members, several leaders said that they received around $60 instead of the $18 base rate, and that receptionists for meetings received a base rate of $12 before commissions.)
Like many leaders, Ms. Williams said she worked many hours unpaid — ordering products, delivering them to meetings, counting and banking the money collected, and preparing her remarks for meetings.
"We're bankers, we're storehouses — it's unduly burdensome," said Patricia Sorlien, a Weight Watchers leader outside Seattle. "All of us are highly skilled or we wouldn't be leaders, yet for the most part we are paid the minimum wage."
Teri Weatherby began leading meetings in Hartford, Conn., after retiring from her job as an insurance company's senior vice president. "Other than the financial problems, it's probably the most rewarding thing I've ever done," she said. "That's what they prey upon. It's like an abusive relationship. You know you should leave, but you stay because you love it."