labor
Chamber, Labor Unions At Odds Over Guest Worker Program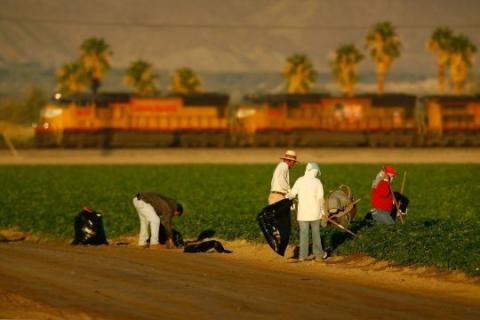 , David McNew/Getty Images
The U.S. Chamber of Commerce is pushing for 400,000 new visas for foreign workers, a demand that has been met with fierce resistance by labor unions and which could help derail an agreement between the two sides over an immigration reform bill being developed in Congress.
The AFL-CIO has countered with a far lower figure, starting at 10,000 visas, and the talks have stalled in recent weeks as the two sides have begun to talk less frequently, both sides said Friday. A bipartisan group of eight senators, which is expected to unveil a comprehensive overhaul of immigration laws next month, has taken the lead in trying to come to a compromise, business leaders said.
"It's been difficult. The next week and a half will tell the tale," said Randel Johnson, the chamber's vice president for labor, immigration and employee benefits. He put the odds of a deal between the chamber and AFL-CIO at a little better than 50-50.
A new guest worker program that would help set the terms for future flows of immigrants is among the major bargaining items among lawmakers, who have asked labor and business leaders to strike an agreement. Though the two sides issued a set of common principles two weeks ago, negotiations over the details have gotten bogged down.
That could be a problem for the Senate group, whose comprehensive bill is expected to serve as the template for an immigration deal between Congress and the White House. The Obama administration has supported the general principles of the group, composed of four Democrats and four Republicans.
Under the terms of the talks, a new guest worker program would create a system in which the number of foreign worker visas grows during periods of low unemployment, when some industries have trouble filling jobs with American workers. The number of visas would shrink when unemployment rises.
Concerns over a guest worker program provision helped sink a 2007 comprehensive immigration bill in the Senate, when lawmakers, including then-Senator Barack Obama, approved by one vote an amendment to phase out such a program after five years, angering the business community.
This go-round, lawmakers are looking to set caps on the number of visas, and that is among the chief areas of disagreement. Johnson acknowledged that the business community won't get as many as they are asking for, but he indicated that the AFL-CIO's bargaining position is far too low.
The labor union also is seeking a new federal bureau that would gather statistics on the economy to help set the visa caps each year, depending on regional and industry needs.
Jeff Hauser, an AFL-CIO spokesman, suggested that the chamber is trying to strengthen its negotiating position by taking its concerns public in the final weeks before the Senate produces a bill.
"They're trying to create drama around this thing," Hauser said. "The main thing is that they only have leverage now" before a bill is written.
Hauser added that the chamber has less leverage than it did six years ago because Republicans learned last fall that they need to expand their base among Latinos and Asians, who overwhelmingly supported Obama over GOP nominee Mitt Romney.
"The chamber is not needed to bring Republican votes to this," Hauser said. "In 2007, the entire theory of the [George W.] Bush reform effort was that they needed the business community to provide the muscle to overcome xenophobia in the Republican base."
The guest worker program would focus on foreigners in blue collar industries. Separately, the Senate group is considering ways to expand visas to high-tech workers from foreign countries.
Chamber officials said the senators are not considering increasing a cap of 140,000 visas in that category, but rather are likely to exempt some foreigners in certain fields, such as professors and researchers, to open up more slots for tech workers.