labor
Nearly 100 union backers arrested in protest of Cosmopolitan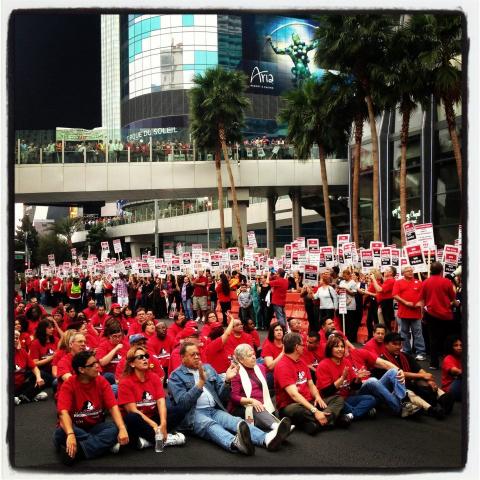 Workers blocked traffic for over an hour on the Las Vegas Strip, Bethany Khan
They sat in the middle of Las Vegas Boulevard and waited for the cops to throw them in jail.
But the nearly 100 members of the Culinary Union Local 226 were not quiet in their waiting, blocking traffic for an hour Wednesday evening and chanting a message for the decision-makers of the Cosmopolitan resort, where union employees have been working without a contract for two years.
"Cosmopolitan, look around, Las Vegas is a union town!" they yelled. "... No justice, no peace! ..."
The public act of civil disobedience represented a boiling point in a two-year saga of stalled contract negotiations between Cosmopolitan workers and resort owner Deutsche Bank.
On the Strip, a wave of more than 2,000 Culinary picketers flanked demonstrators to the left, while hundreds more loomed from an overpass above, watching with tourists as Metro Police wrapped protesters' wrists in zip ties and loaded them into a police bus.
When it was over, Metro Police had arrested 98 protesters, the last one around 6:10 p.m. Shortly after, picketers began to disperse as ordered by police, and traffic slowly began to move.
"I need to fight for my country," said Maria Mares, a 50-year-old housekeeper of the Riviera, before her arrest. "Cosmopolitan workers are not second-class citizens ... They need a contract."
Before stalling, negotiations included wages, health care costs and job security. Now, the resort is one of the few casinos on the Strip where employees work without a contract.
Cosmopolitan spokeswoman Amy Rossetti said the resort is "in ongoing negotiations with the unions to find a fair agreement."
Marcus Lucas, a 49-year-old Mirage worker who was arrested, said an agreement couldn't come soon enough for his friends at the Cosmopolitan.
"We're united here," Lucas said. "The Cosmopolitan wants to be a model on the Strip. We can't let that happen."
Union members earlier this year held two picket protests outside the casino. But some union members say it was only a matter of time before tensions turned to tactics again.
"This had to be done," said Brian Ward, a 52-year-old union member and bartender at the Flamingo. "It's not a case of anger or excitement — this just needed to happen."
As Ward walked away from Las Vegas Boulevard, the chants of protesters followed: "We'll be back," they yelled, "We'll be back!"