Update on Labor Fightback Conference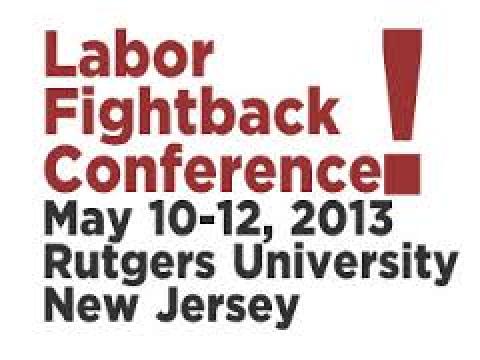 ,
Dear Sisters and Brothers:
Exciting plans are under way for the Labor Fightback Conference, to be held at the Rutgers University Student Center in New Brunswick, NJ, May 10–12, 2013. Those who attend will have a chance to participate in workshop discussions on Saturday, May 11. Everyone will be able to choose two of seven workshops; there will be two workshop sessions, with the same topics being held in each session.
Originally, we had scheduled a workshop discussion on "Protecting and Expanding Earned Benefits—No to Cuts in Social Security, Medicare, Medicaid and Other Safety Net Social Programs." After considering how important this topic is to virtually every family in the United States and how our earned benefits are being threatened by politicians of both major parties in Washington, we have decided to convert this workshop into a plenary session for everyone to attend. It will begin with presentations by Sandy Eaton of National Nurses United and Alan Benjamin of the San Francisco Labor Council. Mobilizing working people to defend our earned benefits and other social safety net programs is a central priority of the Labor Fightback Conference, and we expect to be talking about it a lot during the weekend.
The workshop discussions will cover an important array of specific topics, all of which are of vital importance to American working families. They will be (list of presenters still in formation):
·        Solidarity and the Fight to Protect Labor's Rights, with presentations by Jim Pope, Rutgers American Association of University Professors (American Federation of Teachers); Jerry Gordon, retired International Representative, United Food and Commercial Workers Union; Charity Schmidt, Co-President, University of Wisconsin–Madison Teachers Assistants' Association (TAA), Executive Board, South Central Federation of Labor, Wisconsin.
·        The Key to Labor Fightback: Building Labor/Community Coalitions and Mobilizing in the Streets, with presentations by Greg Coleridge, Director, Northeast Ohio American Friends Service Committee; Marién Casillas-Pabellón, New Labor union in New Jersey; Ron Whitehorne, [please give ID information]; and Lynne Turner, New Jersey State Industrial Union Council.
·        Guaranteeing Access to Quality Education: Yes to Defending Public Education and No to Privatization, featuring presentations by Shanell Williams, President, Associated Students of City College of San Francisco, Ocean Campus; Vickie O'Donnell, Savannah, Georgia, Federation of Teachers/Paraprofessionals and School Related Personnel; and Deb Cornovaca, New Jersey Education Association; and Sally Eberhardt, [please provide ID].
·        Labor's Stake in Organizing the South, featuring two United Electrical Workers organizers and founders of Black Workers for Justice: Saladin Muhammad and Ashaki Binta; additional presenters will be Brett A. Hulme, President, Savannah Regional Central Labor Council, Savannah, Georgia; Dante Strobino, also an organizer for the United Electrical Workers.
·        Immigrant Rights: a Working-Class Position on Deportations, Legalization, and a Path to Citizenship, with presentations by Nelson Carasquillo, Executive Director of El Comité de Apoyo a los Trabajadores Agrícolas (Committee of Support to Farm Workers) of Glassboro, New Jersey; Ed Rosario, Labor Council for Latin American Advancement—New York City Chapter (Executive Board), National Jobs for All Coalition—Continuations Committee; Yves Nibungco, National Chairperson, Anakbayan-USA; and Justin Flores, organizer, Farm Labor Organizing Committee.
·        Redirecting War Spending to Meet Human Needs: Stopping Unjust Wars and Occupations, Madelyn Hoffman, Executive Director, New Jersey Peace Action; Gene Bruskin, Co-Convenor, U.S. Labor Against the War; Kathy Black, Co-Convenor, Philadelphia Coalition of Labor Union Women; and Michael McPhearson, National Coordinator, United for Peace and Justice and former Executive Director of Veterans for Peace.
·        What Will It Take to Make Labor More Effective in the Electoral Arena? Donna Dewitt, retired President, South Carolina AFL-CIO; Bennet Zurofsky, General Counsel of the New Jersey State Industrial Union Council; and Millie Phillips, retired member, International Brotherhood of Electrical Workers Local 1245.
Plenary sessions on Friday and Saturday evenings will feature a full program of speakers and music by the New Jersey State Industrial Union Council's Solidarity Singers. A full list of the speakers, the conference schedule, and indeed all necessary information on the conference can be found at the website http://laborfightback.org/conference/.
We hope that you will find these plans as exciting and inspiring as we do; if you have not done so already, please send in the attached registration form and mailing same to P.O. Box 187, Flanders, NJ 07836, or you can register online at http://laborfightback.org/conference/registration.htm. We look forward to talking together at Rutgers to make plans to defend working people's rights and living standards in the months ahead.
Yours in solidarity,
Carol Gay
Chair of the Host Committee Planning the Rutgers Conference; Retired CWA Staff Representative; President, New Jersey State Industrial Union Council
Issued by the Labor Fightback Conference
For more information, please call 973-944-8975 or email conference@laborfightback.org or write Labor Fightback Conference, P.O. Box 187, Flanders, NJ  07836 or visit our website at http://laborfightback.org/conference/
Donations to help meet expenses for organizing the conference will be much appreciated. Please make checks payable to Labor Fightback Conference and mail to the above P.O. Box or you can make a contribution online. Thanks!