Is the Press Too Big to Fail? - It's Dumb Journalism, Stupid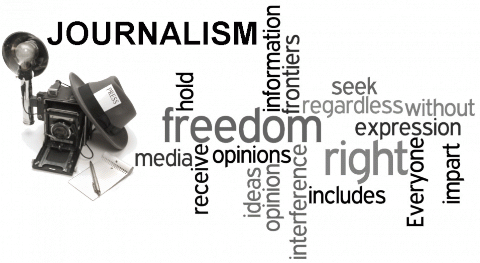 Teaching & Learning Center,
Everyone knows this story, though fewer and fewer read it on paper.  There are barely enough pages left to wrap fish.  The second paper in town has shut down.  Sometimes the daily delivers only three days a week.  Advertising long ago started fleeing to Craigslist and Internet points south.  Subscriptions are dwindling.  Online versions don't bring in much ad revenue.  Who can avoid the obvious, if little covered question: Is the press too big to fail?  Or was it failing long before it began to falter financially?
Don't be fooled, though, by any inflated talk about the early days of American journalism.  In the beginning, there was no Golden Age.  To be sure, a remark Thomas Jefferson made in 1787 is often quoted admiringly (especially in newspapers): "If it were left to decide whether we should have a government without newspapers or newspapers without a government, I should not hesitate for a moment to prefer the latter."
Protected by the First Amendment, however, the press of the early republic was unbridled, scurrilous, vicious, and flagrantly partisan.  In 1807, then-President Jefferson, with much more experience under his belt, wrote, "The man who never looks into a newspaper is better informed than he who reads them, inasmuch as he who knows nothing is nearer to truth than he whose mind is filled with falsehoods and errors."
If there was a Golden Age for the American press, it came in a two-decade period during the Cold War, when total per capita daily newspaper circulation kept rising, even as television scooped up eyeballs and eardrums.  Admittedly, most of the time, even then, elites in Washington or elsewhere enjoyed the journalistic glad hand.  Still, from 1954 to 1974, some watchdogs did bark. Civil rights coverage, for example, did help bring down white supremacy, while Vietnam and Watergate reportage helped topple two sitting presidents, Lyndon B. Johnson and Richard Nixon.
Of course, press watchdogs also licked the hands of the perpetrators when Washington overthrew democratic governments in Iran in 1953, Guatemala in 1954, and when it helped out in Chile in 1973.  As for Vietnam, it wasn't as simple a tale of journalistic triumph as we now imagine.  For years, in manifold ways, reporters deferred to official positions on the war's "progress," so much so that today their reports read like sheaves of Pentagon press releases.  Typically, all but one source quoted in New York Times coverage of the 1964 Tonkin Gulf incidents, which precipitated a major U.S. escalation of the war, were White House, Pentagon, and State Department officials (and they were lying).  In the war's early years, at least one network, NBC, even asked the Pentagon to institute censorship.
Start to finish, financial journalism was breathless about the market thrills that led to the 2007-2008 crash: the financialization of the global economy, the metastasis of derivatives, and especially the deregulation underway since the late 1970s that culminated in the 1999 congressional repeal of the 1933 Glass-Steagall Act (with President Bill Clinton blithely signing off on it).  That repeal paved the way for commercial and investment banks, as well as insurance companies, to merge into "too-big-to-fail" corporations, unleashed with low capital requirements and soon enough piled high with the potential for collapse.
A Proquest database search of all American newspapers during the calendar year 1999 reveals a grand total of two pieces warning that the repeal of Glass-Steagall was a mistake.  The first appeared in the Bangor Daily News of Maine, the second in the St. Petersburg Times of Florida. Count `em: two.
"A milestone in the deregulation effort came in the fall of 2000, when a lame-duck session of Congress passed a little-noticed piece of legislation called the Commodity Futures Modernization Act. The bill effectively kept much of the market for derivatives and other exotic instruments off-limits to agencies that regulate more conventional assets like stocks, bonds and futures contracts."
Meanwhile, thanks to that same financial press, a culture of celebrity enveloped the big names of finance: CEOs of major banks, Wall Street investors, operators of hedge funds.  They were repeatedly portrayed not just as fabulously successful tycoons doing their best for the society, but as fabulously giving philanthropists, their names engraved into the walls of university buildings, museums, symphony halls, and opera houses.  They weren't just bringers of liquidity to markets, but wise men, too.  In an all-enveloping media atmosphere in which the press indulged without a blink, they were held to be not only creators of wealth but moral exemplars.  Indeed, the two were essentially interchangeable: they were moral exemplars because they were creators of wealth.
Even now, when it comes to climate change, our gasping journalism does not "flood the zone."  It also has a remarkable record of bending over backward to prove its "objectivity" by turning piece after piece into a debate between a vast majority of scientists knowledgeable on the subject and a fringe of climate-change deniers and doubters.
"The Sunday shows spent less than 8 minutes on climate change...ABC's This Week covered it the most, at just over 5 minutes...NBC's Meet the Press covered it the least, in just one 6 second mention...Most of the politicians quoted were Republican presidential candidates, including Rick Santorum, who went unchallenged when he called global warming `junk science' on ABC's This Week. More than half of climate mentions on the Sunday shows were Republicans criticizing those who support efforts to address climate change... In four years, Sunday shows have not quoted a single scientist on climate change."
The rolling default in climate-change coverage cries out for the most serious professional self-scrutiny.  Will it do for journalists and editors to remain thoroughly tangled up in their own remarkably unquestioned assumptions about what constitutes news? It's long past time to reconsider some journalistic conventions: that to be newsworthy, events must be singular and dramatic (melting glaciers are held to be boring), must feature newsworthy figures (Al Gore is old news), and must be treated with balance (as in: some say the earth is spherical, others say it's flat).
If it is held unfair, or naïve, or both, to ask faltering news organizations to take up the slack left by our corrupt, self-dealing, shortsighted institutions, then it remains for start-up efforts to embarrass the established journals.
But tens of millions of readers still rely on the old media, either directly or via the snippets that stream through Google, Yahoo, and other aggregator sites.  Given the stakes, we dare not settle for nostalgia or restoration, or pray that the remedy is new technology.  Polishing up the old medals will not avail.  Reruns of His Girl Friday, All the President's Men, and Broadcast News may be entertaining, but it's more important to keep in mind that the good old days were not so good after all.  The press was never too great to fail.  Missing the story is a tradition.  So now the question is: Who is going to bring us the news of all the institutions, from City Hall to Congress, from Wall Street to the White House, that fail us?