Michigan: Largest Fast Food Strike Yet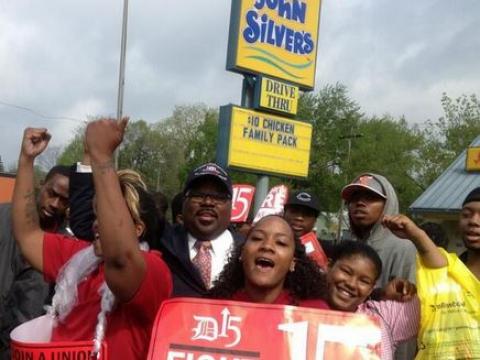 Fast food workers and Reverend Charles Williams II (center) picket a Long John Silver's in Detroit, Mich. on May 10, 2013. ,Photo courtesy of Suzette Hackney, D15 coalition.
Organizers estimate that as many as 400 workers at more than 60 fast food restaurants in the Detroit metro area walked off the job on Friday, in what may be the largest fast food strike in American history.
Leaders in the workers rights campaign said the strike has shut down multiple restaurants entirely, including multiple McDonald's outlets, a Long John Silver's, a Burger King, two Popeye's restaurants, and a KFC. At one McDonald's, management attempted to avert a shutdown by bringing in replacement workers—but those replacement workers then promptly joined the strike.
The strike in Detroit is the second major labor action to hit an American city's fast food industry this week: On Wednesday and Thursday, more than 100 workers in St. Louis walked off the job at roughly 30 different restaurants. These rolling walkouts followed similar actions in New York, central Pennsylvania, and Chicago. The fact that two strikes have now occurred in a single week—including, potentially, the biggest strike yet—suggests that the nationwide trend of labor unrest in the fast food industry is intensifying, not abating.

"[Detroit's striking fast food workers] are fired up and ready to continue to grow this movement, not just in Detroit and the state of Michigan, but across the country," said Reverend Charles Williams II, president of the Michigan chapter of the National Action Network. Williams is a leader in the D15 campaign, which advocates raising the minimum wage in Detroit to $15 an hour.
As in other fast food strikes, Detroit workers are demanding the right to form a union and that their base pay be raised to $15 an hour. But this strike takes place in the unique context of Michigan labor politics: Once an historic stronghold for the country's manufacturing unions, the the state now has "right-to-work" laws on the books and a Republican state government which is deeply hostile to organized labor. The Detroit strike is the first such action to occur within a right-to-work state.
Detroit is also the latest city to be put under emergency management by Republican Gov. Rick Snyder's administration. Under Michigan law, emergency managers (EMs) in cash-strapped cities and school districts have the power to overrule local authorities on virtually all policy matters, and the ability to unilaterally rewrite or nullify contracts with public sector unions. In other Michigan localities, EMs have used this power to lay off civil servants, privatize local industry, and force public sector unions to accept sharp wage and benefit cuts.
"The emergency management kind of sparked an anger here and a movement," said Pastor W.J. Rideout III, a leader in Detroit's Good Jobs Now coalition. That anger, and the local wave of protests against Snyder's policies, helped attempts to organize low-wage workers, he said.
While Detroit fast food workers have been in contact with the people behind similar fast food walkouts in other parts of the country, Williams described the Detroit strike as "organic."
"They've been wronged in so many ways, it really doesn't take much coaching to say, hey, we're going to organize together, we're going to stand up together," he said.
"There are 50,0000 plus fast food employees in the Detroit metro area … and they're not even giving them the proper amount of hours," said Rideout. "At 40 hours a week, they're making about $15,000 a year, and they're not even getting 40 hours a week." Instead, managers hire many employees on an exclusively part-time basis. "Some of them are getting between 15 and 20 hours a week, and that's barely enough to pay a cell phone bill."
There are now roughly twice as many fast food workers as auto industry employees in the Detroit area, according to the National Employment Law Project. Though America's manufacturing industry is making modest gains, the fast food industry is growing even faster. As it grows, labor unrest within the industry is likely to grow as well, roughly paralleling the flood of worker activism which struck Detroit and Michigan generations ago, when the auto industry occupied a similar position in the U.S. economy.
"You know how the civil rights movement had a long, hot summer?" said Williams. "We've got a long, hot summer planned in front of us, I think, to go and push this forward."