Indiana's Planned Parenthood appeal will not be heard in US supreme court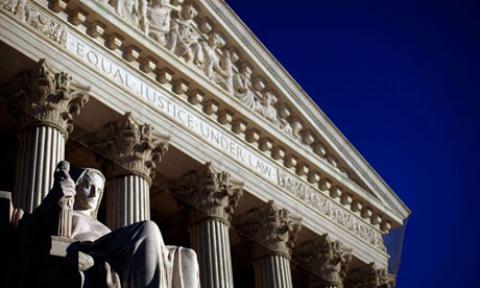 The US supreme court has declined to hear Indiana's appeal to stop Planned Parenthood receiving Medicaid funding for any medical services. , Win McNamee/Getty Images
The US supreme court has declined to hear an appeal from the state of Indiana to prevent Planned Parenthood, the country's largest reproductive healthcare provider, receiving Medicaid funding for any medical services.
The decision, which means low-income women in Indiana will continue to get basic reproductive healthcare, including screenings and contraception, from Planned Parenthood, is a major blow to anti-abortion activists and their long-running campaign to defund Planned Parenthood.
It leaves in place a lower court decision, which invalidated a 2011 Indiana law that would have banned all Medicaid funds to groups who perform abortions as part of their services.
Planned Parenthood's privately-funded abortion services represent around 3% of its caseload.
Betty Cockrum, president and CEO of Planned Parenthood of Indiana, said: "This has been a long fight, but one that has been worthwhile because we've been fighting on behalf of our patients and their access to life-saving, preventive care such as Pap tests, breast and testicular exams, birth control and STD testing and treatment.
"While the state has been trying to score political points and wasting taxpayer dollars, we've been standing up for the Hoosiers who count on us every day."
The Indiana law, HEA 1210, signed by then governor Mitch Daniels was initially challenged by the American Civil Liberties Union of Indiana, Planned Parenthood of Indiana and Planned Parenthood Action Fund.
Federal law already bans Medicaid funds, provided by the federal government for low-income patients, to pay for abortions in most cases, but the Indiana law blocked the state department of health from providing the funds to any group performing abortions, with the exception of hospitals and ambulatory surgical centres.
More than a dozen states have either enacted or attempted laws that bar Planned Parenthood from receiving any Medicaid payments for treating low-income women. But state-level attempts to do so have been blocked by federal courts in Arizona, Indiana, North Carolina, Kansas and Tennessee.
Cecile Richards, president of Planned Parenthood Action Fund, said: "Over and over again, courts have said that states cannot block people from getting preventive healthcare at Planned Parenthood, and the vast majority of the American public agrees. All women, no matter where they live, should be able to get quality, affordable healthcare from the healthcare provider they know and trust."
One in five women in the US has visited a Planned Parenthood centre at least once in her life, according to the organisation and its work focused on prevention. Each year, its clinics conduct 640,000 breast cancer screenings and 585,000 Pap tests for cervical cancer. They see 2 million patients annually for birth control purposes and 4.5 million to test for sexually transmitted diseases, such as HIV.
In Texas, the battle to defund Planned Parenthood is still being fought through the courts. In February 2012, Governor Rick Perry and the Texas Health and Human Services Commission implemented an "affiliate ban rule" that blocked Planned Parenthood from the Medicaid Women's Health Program.
The federal government told the state that it would not provide funding for a programme that restricted women's access to the health provider of their choice. But Texas officials refused to allow Planned Parenthood into the programme and the state lost federal funds.
The state is now running a wholly state-funded programme which excludes Planned Parenthood. Affiliates of the healthcare provider in Texas have asked the state courts to rule that it does not have the authority to do so, and the case continues.
In Oklahoma, efforts by Planned Parenthood to implement an injunction to stop the state department of health from ending its federally funded contract with centres in Oklahoma failed and the contracts expired in 2012.