White Supremacy Acquits George Zimmerman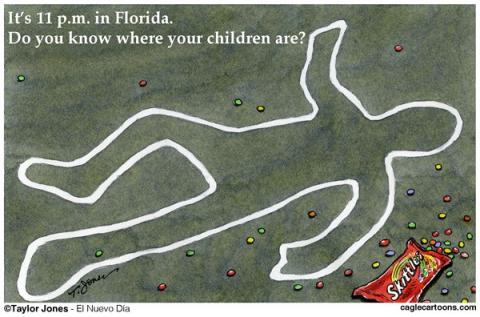 It's 11:00 p.m. in Florida. Do you know where your children are?,Taylor Jones/El Nuevo Dia
White Supremacy Acquits George Zimmerman
Aura Bogado
The Nation
July 14, 2013
http://www.thenation.com/blog/175260/white-supremacy-acquits-george-zimmerman#axzz2Z3dX8WtU
A jury has found George Zimmerman not guilty of all charges in connection to death of 17-year-old Trayvon Martin. But while the verdict came as a surprise to some people, it makes perfect sense to others. This verdict is a crystal-clear illustration of the way white supremacy operates in America.
Throughout the trial, the media repeatedly referred to an "all-woman jury" in that Seminole County courtroom, adding that most of them were mothers. That is true—but so is that five of the six jurors were white, and that is profoundly significant for cases like this one. We also know that the lone juror of color was seen apparently wiping a tear during the prosecution's rebuttal yesterday. But that tear didn't ultimately convince her or the white people on that jury that Zimmerman was guilty of anything. Not guilty. Not after stalking, shooting and killing a black child, a child that the defense insultingly argued was "armed with concrete."

In the last few days, Latinos in particular have spoken up again about Zimmerman's race, and the "white Hispanic" label especially, largely responding to social media users and mass media pundits who employed the term. Watching Zimmerman in the defense seat, his sister in the courtroom, and his mother on the stand, one can't deny the skin color that informs their experience. They are not white. Yet Zimmerman's apparent ideology—one that is suspicious of black men in his neighborhood, the "assholes who always get away—" is one that adheres to white supremacy. It was replicated in the courtroom by his defense, whose team tore away at Rachel Jeantel, questioning the young woman as if she was taking a Jim Crow–era literacy test. A defense that, during closing, cited slave-owning rapist Thomas Jefferson, played an animation for the jury based on erroneous assumptions, made racially coded accusations about Trayvon Martin emerging "out of the darkness," and had the audacity to compare the case of the killing of an unarmed black teenager to siblings arguing over which one stole a cookie.
When Zimmerman was acquitted today, it wasn't because he's a so-called white Hispanic. He's not. It's because he abides by the logic of white supremacy, and was supported by a defense team—and a swath of society—that supports the lingering idea that some black men must occasionally be killed with impunity in order to keep society-at-large safe.
Media on the left, right and center have been fanning the flames of fear-mongering, speculating that people—and black people especially—will take to the streets. That fear-mongering represents a deep white anxiety about black bodies on the streets, and echoes Zimmerman's fears: that black bodies on the street pose a public threat. But the real violence in those speculations, regardless of whether they prove to be true, is that it silences black anxiety. The anxiety that black men feel every time they walk outside the door—and the anxiety their loved ones feel for them as well. That white anxiety serves to conceal the real public threat: that a black man is killed every twenty-eight hours by a cop or vigilante.
People will take to the streets, and with good reason. They'll be there because they know that, yes, some people do always get away—and it tends to be those strapped with guns and the logic of white supremacy at their side.
The NAACP will seek the Department of Justice's intervention in the Zimmerman case. Read John Nichols's report.
Letter from Benjamin Todd Jealous
President and CEO
NAACP
A jury in Sanford, Florida has found George Zimmerman not guilty of murdering Trayvon Martin.
I know I am not alone in my outrage, anger, and heartbreak over this decision. When a teenager's life is taken in cold blood, and there is no accountability for the man who killed him, nothing seems right in the world, but we cannot let these emotions alone rule.
In these most challenging of times, we are called to act. There is work left to be done to achieve justice for Trayvon. The Department of Justice can still address the violation of Trayvon's most fundamental civil right — the right to life, and we are urging them to do so.
Sign our petition to the Department of Justice. Tell them to file civil rights charges against George Zimmerman.
We continue to grieve the loss of Trayvon with his parents, his family, and all who loved him. Do not forget what brought us to this day.
George Zimmerman was arrested and charged because we would not back down when he was initially released. The Sanford Police Chief was removed from his post because we voiced our disbelief that he would overrule his detectives and block George Zimmerman's arrest.
And, perhaps most importantly, not a single state has passed a "stand your ground" law in 2013 — the first time in eight years — because we refuse to let the memory of Trayvon fade from the hearts and minds of America.
So, now we have a choice: We can be felled by our sorrows over the jury's decision, or we can turn our frustration into action. We can demand the Department of Justice address the travesties of this tragedy. We can take a step forward in our efforts to finally end racial profiling in America once and for all. What will you do, Nancy?
For Trayvon Martin, for his family, and for all parents who suffer the horror of burying a child, sign our petition to the Department of Justice:
Sign our petition to the Department of Justice. Tell them to file civil rights charges against George Zimmerman.
Thank you,
Ben
Zimmerman and the Hunting of Black Folks
Bill Fletcher, Jr.
BillFletcherJr.com
July 14, 2013
http://billfletcherjr.com/2013/zimmerman-and-the-hunting-of-black-folks/
I received the news when i was getting ready to eat.
I was prepared, intellectually, for a not-guilty verdict.  I was not ready in my gut.
As a radical i am quite aware of the injustices that regularly and historically have happened to people of color and to the poor.  I am aware of how the system regularly justifies the murder of black people.
Yet i am nothing but sickened.  And sitting here listening to these so-called defense attorneys gloat over their victory and place the blame for Trayvon Martin's death on Trayvon is actually more than i can take.
This verdict is a verdict in favor of white fear.  We should all be clear about that.  This is a verdict that says that white people have every right to fear any and every black person and, if the law permits it, to act upon such fear.  I do not care whether Zimmerman is part Latino, he acted as a white man and that is certainly how he will be remembered.  Zimmerman looked at Trayvon through the eyes of a white man and assumed danger when no danger existed.
I just heard the attorneys asked what would have happened had the roles been reversed and one of the defense attorneys suggested that this would have never gone to trial and that this trial was manufactured by civil rights advocates.   Well, i will give you a very different answer.  Were an African American to shoot and kill a white youth who s/he believed was a threat there is little question but that such a person would be found guilty of something, assuming that they were not first lynched.  The right of self-defense is not a right that Black people have ever had respected by white authorities, but when it is whites, or people acting as white, who claim self-defense against Blacks, any use of force is considered acceptable because, after all, Black people are scary people.
Once again we are reminded that there are zones that we cannot safely enter.