This Week in Poverty: Confronting Congressional Hunger Games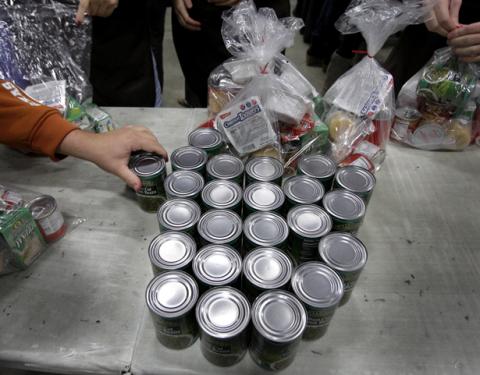 Volunteers fill bags with food for part of their backpack school lunch program at the Cleveland Foodbank in Cleveland on Tuesday, November 22, 2011.,AP Photo/Amy Sancetta
The congressional hunger games began when Senate Democrats voted to cut $4.1 billion from food stamps, or SNAP. Senate Agriculture Committee Chairwoman Debbie Stabenow said it was a matter of slicing "waste, fraud and abuse" from the program.
Except that's not what they were doing.
They were cutting about $90 a month in benefits for 500,000 households—more than a week's worth of assistance for a typical family, at a time when an individual's average benefit is about $4.45 per day. (It's worth noting too that just one cent on every dollar of SNAP spending is lost to fraud.)

House Republicans then tried to up the ante and slash $20 billion from the program—to reduce both the deficit and welfare dependence, they claimed.
Except that's not what they were doing.
Food stamp spending is projected by the Congressional Budget Office to amount to just 1.7 percent of federal spending over the next ten years—and people with access to food stamps when they are young have better health outcomes and less dependence on welfare assistance over the long-term. In fact, what the Republicans were attempting to do was toss 2 million people off of SNAP and prevent 210,000 low-income children from receiving free school meals. The bill failed because many Republicans wanted even deeper cuts.
Finally, on Thursday, House Republicans took these hunger games to a new level of violence: they passed a farm bill stripped of any food stamp provision.
There were appropriate expressions of outrage that this occurred at a moment when nearly 50 million Americans aren't sure, at times, where their next meal is coming from. But beyond the outrage is a key question: why is it so easy for both parties to play games with the lives of the one in seven Americans—including nearly one in three children—who are in need of food assistance? And what can be done to change this dynamic?
A friend of mine suggested that a representative group of food stamp recipients storm the House floor.
"So about half of them would be children, and about 10 percent elderly, and a lot in wheelchairs, with oxygen tanks, crutches, etc.," she said. "It would make the fools in the House look even more trivial and foolish than they already look."
My friend wasn't being literal, but she makes an important point—we shouldn't permit our legislators to continue making these decisions in a vacuum, isolated from the very people whose lives they are toying with.
In a recent interview with Bill Moyers, Dr. Mariana Chilton, director of the Center for Hunger-Free Communities and co-principal investigator at Children's HealthWatch, said, "There's just not enough people who are poor who have an opportunity to speak out…to really engage in our democracy. I think that they're actively shut out."
At the very least, during the umpteen farm bill hearings, Democrats—and there are still many on the right side of this fight—should noisily work to ensure that we hear from real people about their real experiences. Make those who would malign the poor tell them to their faces that they are lazy for working a low-wage job or two, trying to take care of their kids and needing SNAP's $1.50 per person, per meal to help them make ends meet. Senators and Congressmen can also try to explain to people how taking their food away—while also opposing a raise in the minimum wage—is somehow going to reduce their poverty and hunger.
And for those who can't make it to Washington to confront their legislators, we should be pressing for town meetings on hunger in every congressional district, according to Joel Berg, exectuve director of New York City Coalition Against Hunger (NYCCAH). There is hunger everywhere: the proportion of rural households that participate in SNAP is about equal to urban households—14.6 percent and 14.8 percent, respectively, in 2010—and the fastest growing poor population is in the suburbs. It's time to reduce the shame and stigma, step forward with our neighbors and share our experiences.
The coalition fighting for sound food policy needs to change too.
"There are all of these strands of movements that have been talking past each other," said Berg. "There's the small farm people, nutrition people, sustainable agriculture people, and the anti-hunger folks. The only way we can win this is if we're all in this together."
Berg and NYCCAH hope to build the kind of diverse coalition in New York City that can serve as a national model. The Food Secure NYC 2018 initiative aims to end hunger in the city by the end of the next mayor's first term and inject food and hunger issues into the upcoming mayoral campaign. Currently more than 1.4 million New Yorkers—including one in four children—live in households that are struggling with hunger.
Berg said there is plenty of "low-hanging fruit," such as ensuring that every school provides universal, in-classroom breakfast. New York City ranks last among twenty-six large urban school districts in breakfast participation, with only 35 percent of students who receive free or reduced-price lunches also eating free breakfasts.
A food jobs proposal focuses on the $30 billion that New York City residents spend on food annually, much of which is grown, processed and manufactured outside of the city and region. The plan calls for expanding city and rooftop gardens; urban farms; food co-ops; community-supported agriculture projects; farmers' markets; community kitchens and projects that hire unemployed youth to grow, market, sell and deliver nutritious foods. It would also bolster year-round neighborhood plants that process, freeze and can foods.
The initiative would create "food and nutrition zones" modeled after the Harlem Children's Zone. Berg said the idea is "to saturate targeted neighborhoods with every possible food access, anti-hunger, nutrition, and obesity-reduction strategy."
"We'll be able to measure results and create a national model for what works," he said.
People of faith, nutritionists and low-income people are already involved in this effort, and Berg hopes to bring in farmers, unions and other NYC-based antipoverty groups over the next few months.
It's good to see these advocates trying to change the politics of hunger. If their strategy works, maybe it will indeed end up serving as a national model.
But in the meantime, Congress continues to pummel low-income people with increasing ferocity. I would like to know what you think can be done to confront and change this kind of cruelty and shortsightedness.
Frankly, I'm somewhat at a loss.