A New Kind of Trade Agreement?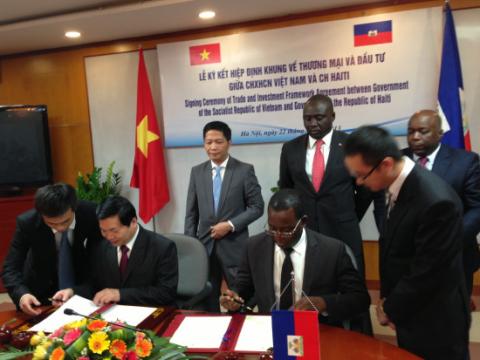 ,
Haiti - Economy : Signing of a framework agreement Vietnam Haiti
July 23, 2013
Monday, Wilson Laleau, Minister of Economy and Finance, also acting Minister Minister of Trade and Industry, accompanied, among others by, Thomas Jacques, Minister of Agriculture and Philippe Cinéas, Secretary of State for Public Works and Transport, signed in Hanoi (Vietnam), a framework agreement for cooperation on trade and investment Vietnam-Haiti, with his Vietnamese counterpart of trade, Mr. Vu Huy Hoang. This agreement aims to create a legal framework for the strengthening of cooperation in all areas and attract new investment in Haiti
This South-South agreement is the result of efforts made by the Prime Minister, Laurent Lamothe during his official visit to Vietnam from 16 to 18 December 2012. http://www.haitilibre.com/en/news-7411-haiti-diplomacy-lamothe-in-vietnam-signing-of-3-agreements.html
The Vietnamese Minister of Trade, expressed the willingness of his country to expand its relations with Haiti in energy, textile, food and electronics, noting "Haiti is an important partner for Vietnam and we are honored of the opportunity offered to us to invest in Haiti and export our products to that country, including rice."
For his part, the Minister Laleau declared that Vietnamese cooperation is a priority of President Michel Martelly and Prime Minister Laurent Salvador Lamothe. During their talks, the two ministers agreed on the need to increase trade between the two countries and promote public-private partnership between the two Republics.
Tran Tuan Anh, Deputy Minister of Industry and Trade stressed that Vietnamese ministries wished to cooperate with the Committee of reconstruction of Haiti to provide products and construction services, participate in infrastructure construction projects on the basis of the common interest of businesses and people of both countries. Noting that Vietnam wished to cooperate with Haiti in the development of an environment conducive to the promotion of the cooperation between enterprises, particularly through the development of legal documents on foreign investment and the creation of conditions for Vietnamese companies wishing to invest in Haiti in the production of consumer goods and heavy industry.
In addition, Wilson Laleau proposed the creation of a distribution center of Vietnamese products in Haiti on the basis of a joint venture between the two governments and the private sector to create the favorable conditions for access to Vietnamese goods of quality and cheap in Haiti as well as in other Latin American countries.
The Haitian delegation also met Trinh Dinh Dung, Minister of Construction, to discuss the need to create a bi-national Joint Commission in the perspective of exploring other potential investment sectors such as the various manufacturers products made through the Caracol Industrial Park.
At the end of the visit, the delegation will hold discussions with companies specialized in the production of electricity and manufacturing. The Vietnamese Prime Minister and the Minister of agriculture will also discuss of the production and agricultural recovery and the possibility of signing other cooperation agreements.
In the coming months, Haiti will host a large delegation composed of Vietnamese business men and women, which will be led by the Head of Government of the Socialist Republic of Vietnam, Nguyen Tan Dun. . These investors will enjoy their stay in Haiti to explore other areas of cooperation, particularly in infrastructure, construction and finance.
Haiti - Agriculture : Impact of the strategic alliance with Vietnam
April 1, 2013
The series of agreements signed in Hanoi in December 2012, between the Government of Haiti and Vietnam, are proof that the South-South cooperation can lead to the fruitful exchange of resources, technology and knowledge. This cooperation provides the framework for a new form of long-term cooperation, which will enable Haiti to address food security, one of its main challenges.
The government of Haiti hopes that these agreements will enable Haiti to leapfrog development stages as it attempts to create a resilient agricultural production system. As 2013 rolled in, these agreements are translated into concrete positive benefits including lower prices for rice, Haiti's key staple food.
According to Haitian Prime Minister Laurent Lamothe, "The principal goal of the agreements we have signed with Vietnam is to find innovative ways to insure food security for all of our citizens." The strategic plan of the Prime Minister, identifies ways to mitigate the impact of natural disasters on Haiti's food supply and to reduce its reliance on the import of agricultural products such as rice. The Haitian government's goal is to achieve self-sufficiency in the production of food.
The Vietnamese experience is particularly relevant to Haiti which imports most of the rice its citizens consume. In the past thirty years this small Southeast Asian country has gone from facing periodic food shortages in the aftermath of the war with the United State and being a net importer of rice, to becoming the world's second largest exporter of rice.
Improvements came by increasing land under cultivation, relying on technology to improve seeds and mountain rice production techniques, and by depending on smallholders rather than on large farming estates. In 2011 Vietnam produced 40 million tons of rice a year, most of it grown on 7.2 million hectares by some 10 million farming households each cultivating between one half to one hectare.
Vietnam will provide Haiti with technical cooperation to address the production of rice and other agricultural products. It will send experts to help introduce a progressive system of mountain rice production that includes the mechanization of agriculture, soil erosion prevention techniques, and the introduction of drought resistance rice varieties.
The agreements include a few immediate benefits for Haiti. Vietnam will supply Haiti with 300,000 tons of rice annually [at a preferential rate], which will address periodic food shortages. As a result, Haitians are welcoming 2013 with the price of rice 33% lower than last year.
In addition, as part of the new relationship with the Vietnamese company, the state-owned mobile phone, has donated 400 tonnes of rice for the school feeding program.