labor
Fast Food Walkouts Fight Inequality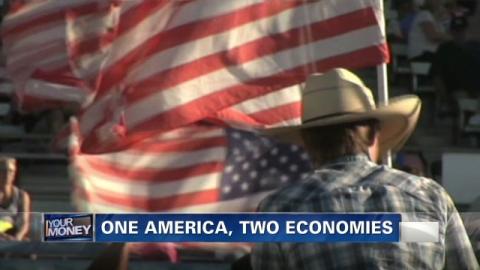 One America, Two Economies, CNN
Fast food workers around the country have mounted dozens of strikes over the past few months. Their demands are simple: a pay raise to $15 per hour - roughly double the federal minimum wage - and union recognition.
But unlike Occupy, with its youthful base and reliance on new social media, Fast Food Forward was born from a marriage of old-fashioned unionism and community organizing. Its protagonists are ordinary workers, many of them black, brown and/or female.
They are struggling to support their families on jobs that pay at or close to the legal minimum, with few benefits. Adding insult to injury, full-time work is hard to find in the fast food and retail world. But many workers have no other options,
since the Great Recession permanently wiped out millions of better-paying jobs.
The federal minimum wage dates back to the 1938 Fair Labor Standards Act - part of FDR's New Deal. But inflation has eaten away at the guarantee it was meant to provide. In today's dollars, the minimum wage is worth less now than it was half a century ago.
Both Fast Food Forward and Our Walmart rely on strategies and tactics perfected by the "worker center" movement that sprang up starting in the1990s. It includes dozens of community-based organizations representing taxi drivers, domestic workers, day laborers, street vendors and others at the bottom of the labor market. Many of these workers are excluded outright from New Deal laws like the FLSA and NLRA, since technically they are not "employees" but "independent contractors."
The worker centers have successfully spotlighted the many abuses such workers suffer, and have helped them organize. But as community-based groups with shoestring budgets and tiny staffs, the scale of their work has been severely limited. Still, some have managed to form national organizations, like the Restaurant Opportunities Center and the National Domestic Workers Alliance.
One of them the Taxi Workers Alliance, is now formally affiliated with the AFL-CIO, which has developed other partnerships with worker centers in recent years.
If old-line labor unions - which despite their declining membership, still have relatively deep pockets and political clout - keep stepping up their support for such efforts, that could be a real game-changer.
That's the significance of the fast food walkouts: They could be the embryo of a new labor movement that challenges the power of organized money and the skyrocketing inequality that has made the American middle class an endangered species.