labor
Detroit Union Files Challenge to City's Bankruptcy Petition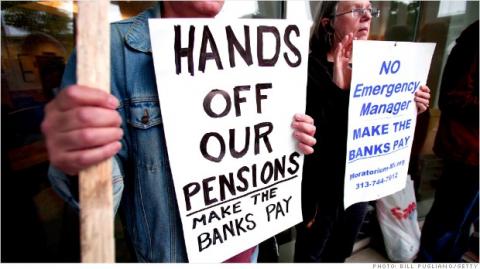 Protestors in Detroit last month objected to plans to cut pension benefits of city workers and retirees.,Bill Fugliano/Getty
(Reuters) - One of Detroit's biggest public labor unions on Monday became the first major party to file an objection to the city's bankruptcy filing ahead of a midnight deadline for challenges.
The American Federation of State, County and Municipal Employees Council 25 said Detroit, which last month filed for what would be the largest-ever U.S. municipal bankruptcy, has not proven it is insolvent and has not negotiated in good faith with its creditors. In a filing with the U.S. Bankruptcy Court in Detroit, the union said it was also challenging the constitutionality of Chapter 9 of the federal bankruptcy code, which governs municipal bankruptcies, arguing that it encroaches on states' rights.
The union also said Michigan's emergency manager law, which enabled Detroit to file for bankruptcy on July 18, violates the state constitution because the law does not explicitly protect retirement benefits for public workers.

With the clock ticking toward the deadline set by U.S. Judge Steven Rhodes, who is overseeing Detroit's case, objections were expected to be filed by a range of creditors, including the city's public-employee pension funds, bondholders, bond insurers, vendors, retirees and possibly hundreds of smaller parties.
For Detroit's Chapter 9 municipal bankruptcy to proceed, Rhodes must first find that the city has proven it is insolvent and negotiated in good faith with its creditors, or that there were too many creditors to make negotiations feasible.
In a court filing earlier this month, Detroit released a list of creditors, including current, former and retired workers, that filled 3,504 pages. Another filing by Kevyn Orr, Detroit's state-appointed emergency manager, said that "further negotiations with all of the city's various stakeholders is impracticable."
Orr's filing included a litany of Detroit's financial woes, including more than $18 billion in debt and other obligations, with nearly $12 billion of that amount considered unsecured.
Detroit, a former manufacturing powerhouse and cradle of the U.S. automotive industry and Motown music, has struggled for decades as companies moved or closed, crime surged and its population fell from a peak of 1.8 million in the 1950s to around 700,000 currently. The city's revenue fell short of spending, while its budgets and borrowing ballooned.
Orr's spokesman, Bill Nowling, said the emergency manager will respond "specifically and completely" to the objections in court.
"Mr. Orr believes he has surpassed the legal standard of negotiating in good faith with creditors and stakeholders," Nowling said. "He submitted a proposed restructuring plan to creditors on June 14."
About 50 individuals filed objections to the bankruptcy at the federal court in Detroit Monday morning. The group was organized by the Detroit chapter of the National Action Network, a national civil rights organization founded by Rev. Al Sharpton.
The group's objection cites potential constitutional problems with a Michigan law that allowed for the bankruptcy filing and claims that the judge did not allow enough time for objection filings.
Rev. Charles Williams II, the chapter's president, said many residents, himself included, received notice only last week that they were parties of interest who could object to the city's filing.
"The process hasn't been as clear and transparent as it should have," Williams said. "Many Detroit residents received letters giving them the opportunity to file for an objection and they didn't even know they received it. They weren't properly notified."
Rhodes has scheduled October 23 for the start of a hearing to determine if Detroit is eligible to file for bankruptcy under Chapter 9. If Detroit is deemed eligible for municipal bankruptcy, it would be the biggest such case in U.S. history.
Detroit's largest unsecured creditors are its two pension funds, which have claims totaling $3.74 billion in estimated unfunded liabilities, according to a court filing by the city.
The remainder of the city's top 20 creditors include bondholders of $1.47 billion of certificates of participation that Detroit sold for its pension funds and hundreds of million dollars of general obligation bonds.
The Detroit Institute of Arts said on Monday it will not file an objection to the bankruptcy. The DIA has become embroiled in the city's case because its assets, which include works by Van Gogh and Matisse, could be sold to pay Detroit's debt. However, Orr has said he hopes he does not have to sell DIA assets.
Rhodes on Monday appointed Chicago attorney Robert Fishman as the fee examiner in the case. Fishman will ensure all fees charged to the city are disclosed and are not exorbitant. Fee examiners are typical in corporate bankruptcies, but according to a search of the Westlaw legal database, it appears Rhodes is the first judge to appoint one in a Chapter 9 municipal bankruptcy.
While Orr has expressed a desire for the city to emerge from bankruptcy by September 2014, a lengthy eligibility fight could extend the time frame.
Stockton, California, took nearly a year just to prove it could stay in bankruptcy court, and San Bernardino, California, is still awaiting a declaration more than a year after filing for protection.
Some local governments have lost their eligibility fights. A judge in Bridgeport, Connecticut's 1991 bankruptcy found the city was not insolvent, while Harrisburg, Pennsylvania's 2011 petition did not survive because state lawmakers passed legislation barring the city's filing and a judge threw it out.
(Additional reporting by Karen Pierog; Editing by Dan Grebler)