Media Bits & Bytes - System Crash edition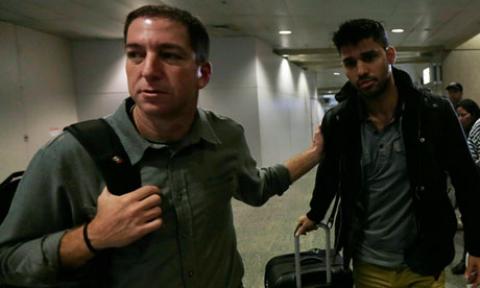 David Miranda (right) the partner of Guardian journalist Glenn Greewald (left) was detained by the UK government under shedule 7 of the Terrorism Act., The Guardian / Ricardo Moraes/Reuters
Revealed: The NSA's Secret Campaign to Crack, Undermine Internet Security
By Jeff Larson, ProPublica, Nicole Perlroth, The New York Times, and Scott Shane, The New York Times
September 5, 2013
ProPublica
The NSA has secretly and successfully worked to break many types of encryption, the widely used technology that is supposed to make it impossible to read intercepted communications.
Referring to the NSA's efforts, a 2010 British document stated: "Vast amounts of encrypted Internet data are now exploitable." Another British memo said: "Those not already briefed were gobsmacked!"
Obama Administration Had Restrictions on NSA Reversed in 2011
By Ellen Nakashima
September 7, 2013
Washington Post
The Obama administration secretly won permission from a surveillance court in 2011 to reverse restrictions on the National Security Agency's use of intercepted phone calls and e-mails, permitting the agency to search deliberately for Americans' communications in its massive databases, according to interviews with government officials and recently declassified material.
In addition, the court extended the length of time that the NSA is allowed to retain intercepted U.S. communications from five years to six years - and more under special circumstances, according to the documents, which include a recently released 2011 opinion by U.S. District Judge John D. Bates, then chief judge of the Foreign Intelligence Surveillance Court.
What had not been previously acknowledged is that the court in 2008 imposed an explicit ban - at the government's request - on those kinds of searches, that officials in 2011 got the court to lift the bar and that the search authority has been used.
Is Barrett Brown a Journalist or an Activist? Regardless of the Answer, His Case is an Outrage
By Mathew Ingram
September 4, 2013
giacom.com
By now, most people have probably heard of Edward Snowden, the former CIA contractor who leaked the NSA's surveillance documents, as well as Chelsea (formerly Bradley) Manning, the Army private who leaked diplomatic cables to WikiLeaks. Barrett Brown, however, remains largely unknown - despite the fact that his case is arguably even more of an outrage than either Manning or Snowden. While both of them were charged for deliberately leaking classified information, Brown was indicted and could face years in prison for the simple crime of reposting a link on an Internet Relay Chat channel.
How is such a thing possible, you might ask? Isn't posting a link the type of thing that billions of people do every day - and isn't the process of posting a link to such material something journalists of all kinds do routinely? The answer to both of those questions is clearly yes. But regardless, Brown stands accused by the District Court in Texas of a series of charges including trafficking in stolen credit-card information, which could result in a lengthy jail sentence (Brown was also charged with threatening a federal agent, after his mother's house was raided by agents looking for his laptop).
UN: Press Should Not be 'Intimidated Into Silence' Over State Secrets
By Josh Halliday and Ewen MacAskill
September 4, 2013
The Guardian
Two senior UN representatives have warned the British government that the protection of state secrets must not be used as an excuse to "intimidate the press into silence" following the detention of David Miranda under the Terrorism Act.
Frank La Rue, the UN special rapporteur on freedom of expression, issued the caution as he called for a public debate on the mass surveillance revelations exposed by the National Security Agency whistleblower Edward Snowden.
"The protection of national security secrets must never be used as an excuse to intimidate the press into silence and backing off from its crucial work in the clarification of human rights violations," said La Rue. "The press plays a central role in the clarification of human rights abuses."

A Quest to Save AM Before It's Lost in the Static
By Edward Wyatt
September 8, 2013
New York Times
The digital age is killing AM radio, an American institution that brought the nation fireside chats, Casey Kasem's Top 40 and scratchy broadcasts of the World Series. Long surpassed by FM and more recently cast aside by satellite radio and Pandora, AM is now under siege from a new threat: rising interference from smartphones and consumer electronics that reduce many AM stations to little more than static. Its audience has sunk to historical lows.
But at least one man in Washington is tuning in. Ajit Pai, the lone Republican on the Federal Communications Commission, is on a personal if quixotic quest to save AM. After a little more than a year in the job, he is urging the F.C.C. to undertake an overhaul of AM radio, which he calls "the audible core of our national culture." He sees AM - largely the realm of local news, sports, conservative talk and religious broadcasters - as vital in emergencies and in rural areas.