Big Business Planning Attack On Low Wage Worker Organizing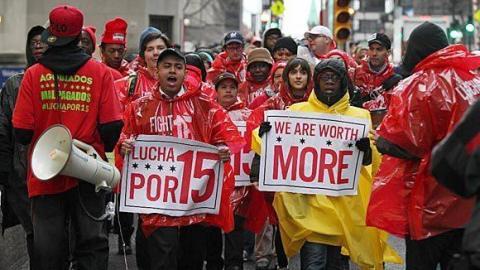 Business and labor are going to war over the nonprofit worker centers that union officials increasingly see as the future of their movement. [Watch Video]
The organizing groups are thriving amid the decline in traditional unions, and campaigns, like Fast Food Forward, have made a splash by staging walkouts of fast-food workers who are demanding $15 per hour in wages and the right to unionize.
Industry groups have closely tracked the centers and are ready to fight back against what they see as a deliberate effort to move union organizing outside the law.

"They have morphed into groups that harass employers, shame companies and hurt business across the country," said Ryan Williams, an adviser to Worker Center Watch. "They are essentially getting away with skirting labor laws."
Williams, a former spokesman for Mitt Romney's 2012 presidential campaign and a consultant at FP1 Strategies, said Worker Center Watch is gearing up for a national campaign against the worker centers. It launched a website this week that will closely track the organizing activities.
FP1 is also doing work for the Workforce Fairness Institute, which campaigns against unions.
House Republicans are beginning to scrutinize the worker centers as well.
The House Education and the Workforce Committee is scheduled to hold a hearing Thursday on the future of union organizing where the worker centers are expected to be a prominent focus.
Unions deny they are attempting to evade labor laws, but have made no secret of their alliance with the worker centers, providing legal and financial support as the groups have grown in size and number.
The AFL-CIO adopted a resolution last week to "expand its partnerships" with groups that are not covered by collective bargaining agreements, sending a clear signal that their involvement with the centers will increase.
"Now there is a closer relationship, [which] means there will be targeted attacks from the right on worker centers," said Dorian Warren, a Columbia University professor who specializes in  labor politics. "Worker centers are going to have navigate carefully the line between being a labor organization and a nonprofit organization. They are going to receive a lot more scrutiny."
Several of the nonprofit groups strongly deny that they are under union control. One of the most prominent, Organization United for Respect at Walmart (OUR Walmart), says unionizing is not the objective.
"We have our organization of associates for associates across the country. We are not unionizing. We are organizing," said Cindy Murray, a Walmart associate and founding member of the group. "We want respect. We want a decent wage. We want healthcare."
Worker centers often take money from foundations while collecting dues from members, and their funding has come under scrutiny on Capitol Hill.
In July, Reps. John Kline (R-Minn.) and Phil Roe (R-Tenn.) wrote to Labor Secretary Tom Perez asking why some groups, including OUR Walmart, were not complying with the financial disclosure requirements for labor organizations.
The Labor Department said in response that it couldn't disclose whether the groups were under investigation but noted that the United Food and Commercial Workers International Union (UFCW) listed OUR Walmart as "a subsidiary" on its disclosure form and detailed its financial transactions.
Murray said the UFCW helps her group with legal services and educates workers who are filing complaints with the National Labor Relations Board, some of whom have been fired or disciplined after strikes.
"They [UFCW] are there to educate us. They are not in any way in trying to force us to become a union," Murray said.
The GOP committee members are working on a follow-up letter to the Labor Department, according to a committee aide.
Adam Kader, Arise Chicago's worker center director, said his group has accepted funding from unions, foundations and religious groups.
"We are not a union. We are a 501(c)(3). But I think it's our unapologetic defense of unions that has attracted so much attention," Kader said, noting he has a board of directors just like other nonprofit groups.
But business groups are adamant that the nonprofit groups are a Trojan horse for labor.
Glenn Spencer, vice president of the Workforce Freedom Initiative at the U.S. Chamber of Commerce, believes worker centers should fall under labor law. That would restrict their workplace campaigns and require them to file financial disclosures similar to unions.
"They [unions] hope that these groups can provide a more attractive face and thereby be the leading edge for an organizing campaign," Spencer said.
Spencer said he is briefing Chamber members across the country on worker centers and talking to lawmakers about the groups.
Williams with Worker Center Watch said his group would be writing op-eds, running ads and mobilizing activists on the ground to provide "a counter-effort" to worker centers.
The group has support from businesses, but Williams refused to disclose its donors.
"Our group is made up of business donors, hard-working Americans and citizens who are concerned about the legally questionable activities of worker centers," Williams said. "We don't identify our supporters because disclosing their names will undoubtedly result in harassment and intimidation by unions and their affiliates. That's their playbook."
Amid the heightened scrutiny, the worker centers are vowing to get more aggressive with protests and strikes.
Murray with OUR Walmart said her group is planning action on Black Friday, the day after Thanksgiving. Last year, the group helped organized hundreds of Walmart workers who walked off the job on the biggest shopping day of the year.
"We are stronger than last Black Friday," Murray said.