AFL-CIO Forges National Partnership with United Students Against Sweatshops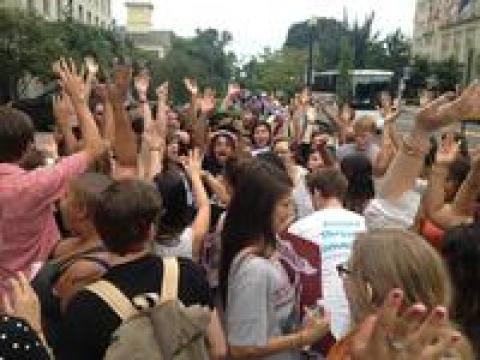 ,
In the first of many concrete moves after the AFL-CIO passed a resolution at its national convention to create new and lasting community partnerships to open and broaden the labor movement, the federation announced today that it entered a new national partnership with United Students Against Sweatshops (USAS).  The primary goals of the new alliance are to strengthen workers' rights and build power for students and workers. One of the major themes of the national convention was the need for the AFL-CIO to make the labor movement more open and to forge stronger alliances with non-labor groups, and this is the first step down that path.
"The labor movement shares USAS's values and vision for global solidarity and social justice. Together, we are stronger and better positioned to meet the mutual goals and objectives of improving the lives of working people," says AFL-CIO President Richard Trumka. "This partnership demonstrates the AFL-CIO's determination to turn commitments on paper into action."
Founded in 1997, USAS has focused on major apparel makers and the colleges they work with to make sure the companies treat their workers well in overseas factories. The group also has worked to support campus workers, helping them organize and showing solidarity with workers on strike. USAS members will expand their efforts to support the right to organize unions for workers in companies that have business relationships with colleges and universities. For example, USAS members at the College of Charleston, Rutgers University and other universities are supporting T-Mobile workers who are facing tough opposition from management. T-Mobile has contracts and preferred vendor agreements with colleges and universities across the country.
"It's a pretty natural and obvious partnership," says Lingran Kong, a member of USAS's coordinating committee and a student at the University of Wisconsin-Madison. "USAS works for justice causes, and the way we achieve those is putting student and worker power into practice. We've been working with the AFL-CIO for many years now. We get along splendidly."
Trumka says that the AFL-CIO was in discussions with numerous other groups about opening up the labor movement. The alliances are designed to help reverse a trend of workers losing a voice on the job, that is the result of years of attacks on workers' rights from Republicans and pro-corporate interests. "We have to change the way we're doing business in a significant way to get out of the crisis we find ourselves in," says Trumka. "But this crisis also offers us ample and tremendous opportunity."
Read the full text of the partnership agreement.