Left-Right Coalition Would Put German Radicals in Limelight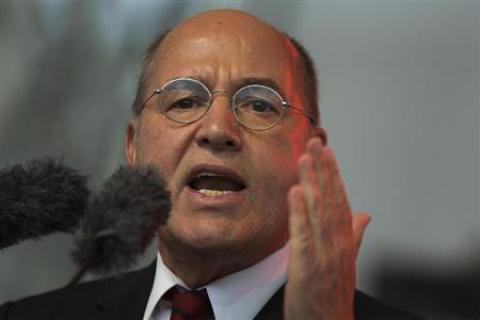 The top-candidate of the left-wing Die Linke party Gregor Gysi speaks during an election campaign event in Berlin, September 20, 2013, Reuters/Thomas Peter
It helps having low expectations.
The heirs to East Germany's communist regime have read their own political obituaries so often since scraping into the first post-unification parliament in 1990 that even a 3.3 percent drop in their share of the vote, to 8.6 percent, came as a relief.
But what brings a smile to the amalgam of leftovers from East Germany's Socialist Unity Party (SED), West German anti-capitalists and disenchanted Social Democrats (SPD), is the prospect of leading the country's political opposition.
"Who would have thought back in 1990 that we would become the third strongest political force in Germany?" said the Left's Gregor Gysi on election night, when he was the only candidate in a mood to celebrate besides chancellor Merkel.
The Left overtook the Greens by one seat and saw another rival, the pro-business Free Democrats, exit the Bundestag lower house for the first time since 1949.
With Merkel increasingly likely to form a 'grand coalition' government with the second-placed SPD, after her conservatives came just short of their own majority, the Left would become the biggest opposition force.
"Of course we're proud of becoming third strongest party, but we must remember that we lost votes. It's especially bitter that the CDU won everything in the east," said Stefan Liebich. A 40-year-old with fond memories of his East Berlin childhood, he was the Left's only lawmaker to increase his share of the vote.
A 'grand coalition' would produce a lopsided parliament with the government holding 80 percent of seats, meaning there is no risk of the Left imposing policy ideas such as raising top-rate income tax to over 50 percent or banning arms exports.
But privileges like replying first in Bundestag debates and chairing the budget committee, which has played a crucial role in the euro crisis, would put the party in the spotlight.
At the moment, media attention tends to be negative; Gossip about 70-year-old party founder Oskar Lafontaine's relationship with 44-year-old lawmaker Sahra Wagenknecht or allegations about Gysi and his wife's links with the Stasi secret police.
The party is already playing on sympathy about the prospect of facing such an outsized majority that it would not be able to exercise what law professor Hans Hermann von Arnim called "parliamentary democracy based on constant antagonistic debate".
SPD lawmaker Johannes Kahrs gave the example of the budget committee, on which he sits: it would have 31 members from the coalition government, opposed by just two MPs each from the Left and Greens opposition. "How's that supposed to work?" he asked.
But Gysi is likely to relish the role of David to Merkel's Goliath. A witty 65-year-old, he gets even his sternest rivals to crack a smile when he speaks in parliament.
RED LINES
Paradoxically, the election that returned Merkel for a third term awarded a slight majority to three left-of-center parties in the 630-seat lower house. The SPD, Left and Greens could oust her, form a "Red-Red-Green" government and push through policies they agree on, like tax hikes and a minimum wage.
"Mathematically it is still possible," said Katja Kipping, 35-year-old co-chair of the Left. But she acknowledges there is little public enthusiasm for this option, with polls showing a majority of Germans like the idea of a 'grand coalition'.
SPD and Greens would rather swallow their pride, serve under Merkel and risk losing millions of votes - the SPD's reward for the 2005-9 coalition - than break a taboo on partnering the Left at federal level, even though they have done so at state level.
Resentment towards the Left runs deep: from the SPD's forced merger into the SED in the Soviet occupation zone, later East Germany, in 1946 to the defection of Oskar Lafontaine. He quit the SPD in 2005 and merged his breakaway movement with the easterners to form the Left.
But there could be a rapprochement on the horizon. The SPD now talks of "Red-Red-Green" being impossible before the 2017 election, rather than for ever. The Left says hardliners in its ranks who are opposed to any compromise are now a minority and Lafontaine, who is loathed by the SPD, is taking a back seat.
"I believe that both the SPD and Greens will make it quite clear in coming weeks and months - if they have not already done so - that they will drop this taboo," Liebich told Reuters, adding that a grand coalition could not last four years.
The better the Left behaves, the greater a risk it poses to Merkel by becoming more attractive to the SPD, which will not enjoy watching Gysi preach from the opposition while the SPD compromises its own campaign pledges.
"We will aim to recruit unhappy Social Democrats," warned the Left's other co-chair, Bernd Riexinger, last week.
He might want to try a more defensive strategy. One study estimates 370,000 former Left voters switched to the SPD and 340,000 to the anti-euro Alternative for Germany (AfD).
The Greens condition any future cooperation with the Left on "fundamental" foreign policy changes, having dropped their own pacifist principles to back NATO bombing operations on Serbia. The Left says this is a red line that they will not cross.
(Additional reporting by Thorsten Severin; Editing by Madeline Chambers and Ralph Boulton)
© Thomson Reuters 2011. All rights reserved. Users may download and print extracts of content from this website for their own personal and non-commercial use only. Republication or redistribution of Thomson Reuters content, including by framing or similar means, is expressly prohibited without the prior written consent of Thomson Reuters. Thomson Reuters and its logo are registered trademarks or trademarks of the Thomson Reuters group of companies around the world.
Thomson Reuters journalists are subject to an Editorial Handbook which requires fair presentation and disclosure of relevant interests.
This copy is for your personal, non-commercial use only. To order presentation-ready copies for distribution to colleagues, clients or customers, use the Reprints tool at the top of any article or visit: www.reutersreprints.com.