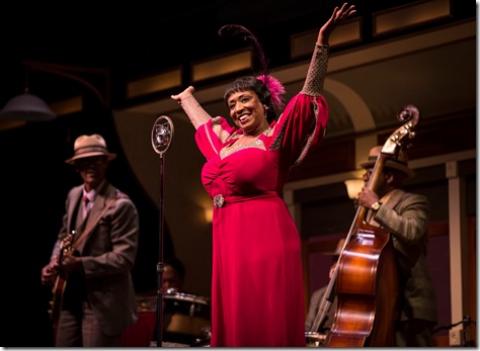 E. Faye Butler with Chic Street Man and Anderson Edwards, Liz Lauren
Written by Cheryl L. West
Directed by Chuck Smith
Goodman Theatre
Extended through October 27
Cast:
E. Faye Butler (Sister Juba), Cleavant Derricks (Sylvester Sykes), Anderson Edwards (Shorty), Francis Guinan (Tex), Jmichael (Keys), Claire Kander (Lutie), Chic Street Man (Professor Slick), Larry Marshall (Monroe Sykes), Tosin Morohunfola (Cephas Sykes), Senuwell L. Smith (Twist)
It's nostalgic to think about the time when air travel, let alone train travel, was elegant. (Actually, travelling on Amtrak is more comfortable than air travel today, but I digress). To think about the days when a cross-country trip by rail could be an experience akin to a stay in a four-star hotel is to study history, and Goodman Theatre has given us an entertaining and engrossing history lesson in Pullman Porter Blues. The lesson not only concerns transportation history but, more importantly, takes a key moment in American history to illustrate some 70 years of African-American social progress from slavery to a certain level of economic independence and prosperity. The Pullman Company, based in Chicago, manufactured the elegant sleeping cars that made rail travel across America more comfortable and also operated them on the nation's railroads - providing steady employment for the many African-Americans it hired to work Cleavant Derricks and E. Faye Butler in Goodman Theatre's "Pullman Porter Blues" by Cheryl L. West, directed by Chuck Smith. (photo credit: Liz Lauren)as porters. Cheryl L. West's play-with-music visits three generations of a family employed as porters and sets the action on June 22, 1937 a time of celebration and great hope for African-Americans. That night, Joe Louis beat James J. Braddock for the World Heavyweight Championship in Chicago. Later that year, the Brotherhood of Sleeping Car Porters signed its first collective bargaining agreement with the Pullman Company, improving work place conditions and increasing wages for the porters, all of whom were African-American.
Tosin Morohunfola, Larry Marshall, and Cleavant Derricks
Photo by Liz Lauren
The family at the center of the story is the Sykes, with each generation representing a different era in the economical and political advancement of African-Americans. Grandfather Monroe Sykes (Larry Marshall) has been working as a porter since he was a young man, and has followed a "go along to get along" philosophy of deference to the white bosses, in this case the train's corrupt conductor Tex (Francis Guinan). His porter son, Sylvester (Cleavant Derricks), has followed a different strategy for dealing with the bosses - he's an activist recruiting members for the union, and has to struggle not to commit any errors that would allow the bosses to gladly fire him. Sylvester is unaware that Monroe has secretly landed a summer job as a porter for grandson Cephus (Tosin Morohunfola), who's just completed his first year at the University of Chicago and appears to have limitless potential for income and respect. Monroe and Cephus know Sylvester will disapprove of Cephus's employment on the train, and the sparks fly when Sylvester gets a last-minute assignment to work on the same run from Chicago to New Orleans that the grandfather and grandson are working. There's also a blues singer, Sister Juba (E. Faye Butler) and a white teenage girl hobo stowaway, Lutie (Claire Kander) that figure in the complications aboard the journey south. West has added some classic blues numbers, including "Sweet Home Chicago," "900 Miles" and "Trouble in Mind," most of them performed by the powerful Ms. Butler and the onboard band of Anderson Edwards, the play's music director Jmichael, Chic Street Man, and Senuwell L. Smith.
The elegance and romance of the old trains is beautifully recreated in Riccardo Hernandez's set - a train car with an outer exterior shell that slides away to reveal the halls and corridor of a sleeping car and bar car. The wall of the corridor itself slides out in panels to show us the roomettes and the bar car in which the band plays. Above the train, projections by Mike Tutaj show us the landscape through which the train travels, past places like Carbondale, Cairo and Fulton, Tennessee. The costumes, by Birgit Rattenborg Wise, are detailed recreations of the porter and conductor uniforms, flamboyant gowns for Sister Juba and rags for hobo Lutie. Like a gorgeous museum exhibit come to life, it takes us completely into a time and place so foreign and romantic to us today.
West, director Chuck Smith and cast place a group of appealing characters into this setting. Williams is charming as the crafty old Monroe - manipulating his grandson and boss with skill, but having a little more difficulty controlling the adult son who's figured him out. Williams, like Cleavant Derricks (the original Jimmy in Dreamgirls), is a veteran of Broadway musicals and West's inclusion of big blues numbers gives us an opportunity to enjoy their voices and their dancing feet. Derricks skillfully captures the different shades of his complex character - the stern and protective father, the wily activist union organizer who tests the limits of how far he can push the white boss, and a man haunted by past sins. Steppenwolf's Francis Guinan gives a wonderfully nuanced performance as the villain of the piece - his Tex is mean and a little desperate, even as he's fearful and vulnerable. Tosin Morohunfola plays Cephas with urgency, youthful enthusiasm and idealism. Larger than life is E. Faye Butler, who blows off the roof as Sister Juba, the drunken singer with a past that involves Sylvester and takes no nonsense from anyone. Only Claire Kander as hobo Lutie rings a little false. Her age and maturity are ambiguous, and she seems modeled after one of the Bowery Boys rather than any real person of the rails.
Pullman Porter Blues riffs on such a specific and significant time in African-American history that it reminds us of August Wilson's "Century Cycle". As much fun and as educational as it is, though, West's play is not in that league. Her dialogue is sometimes a bit pedestrian and too expository. The tone - upbeat through most of it and even exuberant at times - takes a sharp turn into darkness in the play's final 20 minutes. The conclusion, though realistic, is ambiguous and unsatisfying. Even so, Pullman Porter Blues is an entertaining and illuminating ride that's well worth taking.