Last World Tour of Buena Vista Social Club in 2014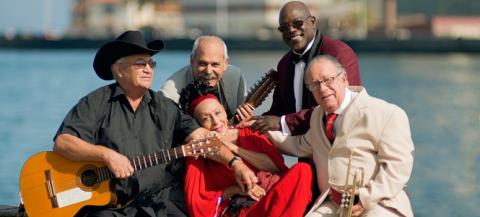 Buena Vista Social Club, KCRW
Havana
The Buena Vista Social Club will bid farewell to the world''s stages next year with a tour that caps the group''s 17 years as ambassadors of Cuban music.
According to the Cubarte website, this Adios Tour will be the last for this project that began in 1996 and that relaunched the careers of Cuban performers Ibrahim Ferrer, Compay Segundo, Ruben Gonzalez and Omara Portuondo.
Only a few survivors are left from that original group. One of them is Omara, who says that the Buena Vista has been an incredible part of her life and career.
"We want our music to stand the test of time and to keep enchanting the world, and this is what we have achieved with our concerts", said the renowned diva.
Under the musical direction of trombone player Jesus "Aguaje" Ramos, the final tour will also include guitarist Eliades Ochoa, trumpeter Manuel "Guajiro" Mirabal, and the virtuoso lute of Barbarito Torres.
There is also tres player Gilberto "Papi" Oviedo, pianist Rolando Luna, bassist Pedro Pablo, percussionists Andres Coyao, Alberto la Noche and Filiberto Sanchez, and others.
The world tour begins next summer and will last until autumn of 2015, when it will end with a concert in Havana.