Chilean Student Leader Camila Vallejo Elected to Congress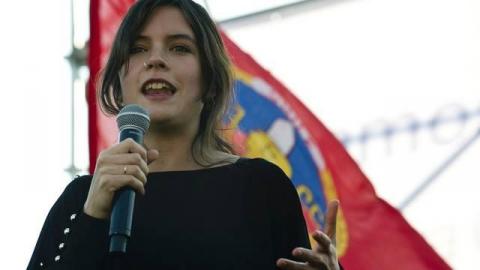 Camila Vallejo speaks during the election campaign in Santiago, Chile.,Martin Bernetti/AFP/Getty Images
Camila Vallejo, who helped spearhead Chile's student uprising in 2011, has been elected to Congress alongside three other former university leaders, underscoring a generational shift in the country's politics.
The 25-year-old communist shot to international fame as one of the most recognisable faces of a student movement seeking free and improved education in a country fettered by the worst income distribution among the Organisation for Economic Co-operation and Development's 34 member states.
Vallejo's victory is key for the presidential frontrunner Michelle Bachelet's attempt to have her Nueva Mayoria coalition gain a stronger foothold in both houses of Congress.
"We're going to celebrate our triumph on the streets of La Florida," Vallejo said on Twitter, referring to a district in Santiago.
Bachelet, who held Chile's highest office from 2006 to 2010, was the clear winner in the Andean country's presidential election on Sunday, although she will have to go through a second-round runoff next month to seal her victory.
The huge student protests of 2011 rocked the government of the incumbent president, Sebastian Pinera, and helped shape the 2013 electoral campaign, with Bachelet promising to implement tax reforms to finance an overhaul of education.
The independent candidates Giorgio Jackson and Gabriel Boric and fellow communist Karol Cariola, former comrades in the student movement, also gained seats in Chile's lower house on Sunday.
Their ascension to power, however, is not likely to keep protests from spilling on to the streets next year as some of the new generation of student leaders see them as sellouts.
"I wouldn't vote for Giorgio Jackson ... for Camila Vallejo neither," said Melissa Sepulveda, the new head of the Universidad de Chile's student body, a position once held by Vallejo. "The possibility for change isn't in Congress."