Media Bits & Bytes - It's Elementary edition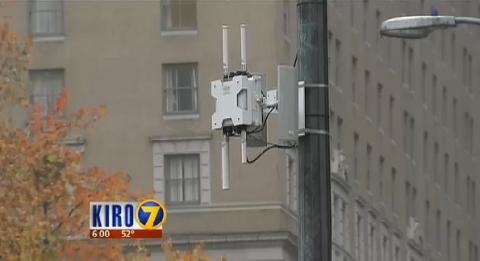 Screenshot of Seattle mesh network receiver., KIRO/7 TV
Seattle Presses Pause on Its Mass Surveillance Plans
By Mike Riggs
November 13, 2013
The Atlantic Cities
The Seattle Police Department did something amazing this week: After word got out that the department had created a citywide surveillance network without input from community members or a policy to govern the system's use, the police department agreed to deactivate the whole thing.
That's a big victory for privacy advocates who worry about the potential for abuse with these kinds of massive surveillance systems. Plenty of cities have already demonstrated that they don't see "vigorous public debate" as a requisite for implementing such systems.
 

Journalists are on the Move in America - and Creating a New Vitality
By Emily Bell
November 17, 2013
The Guardian
It caused a stir when the lauded statistician Nate Silver recently announced he was leaving the New York Times to join sports network ESPN, but it was not a total surprise. His political blog FiveThirtyEight.com arrived at the Times as a franchise  and it left as such. In the intervening two years he introduced political punditry to the concept that data-driven analysis might beat journalistic gut.
Mark Thompson, the former BBC director general who is now the chief executive of the NYT, made the comment that no single journalist is bigger than the organisation. This might be true but a very unusual thing is happening in America. Journalists are being hired: big-name reporters and columnists are moving for very significant amounts of money  to a wide variety of new and surprising places.
Google Defeats Authors in U.S. Book-Scanning Lawsuit
By Jonathan Stempel
November 14, 2013
Reuters
Google Inc on Thursday won dismissal of a long-running lawsuit by authors who accused the Internet search company of digitally copying millions of books for an online library without permission. U.S. Circuit Judge Denny Chin in Manhattan accepted Google's argument that its scanning  of more than 20 million books, and making "snippets" of text available online, constituted "fair use" under U.S. copyright law.
The decision, if it survives an expected appeal, would let Google continue  expanding the library. "This is a big win for Google, and it blesses other search results that Google displays, such as news or images," said James Grimmelmann, a University of Maryland intellectual property law professor who has followed the case.
"It is also a good ruling for libraries and researchers, because the opinion recognizes the public benefit of making books available," he added.
Supercomputer Watson Will Soon Be Available to Everyone
By Brian Feldman
November 14, 2013
The Wire
Two and a half years ago, in early 2011, an IBM-developed supercomputer named Watson won a Jeopardy! tournament against two human opponents. It was simultaneously fascinating (computers are cool!) and terrifying ("I, for one, welcome our new robot overlords.").  Until now, however, the high-level computations performed by Watson have been kept locked away, but on Thursday, IBM will announce that it is making Watson available to companies and individual developers through the Internet.
The initiative is IBM's attempt to get into cloud computing services  to compete with the likes of Google and Amazon. Rather than having to pay for hardware, software, and upkeep on complex technology, Watson's system of machine learning would be accessed remotely and, more importantly, could be far more inexpensive as well. The technology is already being tested out for medical purposes.
Alarming Rise in Cases of Writers Persecuted for their Use of Digital Media
By PEN International
November 15, 2013
Each year on 15 November PEN International and its world-wide membership of writers commemorate their colleagues from around the world who are imprisoned, attacked and killed.
In the first six months of 2013, PEN monitored over 630 cases of attacks on writers, journalists and bloggers. Of these, around 187 are in prison, some serving sentences of over 15 years. Others are suffering unfair trials, harassment and threats.
Every year PEN focuses on five writers from around the world that represent the type of threats and attacks faced by our colleagues. This year PEN looks at cases of writers that are suffering violations of their right to freedom of expression for using digital media. `Digital surveillance has become the partner in crime for states in their war on freedom of expression' said Marian Botsford Fraser, Chair of the Writers in Prison Committee. `We have seen an alarming rise in the number of cases that have a digital component over the last decade. Almost half of our most serious cases are now related to digital media.'
Google is Now Bigger than Both the Magazine and Newspaper Industries
By Jim Edwards
November 12, 2013,
Business Insider Chart of the Week