In the War on Poverty, a Dogged Adversary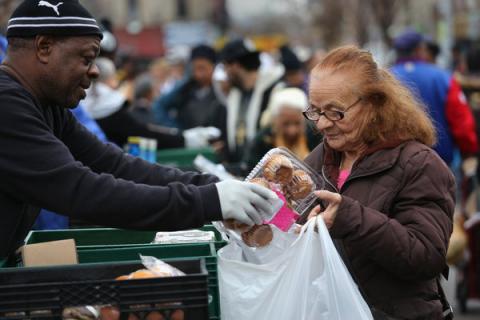 A mission outreach program in Brooklyn distributes free food to low-income families., John Moore/Getty Images
When President Lyndon Johnson declared his war on poverty on Jan. 8, 1964, almost exactly 50 years ago, 19 percent of Americans were poor.
"The richest nation on earth can afford to win it," he reasoned, as he proposed a clutch of initiatives from expanding food stamps to revamping unemployment insurance. "We cannot afford to lose it."
A half-century later, our priorities have changed.
In November, food benefits were cut for approximately 48 million Americans by an average of 7 percent, costing the typical recipient about $9 a month, as the emergency expansion of the food stamp program enacted in the depths of the great recession was allowed to expire.
Next month, 1.3 million jobless workers are scheduled to stop receiving an unemployment check, after Congress's refusal to prolong the extension of emergency jobless benefits to up to 73 weeks, from 26. Perhaps as many as five million people will lose their benefit over the next year.
But while politicians' attention has wandered, poverty remains uncomfortably close to where it was five decades ago.
The official poverty rate today is 15 percent. But by a newly deployed, more comprehensive Census Bureau definition, which provides a more realistic tab on people's needs and takes into account the effect of government benefits, 16 percent of Americans are poor.
This is just 3 percentage points less than in 1967, the earliest year for which the data is available. It amounts to 50 million people.
Why so many still? Did the United States wage a war on poverty, lose and move on?
By the coarsest understanding of poverty the answer is no. Even the poor have made progress since the '60s as the nation's living standards have risen. If poverty were defined based on what people bought in 1967, adjusted only for inflation, the poverty rate would have fallen to about 11 percent today, according to research by Jane Waldfogel and other researchers at Columbia University.
But poverty is best measured relative to the actual living standards of our own society. By the standards of the 19th century, for instance, practically no American is poor. In comparison with Bangladeshis, there are precious few poor in the United States.
A more nuanced analysis of the evolution of poverty and America's efforts to combat it is not so consoling.
Recent research on poverty suggests that government programs have done, in fact, a much better job than the headline statistics suggest. The reason the poverty rate has budged so little is that the job of fixing it has gotten harder.
"The government is doing more to reduce poverty now than it did in the 1960s," Professor Waldfogel said.
Without the panoply of government benefits — like food stamps, subsidized school lunches and the earned-income tax credit, which provides extra money to household heads earning low wages — the nation's poverty rate last year would have reached almost 31 percent, up from 25 percent in 1967, according to the research at Columbia.
In 1967, government programs moved about 3 percent of children out of poverty. In 2012, they prevented 12 percent of children from dropping below the poverty line.
Hilary Hoynes of the University of California, Berkeley, explained why that has not made much of a dent in the numbers: "A flat poverty trend is better than we would have expected from the structural changes in the labor market."
Think of it this way: Despite a half-century worth of technological progress and some fairly robust economic growth for much of that time, the labor market does a worse job lifting people out of poverty today than it did before Neil Armstrong set foot on the moon.
Government transfers in the United States are far more meager than antipoverty efforts in other advanced nations.
In 2010, government transfers reduced the Dutch poverty rate — defined as people with less than half the median income — from 25 percent to 7.5 percent, according to the Organization for Economic Cooperation and Development. Government programs in the United States, on the equivalent measure, trimmed it to 17 percent from 28 percent.
Unemployment insurance here — the main tool to shield workers from adverse turns of the economic cycle — is far stingier than it is elsewhere. At the same time, Washington offers very little for adults without children on the assumption that they can and should work. But during a recession and periods of slack demand, that is impossible for many otherwise employable people.
Welfare reform in the mid-1990s, to a large extent, replaced cash payments with food stamps and an expanded earned-income tax credit. But the tax credit is of no use to those without jobs. "It is not well suited to provide traditional income insurance," Professor Hoynes said.
Importantly, government benefits can make it tough for people to leave poverty behind. "There's a lot of action at the very bottom," Professor Waldfogel said. "But once you hit the poverty line a lot goes away."
For a two-parent family with children and a breadwinner earning $25,000, it makes little financial sense for the other spouse to get a job. After subtracting taxes, lost government benefits and the added cost of child care, the family would take in only some 30 cents of each additional dollar, according to calculations by Melissa Kearney and Lesley Turner of the University of Maryland.
"There are huge work disincentives here," said Professor Kearney, who also runs the Hamilton Project at the Brookings Institution. "They should be allowed to keep more disposable income. They are doing — quote, unquote — what they are supposed to and they are not much better off than they were before."
And yet for all the shortcomings of the government's strategy, the main reason for America's persistent poverty is the disappearance of jobs with decent pay that can take workers above the poverty line without the government's help.
The war on poverty was not just about the poor. President Johnson saw it as a way to "prove the success of our system; to disprove those cynics and critics at home and abroad who question our purpose and our competence."
Our system provides extraordinary rewards for the successful. But as long as so many are left so far behind, the success of our system remains in doubt.
America has not stopped fighting the war on poverty. President Obama's health law should, when functioning properly, prevent medical expenses from dragging many families into bankruptcy.
Yet winning this war will require more than expanded government benefits. It will probably require a different sort of labor market that provides a better first line of defense. That is a much tougher war to win.
This article has been revised to reflect the following correction:
Correction: December 18, 2013
An earlier version of this article misstated the name of a research group attached to the Brookings Institution. It is the Hamilton Project, not the Hamilton Center.