Wall Street Moving in on American Dream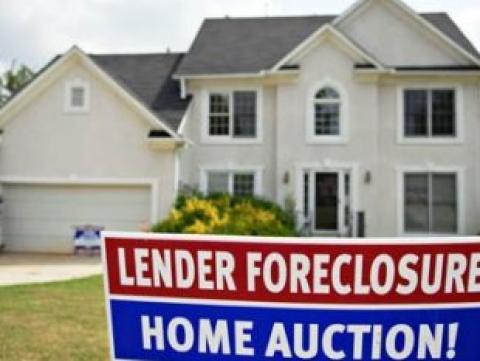 alternet
The new homeowners on your block could be from out of town — Wall Street
.
After amassing significant rental portfolios elsewhere, deep-pocketed institutional investors
are descending on the Chicago area, buying up thousands of single-family homes that they are rehabbing and renting out.
The Chicago market is vast enough that even an invasion of this size won't change home prices overnight. But the frenzied activity is a clear sign that professional investors
believe two important trends are ripe for opportunity: Housing values are recovering, and many Americans have given up on the dream of homeownership and will become renters.

There is both good news and cause for concern, housing experts say. The housing market won't fully recover from its crisis until the enormous number of foreclosed homes
is worked through the system and sold. Big-money investors have the capacity to turn around many of these blots on the market, which should help property values overall.
But the arrival of national landlords has raised questions about the long-term effects on mom-and-pop landlords, neighborhoods and affordability.
Eight well-capitalized national firms, including only one based in Illinois, have acquired about 3,200 houses in the nine-county Chicago area in the first nine months of the year, according to RealtyTrac.
Kevin Tuggle Sr. and his wife, Iona, epitomize the target market for these companies.
With credit issues and the expense of operating his own concierge business, Tuggle didn't have the option to buy a home
. Longtime renters, they were also looking for stability for themselves and their children. A house they rented in Evergreen Park fell into foreclosure, and they were forced to move out. At another home, the landlord would wait weeks, often until the next rent check, before making repairs.
Driving through South Holland, Tuggle spotted a "for rent" sign being put up outside what would become the family's home July 1. The three-bedroom ranch with a nice backyard that Tuggle calls his putting green is owned by Waypoint Homes, a California-based company that will own more than 600 rental homes in the Chicago area by year's end. Tuggle likes the updated home in a single-family neighborhood and is pleased that his landlord is a large company, less likely to run into money problems.
"I'm so happy that I'm buying a snowblower," Tuggle said. "It feels like home. I told the neighbors I'll have the snowblower."
The big national firms market their properties under names like Waypoint Homes, American Homes 4 Rent, Hyperion Homes, BLT Homes and the biggest of them all, Blackstone-controlled Invitation Homes, which nationally is buying $100 million of houses a week. Most rents range from $1,500 a month to more than $3,000.
"There's underlying demand from people who don't necessarily have the money for a deposit and want their kids in a good school," Jonathan Gray, global head of real estate at Blackstone, said last month, speaking to students at Northwestern University's Kellogg School of Management. A year ago, there was talk of creating a new investment-grade asset class, bundling single-family rental home assets into bonds.
But the conversation was tempered by concerns over an unproven business model and that the idea of selling such bonds follows the blueprint of when firms sold mortgage-backed securities in the years leading up to the housing market crash. Those worries have been dashed by the promise of steady returns from companies that are filling more than 90 percent of their properties with tenants within six months of bringing them to market.
In the first transaction of its kind, Blackstone Group, which has bought 40,000 homes in 14 markets, including 2,500 in the Chicago area, last month sold $479 million in bonds backed by single-family rental homes in key markets, including Illinois. Part the offering received a much-coveted AAA rating from Moody's Investors Service.
Completing its first year of operation, American Homes 4 Rent last month reported its third-quarter net operating income rose 191 percent from the second quarter, to $31.2 million. Its 21,267 properties included 1,443 in the Chicago area. A day later, the Agoura Hills, Calif.-based company announced plans to offer bonds backed by part of its portfolio.
Improving housing markets around the country are pushing up home prices, lessening investors' profit margins. The Chicago area remains attractive, though, because the housing market's recovery has been slower than elsewhere, and the long foreclosure timeline means plenty of homes are still available that will eventually need to change hands.
"Yes, there's more competition in Chicagoland, but it's not as much as in Atlanta or Florida, so from a returns standpoint, Chicago is still very attractive," said Charles Young, a division vice president of Oakland, Calif.-based Waypoint. "We do feel there's still some runway ahead of us to buy. It depends on the market. There's certain markets we're not buying in. We're not in Lincoln Park, we're not in the North Shore."
Will County is a popular destination for the out-of-towner landlords, but so are others. During the first six months of this year, eight large firms acquired 863 homes
in suburban Cook County, compared with 307 homes during all of 2012, according to the Institute for Housing Studies at DePaul University. Within Chicago, the eight entities bought 161 homes in the January through June period, compared with seven in 2012.
The suburbs are considered a safer bet by some companies because of issues related to schools. The means of acquisition
run the gamut, from buying exclusively at court-supervised foreclosure auctions to a combination that can include short sales, traditional private sales and purchases of bank-owned properties after the foreclosure process has been completed. Phoenix-based American Residential Leasing, which went public in May, has acquired hundreds of homes from Tinley Park-based Mack Cos., a longtime local investor and property management firm.
Three years ago in an opinion piece for the Tribune, Matthew Desmond, then a sociology department fellow at the University of Wisconsin, voiced worries about what he predicted would be a concentration of housing stock
among a few owners, causing big landlords to get bigger and smaller landlords to fall by the wayside. He called it the "Wal-Martization of urban housing."
Now an assistant sociology professor at Harvard University, Desmond said his concerns are becoming reality. "More and more prices are going to be set by really high-tech algorithms," Desmond said. "The rents are going to be more fixed.
"What happens when you fall behind? If your landlord is your next-door neighbor, you can go to them and say, 'Charles, you know I'm good for it. Can we make an arrangement?' If you're a property management company and you own 2,500 units, and someone falls behind in rent, form letters go out. You don't even know who's throwing you out."
In Will County, the eight large firms bought about 480 homes in the first 10 months of the year, according to county records. But figuring out who bought what can be difficult because both in the Chicago area and around the country, companies buy their homes under the names of various investment funds and market them under something more catchy.
Chicago-based Hyperion Homes buys properties under SERC LLC, which stands for Selene English Rider Investment Partners LLC. Waypoint buys under the name Tirell LLC. Blackstone has used permutations on two main entities, Ih2 Property Illinois and THR Property Illinois, for homes that it later advertises for rent under the Dallas-based Invitation Homes brand.
One effect of the arrival of national landlords is that their cash purchases
are removing distressed inventory from the market and helping push up local home prices.
"With the lack of financing availability, we had to have someone come in and purchase
these," said Michael Parent, president of the Mainstreet Organization of Realtors in Downers Grove. "It's a good thing that you have cash investors in there to buy up these properties and stabilize the market. I give them credit for seeing the opportunity."
Still, some question whether the national landlords will be able to maintain the properties and attract quality tenants, said Allison Milld Clements, director of housing initiatives for the Metropolitan Mayor's Caucus, a group representing 272 communities. "Do they have an exit strategy, and what does that mean for the community?" she asked.
"Our goal is to create a good database of who are the landlords and how are their properties being maintained and how do we incentivize the good (landlords) to stay in our communities," said Hildy Kingma, the village's director of economic development and planning. "How do we encourage the good guys to stay and continue to be good guys and find a way to get the not-so-good guys to exit stage left and not come back?"
But in Plainfield, there have been no discussions about formally registering or inspecting single-family rental homes
. "Our position historically has been: Let the market take care of it itself," said Village Planner Michael Garrigan.