Lee Lorch, Desegregation Activist, Dies at 98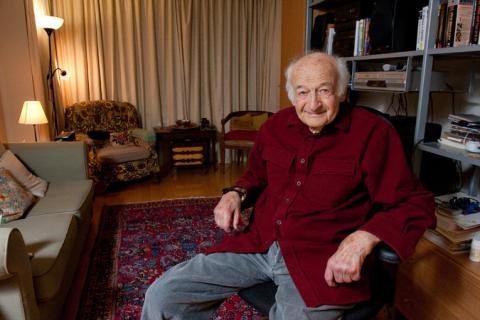 Lee Lorch, 95, a leader of an effort 60 years ago to desegregate Stuyvesant Town, at his home in Toronto.,Steve Payne for The New York Times
Lee Lorch, a soft-spoken mathematician whose leadership in the campaign to desegregate Stuyvesant Town, the gargantuan housing development on the east side of Manhattan, helped make housing discrimination illegal nationwide, died on Friday at a hospital in Toronto. He was 98.
His daughter, Alice Lorch Bartels, confirmed the death. Mr. Lorch had taught at York University in Toronto, and had lived in Toronto since 1968.
By helping to organize tenants in a newly-built housing complex -- and then inviting a black family to live in his own apartment -- Mr. Lorch played a crucial role in forcing the Metropolitan Life Insurance Company, which owned the development, to abandon its whites-only admissions policy. His campaign anticipated the sit-ins and other civil rights protests to come.

But Mr. Lorch's lifelong agitation for racial equality, not just in New York but later in Tennessee and Arkansas, led him into a life of professional turmoil and, ultimately, exile.
In the spring of 1946, Mr. Lorch, a graduate of Townsend Harris High School in Manhattan, Cornell University and the University of Cincinnati, where he earned a doctorate in mathematics, returned from wartime service in the Pacific with the Army Air Corps to teach math at City College. Like millions of veterans, he could not find a place to live. After a two-year search, having lived much of the time in a Quonset hut overlooking Jamaica Bay in Brooklyn, he, along with his wife, Grace, and young daughter, moved into Stuyvesant Town. So did 25,000 other people.
As he later put it, he had all the credentials: "A steady job, college teacher and all that. And, not black."
Read more here.