General Motors Cover-ups Result in Motor Vehicle Deaths, and Workplace Abuses in Colombia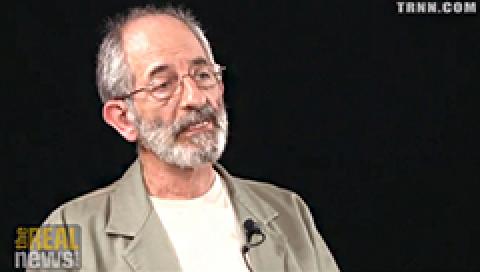 Frank Hammer,therealnews
Media reports are exposing that GM was aware for over a decade of a design flaw in 1.6 million vehicles which led to upwards of 300 fatalities before announcing a recall of those vehicles.  Though GM re-engineered the part in 2007, it didn't issue a recall until February, 2014.  Meanwhile, complaints were piling up from drivers who suddenly lost engine power causing the power steering, brakes, and airbags to fail.  12 deaths have already been attributed to a faulty ignition switch.  GM explained that it didn't recall the cars because drivers could still maneuver them manually and even turn the ignition back on!
How GM blew off the complaints, injuries, and deaths was no surprise to a group of ex-GM autoworkers from a Chevrolet assembly plant in Bogota, Colombia.   They, too, were victims of GM's disregard for safety - not on the road - but in the workplace.  Workers at their factory routinely suffered disabling injuries to their spines, shoulders and wrists from the intense work pace, 60-80 hour work weeks, the very physical nature of the work, and lack of workplace health and safety standards.  This was particularly true for workers who operated bulky, heavy welding guns, or manually lifted car bodies, or carried transaxles on their backs.
GM resistant to making improvements

Instead of making the work safer, plant management systematically targeted the injured workers for dismissal.  They identified the workers by secretly accessing their private medical records, altering the designation of their injuries as "non-work related," and dismissed them - hundreds of them. This kept insurance premiums low, and helped make the plant GM's most profitable in Latin America.  That status wasn't achieved without the help of friends in Colombia's Labor Ministry and the "Colpatria" (the professional risk insurance provider) who were complicit in the cover-up of the workers' injuries and illegal dismissals.
In both cases, the company put off making the necessary engineering changes until a lot of people got hurt, enabled by governmental "regulators." In the case of Colombia, the illegal practices were exposed after sixty-eight autoworkers decided in 2011 to form the Association of Injured Workers and Ex-workers of GM Colmotores (ASOTRECOL).  An injured production welder, Jorge Parra, was elected to lead them.  He had compiled an extensive paper trail about all the violations by GM Colmotores and its outside collaborators against him and his co-workers.
One of the labor inspectors whom ASOTRECOL identified, Luis Edgar Alvarado Vásquez, was sanctioned in October, 2011 and later charged and found guilty of falsifying documents and authorizing illegitimate firings on behalf of GM (and other companies).  He was sentenced to six years in prison.  Even so, the Labor Ministry didn't order GM to reinstate the workers.  Similarly, in May 2012, the Colpatria was found guilty of unlawfully changing the designation of Jorge Parra's injuries from "occupational" to "common," and sanctioned the equivalent of $15,500.  Nevertheless, GM didn't have to change the "non-work-related" designation in its records.  It still stands.
Colombian autoworkers take fight to the U.S.
Unable to win justice even with these favorable rulings, the workers set up two tents curbside across from the U.S. Embassy to appeal to the Obama administration, which was then part owner of the company.  They had persevered one year when eight of the workers stitched their lips shut and initiated a hunger strike lasting 22 days.  That's when GM finally responded.  It sent in a team of high-powered lawyers and several UAW representatives, and affirmed the legitimacy of the workers' claims by meeting with ASOTRECOL.  Though arranged as a mediation, the lawyers used the occasion to make a "take it or leave it" final offer.  The UAW's health and safety reps toured the plant and told the Colombians that UAW members wouldn't be willing to work under those conditions.
The company began to make changes to its factory by installing robotic welding guns, then investing in ergonomics improvements.  These welcomed but belated modifications were comparable to the belated engineering changes made to the Chevy Cobalt and Saturn Ion ignition switches back in 2007.  Now thousands of GM autoworkers are benefiting with a safer workplace, and the redesigned ignition switch is preventing needless deaths.
U.S. government agencies are not holding GM accountable
The National Highway Traffic Safety Administration received reports of fatalities connected to the faulty ignition switches as early as 2003 and was aware that a design change was made in 2007.  Yet no recall was ever ordered.  According to a former Director of that government agency, Joan Claybrook, the NHTSA failed to uphold the law.   Presumably that should earn it the title of "rogue" agency.
In Colombia, the U.S. Department of Labor under Hilda Solis intervened in the GM/ASOTRECOL dispute by providing mediators from the Federal Mediation and Conciliation Service (FMCS).  The mediation ended inconclusively due to the Federal mediators having to catch their plane.  Aware of the impass, Carol Pier, the then-Acting Deputy Secretary of the Department's International Affairs, assured ASOTRECOL supporters on October 22, 2012 that, "The U.S. Department of Labor will continue to monitor developments closely," urging "continued dialogue" between the parties.  The U.S. Dept. of Labor has been silent, though there's been no renewed dialogue in the 19 months since.
GM knows that its blue collar workers face huge obstacles in trying to hold the company accountable in Colombia.  So during mediation, the GM lawyers refused to consider rehiring them (as required by law) or paying for their surgeries and medical care.  Instead, their final offer was a cash payment equivalent to 18 months' wages.  The workers couldn't accept.
Will GM continue dodging its liabilities?
Many of the ignition switch victims and/or victims' families face formidable obstacles in trying to hold the company legally liable, as the workers know all too well.  That's because the terms of the GM bankruptcy settlement (orchestrated by President Obama's "Auto Task Force"), prevents would-be plaintiffs from suing the automaker over incidents occurring before July, 2009.  Clarence Ditlow of the Center for Automobile Safety and Joan Claybrook, have already lodged a complaint with GM's new CEO.  They said, "It would be cruel and unfair" for GM to use this defense "to escape liability for a defect GM concealed and failed to remedy for 10 years." (My emphasis)  They called on the company to establish a $1 billion trust fund to pay for pre-July 2009 claims arising from the defective ignition switches.
The Colombian autoworkers and their supporters are continuing to seek mediation with GM to reach a fair settlement - which GM has adamantly rejected.  Instead, the company is sending bulletins in response to protests to its U.S. dealers asserting that "...there is no truth to [the Colombian workers'] claims."
ASOTRECOL wins growing support
ASOTRECOL's quest for justice has attracted the support of many, including: · U.S. Representatives Miller and McGovern, both members of a Congressional oversight committee over the U.S.-Colombia Free Trade Agreement's "Labor Action Plan," who've twice visited the tents, · Human Rights activists Martin Sheen, Danny Glover, Professor Emeritus Noam Chomsky, Bishop Thomas Gumbleton and over 100 national and local clergy, and organizations like the Michigan Coalition for Human Rights, which last year awarded ASOTRECOL's Jorge Parra, "International Labor Activist of the Year," · UAW Locals and Retiree Chapters, thousands of rank and file autoworkers, Graduate Employees Organization (AFT 3550), and other labor groups, and · Latin America solidarity activists and organizations including the Washington Office on Latin America, Witness for Peace in the U.S., and Justice for Colombia in England.
Despite very difficult conditions - including threatened evictions and harassment - a core group of workers supported by their families have now occupied their makeshift tents 24/7 for nearly 1,000 days,.  Three restarted a hunger strike on February 11th - marking the day in 1937 when UAW members ended their 44-day plant occupation in Flint, and got GM to sign their first labor agreement.
Which "bottom line" will it be?
Departing from past practice, Mary Barra, GM's new CEO, directly addressed the recalls, saying, ""The bottom line is: we will be better because of this tragic situation, if we seize the opportunity."
Activists hope that she will extend her resolve to the factory in suburban Bogota.  One of them, former President of autoworkers' Local 140 Melvin Thompson, said, "I hope what Mary Barra understands is that these deaths and injuries will continue to happen if GM's focus is only on the `bottom line.'  Getting `better' doesn't just mean revamping how GM deals with these issues in the future.  It means owning up to its liability in the tragedies linked to its poorly designed cars, and poor working conditions in Bogota."
Claybrook (also President Emeritus of the advocacy group Public Citizen), declared that what happened to GM's customers was like "throwing a passenger out of an airplane without a parachute."  The same could be said of GM's inhumane treatment of its assembly line workers.
While Mary Barra is promising to step up and change the company's ways, there is a growing chorus demanding that GM include, as part of its overhaul, making "whole" all those who have suffered from its callous decisions.
For updates, or to make a donation to ASOTRECOL, please visit www.asotrecol.org.
Joan Claybrook, the former Director of NHTSA, and President Emeritus of Public Citizen, will be speaking on April 2, 2014 (12:15-1:15 pm) at Wayne State University's Spencer M. Partrich Auditorium on the subject, "GM and NHTSA: Who is Covering for Whom?"  The public is invited, lunch is provided, and admission is free.  For more information, please call 313-577-3620.
[Frank Hammer is a retired GM employee, a board member of the Michigan Coalition for Human Rights, and a former UAW-GM International Representative living in Detroit.]