labor
Culinary Union Workers Strike Rally Nears Full-On Strike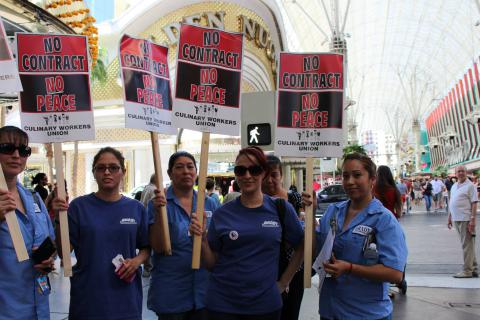 Brady Laundry Workers Picket Downtown Las Vegas Casinos, Culinary Union 226
Las Vegas, NV (KTNV) --
Culinary union
members picketed downtown Saturday over the labor dispute holding up contract negotiations with ten casino properties. 
With contract negotiations up in the air and extensions expired, single parent and Golden Nugget Casino cook Burkey Rothenberger says his whole life is also suspended. "At any time the company could kick us out, so it's very stressful," Rothenberger told Action News. "You just have to keep putting money away and hope that there's no strike."
Rothenberger and more than a thousand other culinary union workers took to the picket lines to take a stand against the ten properties that have failed to renew contracts with their culinary union workers.
The properties include Binions, El Cortez, Four Queens, Fremont, Golden Nugget, Golden Gate, Las Vegas Club, Main Street Station, The Plaza, and The D, as well as Brady Laundries which provides linen services for casino workers.
The ten properties employ about five-thousand workers who have been going for the last year and a half without contracts.
After slow-moving negotiation, the union workers say they're nearing the edge of a strike, which they already voted to authorize. Just in case, many signed up for strike benefits, which is money paid to workers who strike until an agreement is reached.
"Everybody is scared, everybody is insecure right now, but we have to fight for our benefits and our family" said Ramon Martinez, another culinary union worker. "
They're getting a show of support from culinary union workers on Strip properties, whose five-year contracts were finally hashed out; they fear if culinary workers lose out downtown, eventually Strip property workers will see the same fate.
In the end, they all need the same thing guaranteed by the contract: health care benefits, welfare benefits, and a pension.
"Nobody wins in a strike. The companies don't win and the people don't win. It's the best for the town to work this out," Rothenberger said.
Right now the casino properties are covering union employees on their pensions and insurance, but without a contract none of that is guaranteed, and picketers say they'll stay out there until the job is done.