labor
Separate and Unequal: The Charter School Pedestal The Public Can't Reach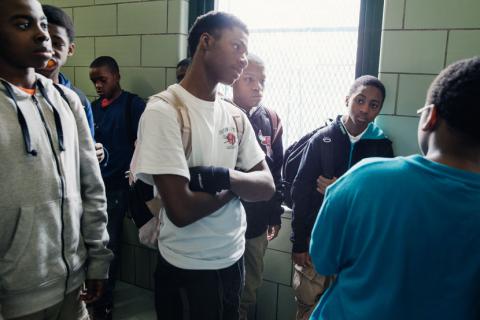 Members of PS 149's Lacrosse team line up for study hall after lunch on April 11, 2104.,Thomas Prior
There are two pathways for children at one of the largest school buildings in Harlem. One route, reserved for a select few, comes with new carpeting, bright paint and a banner: Welcome to the Harlem Success Academy. But for the vast majority of students, that stairway is off limits and they know it. Their path is lined with cracked tile and pockmarked concrete.
The Success students, known around the building as "scholars," tap away on new laptop computers. They come to school each day in beautifully pressed blue-and-orange uniforms, ready to enjoy the bounty their charter school has to offer. Their academic proficiency rates are among the best in the city, belying the educational disparities that hobble many of their peers in the largely impoverished neighborhood.
"It's like our children have their noses pressed up against a store window seeing things they can't afford," said Gay Zacerous, a speech therapist at the Sojourner Truth School, a resource-strapped public school that shares a building with Harlem Success Academy 1. "It kind of makes us feel a little devalued and demoralized."
As the broader debate over charter schools whips across the country, the epicenter is in Harlem, home base for the Harlem Success Academies, the city's most successful and well-funded charter school network. Despite their relative success in offering a quality education to a small number of students from some of the city's poorest neighborhoods, the network's sharp elbows and aggressive expansion has created a toxic dynamic as traditional public schools languish.
Critics say that charter schools—publicly funded but run by private organizations—are being used as a means to privatize public education at the expense of the vast majority of students. They say the charter movement is a Trojan-horse riding under the guise of school choice, used as an instrument to break teachers unions.
Exacerbating matters in New York City is a complicated dance called co-location, in which traditional public schools and charters co-exist under a single roof. The policy has become a lightning rod issue that has vexed the young administration of Mayor Bill de Blasio.
De Blasio, a self-styled progressive and public school parent, campaigned on curbing the expansion of charter schools. Much of de Blasio's ire was aimed at the Success Academies and their CEO, Eva Moskowitz, a longtime political nemesis who'd been given unprecedented access to city-owned property by the administration of former mayor Michael Bloomberg.
"It's like our children have their noses pressed up against a store window seeing things they can't afford. It kind of makes us feel a little devalued and demoralized."
For the better part of a dozen years under Bloomberg, charters were offered free rent in city-owned school buildings. The city's charters were favored institutions of the billionaire Bloomberg and wealthy Wall Street donors who have poured millions in cash and resources into them. Just as charters were on the ascent, Bloomberg shuttered dozens of traditional public schools, displacing thousands of other minority students, a generally prized demographic for charters.
Where charters operate in independent buildings, the differences in resources are less stark. But co-location forces each side to contend with the fact that the charters are able to offer their students far greater advantages while siphoning off resources from children on the other side of the building. In New York, it is particularly acute as students at traditional schools are in dire need while charters enjoy the spoils of both public funding and wealthy private benefactors. It may be co-location, more than any other factor, that has frayed the nerves of parents, teachers and students, and stirred a debate that has taken a decidedly polarizing and political tone.
"It makes it kind of hard when you have to work so hard on kids' self-esteem issues and their self-concepts," said Barbara Darrigo, principal of Sojourner Truth, also known as PS 149. "It's even harder when in their face is what they don't have."
What's playing out at the PS 149 and Success Academy 1 co-location is part of the larger narrative of dueling school systems, separate and certainly unequal.
Their Harlem building is also shared with two other public schools, creating a logistics tangle for students and teachers alike. PS 149 and the Success Academy both serve students from Kindergarten-8th grade. The Mickey Mantle School, known as PS 811, serves special education students and Harlem Gems is a pre-K program.
While traditional public schools are hamstrung by city department of education regulations, the charters have relative autonomy. Charter administrators can make quick decisions about structural changes like painting walls and removing dangerous lighting. Public schools must run through red tape: make a case for changes, request funding and then join the long line of other schools in varying degrees of disrepair. Charter schools are also unencumbered by teachers unions or antiquated rules and regulations that can choke innovation.
"In the traditional public schools any changes have to be mediated through democratic processes. So it's harder to get broad policy change," said Jeffrey Henig, chairman of the Department of Education Policy and Social Analysis at Columbia University. "They also have legal obligations to educate any kid that comes through their door."
"It makes it kind of hard when you have to work so hard on kids' self-esteem issues and their self-concepts. It's even harder when in their face is what they don't have."
Brendin, a first-grader, has been diagnosed with a litany of issues including ADHD and oppositional defiance disorder. His mother, Joeleyttee Fernandez, said that he has made progress since enrolling in PS 811, but fears if the loss of more space at the school would mean the loss of her son's gains.
Growing Pains
Success Academy's move into PS 149's building was gradual. In 2006, Success Academy opened its very first charter there, taking a few classrooms on the side of the building occupied by special education students. As it grew to include more grades and more students, it expanded even further. Within a couple years it took over about half of the third floor.
Success Academy gutted classrooms, fixed-up the bathrooms and modernized the infrastructure on their side of the building.
Staff at PS 149 said they returned from summer break that year and found some of their rooms filled with discarded furniture and detritus from the Success Academy renovations. They peeked into the Success Academy bathrooms, in awe as the light from new fixtures sparkled off the pedestal sinks and ceramic tiles.
"When they came in they started ripping up the walls, we came back thinking we would have nice stuff too," said Sonya Hampton, the president of the PTA at PS 149 and the mother of a 7th grader at the school. "But we didn't and we sucked it up. But when she said that my child couldn't use the same bathroom as her students, that was it for me."
Success Academy's growth meant a crunch for the traditional schools. Specialists lost office space. Teachers were moved to smaller classrooms. Logistics around the shared cafeteria and gymnasiums spaces became a headache. Special education students were shuffled here and there, displacing PS 149 kids. Many of the special education students have severe autism and various auditory sensitivities, and the changes forced some on longer routes through a maze of sensory landmines.
In the coming years Success gobbled up the remainder of the third floor on one side of the building and the second and third floors on the other.
The impact of the expansion is still felt today. A PS 149 speech therapist has to offer therapy in a back corner of a noisy library. A school counselor has confidential conversations in an open office space frequented by teachers and staff. On many days students with disabilities receive physical therapy in a stairwell because there isn't anywhere else to go. And when the music room was eliminated, the music program went too. Dozens of instrument are stacked in a messy closet collecting dust.
The pangs aren't evenly spread. The Success Academy has a room to play chess, a dance studio and a room used primarily for children's building blocks.
"The three percent of the kids in charters are basically being favored. They are being protected while the 97% of the kids in public schools are not."
Harlem Success Academy spokeswoman Ann Powell insists the expansion in the building has filled underutilized space and saves taxpayers new school construction costs.
But what doesn't show up on an audit sheet are the therapy rooms for disabled students, state mandated SAVE rooms where children in crisis are taken to calm down, or other space used for non-classroom activity.
"For some reason our special education kids are not treated with the same dignity and respect or kindness as other students are being treated," said Lynn Manuel, a special education teacher with PS 811, standing in the small, windowless room she was moved to after being relocated due to an earlier Success Academy expansion. "The emotional part is that our kids can't speak up for themselves."
The situation at the co-location took an emotional, precarious turn recently when Mayor de Blasio halted plans approved in the final days of the Bloomberg administration to relocate 200 additional charter students into the building. De Blasio said he rejected the plan because it would have displaced PS 811's special education students.
As the national debate over charter schools heats up, the epicenter is New York City, where a controversial policy has exposed a system of haves and have-nots.
By the city's own estimates, the proposed expansion would have swelled the student population in the building well beyond capacity in the coming years. (The Success Academy has since sued the city, claiming that the civil rights of the students who were turned away were violated.)
De Blasio's actions may have offered only a tentative reprieve. A new state budget deal mandates that the city either find space for charter students in city-owned buildings or help pay the charters' rent in a private space.
The legislation, signed by Democratic Gov. Andrew Cuomo, is a major victory for charters. Advocates of traditional public schools called the deal a slap in the face, one that puts charter interests and their big-money benefactors above the majority of city students.
"The three percent of the kids in charters are basically being favored. They are being protected while the 97% of the kids in public schools are not," said Noah Gotbaum, who has been a vocal critic of charter school expansion and is a vice president of the district 3 Community Education Council, which includes PS 149. "The governor, the state senate, they are responding to the fact that they have received millions of dollars from the charter lobby," he added. "The kids at 811 and 149, their parents don't have the money to support them."
Separate and Unequal
The charter debate is as much about the influence of private dollars in public education as it is about how best to educate black and Latino children living in some of the most rigid and hard to penetrate communities. African-American and Latino students are the majorities in urban charters across the country. Some say the similarities of the children at the charter and traditional schools mostly end with class and color. Charter school families are largely a self-selecting, willful group who often are savvy in navigating systems. Their enrollment in charter schools often requires increased involvement in their student's school life, while in traditional public schools parental participation is often lacking.
"They don't have the homeless kids, they don't have the special needs kids, they don't have the English language learners," said Gotbaum. "They don't have the same level of poverty, not even close.  And they especially don't have the parent involvement. These parents are struggling to get by."
Indeed, the differences at the Success Academy and PS 149 co-location aren't limited to space and assets alone.
Harlem Success Academy 1 is one of the city's best performing schools and in 2012 earned a national Blue Ribbon Award for academic excellence, one of the nation's top education prizes. According to its website, 80% of Harlem Success Academy 1 students passed the 2013 state math exams, ranking the school among the top 2% in the entire state. About 56% passed the English Language arts test and 100% passed the science exam.
By comparison, in the 2013 state testing results in English and Math, just 5% of PS 149 students were proficient in English and 3% in Math. Across the country most charter schools perform no better or worse than their traditional public school counterparts. But in New York City, charter schools tend to perform at or above the same level of neighborhood schools. Harlem Success Academy is among that group.
According to a recent data analysis by the New York Daily News, admission to the Success Academy last year was 20%, making it more competitive than getting into New York University.
"On a day to day basis the things that we grapple with are heavy duty. We may have kids who are having outbursts who can't control themselves, who are in great need, who are in crisis. And that's what we'll be focused on as [Success Academy students] are walking by in their nice, neatly formed lines."
As traditional public school enrollment in the city has trended flatly, schools in the Success Academy network have had difficulty creating seats to meet increasing demand. This past year the network received five applications for every open seat. And officials said that one out of 10 eligible kindergartners in the entire city applied for enrollment at a Success Academy school.
Critics say they skim cream from the top, recruiting the best and brightest students but rejecting those with the extreme special needs, behavioral issues or severe disabilities – the very students who drag down test scores that measure school performance. The Success Academy said it relies on a lottery system and that at 15% its special needs population is on par with the district average.
Darrigo said her school has nearly twice that number. About 30% of PS 149 students are special education, a typically high number in high poverty neighborhood schools. Every PS 811 student is. A disproportionately high number of PS 149 and PS 811 students from these schools are homeless, many of whom are bussed in from shelters all across the city.
'Their children can't read'
The freedom afforded a charter school is supposed to spur innovation, scalable models and best practices that could be shared and replicated. That's not always happening, even when the only thing separating schools is a flight of stairs.
Principal Darrigo and Danique Day Loving, principal of Harlem Success Academy 1, say they've never even sat down and had a conversation.
On a recent morning, Loving stood in the doorway of her school's dance studio, watching a group of her students performing to Pharrell Williams's hit song, "Happy."
The dance studio is across the hall from an arts studio and down the hall from the school's blocks room where teachers use blocks to bolster students' creativity, math and communication skills.
"Whatever we can do to make children successful, we will do," said Loving, who has served as a principal at two other co-located Success Academy schools. "We are not going to let rules stop us, and we're not going to let anyone tell us no and we definitely let our kids know that your zip code, your demographic, your color, your parents job is not going to determine what you can do and who you can be."
While charters have become the boogey men of public education, the real culprit, Loving said, is the New York City Department of Education, allowing public schools to fail generations of poor and minority students without any pushback.
"They are complaining about a blocks room and their children can't read," Loving said of her building mates. "There are many different arguments. 'Co-location is bad because it's the haves and have-nots. That is not a good way to look at it. If you are a have-not, why are you not standing up for your rights."
The stark differences under the roof Success Academy 1 shares with PS 149 and PS 811, Loving said, are a result of dedicated teachers, a model that embraces innovation and a creative use of space. The daily regimen is decidedly militaristic, with teachers snapping their fingers to form lines, handshakes ahead of every class and timed walks between classes.
The charter's school day is longer than the traditional public school, with classes beginning about an hour earlier and ending as much as two and a half hours later on some days. There is considerable teacher training that often spills into weekends.
Down a couple flights of stairs, Darrigo lamented the disparities among the schools in her building. She simply doesn't have the power, funding or resources to compete with the Success Academy, as scrappy and determined as her staff may be.
On most days she said she puts on a brave face for her staff. But behind her closed office door, tears often stream down her face.
"On a day to day basis the things that we grapple with are heavy duty," Darrigo said. "We may have kids who are having outbursts who can't control themselves, who are in great need, who are in crisis. And that's what we'll be focused on as [Success Academy students] are walking by in their nice, neatly formed lines."