Ecuador to Take Legal Action Against Using Indian Blood for Research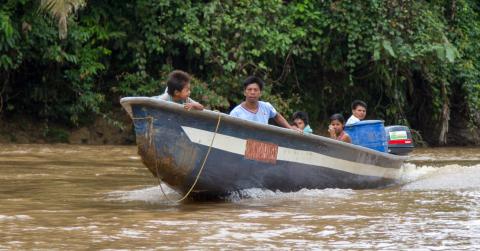 Members of the Ecuadorean indigenous group known as the Huaorani ,Jean-François Renaud/cc/flickr
The government of Ecuador is bent on taking action against an oil company and an American research center for the use of blood samples they tricked Amazon Indians into giving them and which they then allegedly used for scientific research.
So said Ecuadorian President Rafael Correa in his usual Saturday broadcast, during which he demanded an inter-American and international regulation to stop this kind of genetic "piracy."
"We're studying a course of legal action to be taken in the coming weeks," Correa said.

This, the president said, is an example of the "unjust international order" that punishes the piracy of intellectual property with prison, but does not prosecute what is done with genetic material obtained illegitimately from indigenous peoples.
Correa said that since the 1970s, U.S. researchers have obtained blood samples from Waorani Indians, an Amazon ethnicity, without their consent in order to perform scientific research.
At least, he said, 31 research papers were written between 1989 and 2012 based on such samples, obtained without the Indians' consent nor the payment of royalties that would be essential for other kinds of commercial substances.
The president recalled that the National Science and Technology Secretariat prepared a report in 2012 on the case involving the Maxus Energy Corporation and the Coriell Institute for Medical Research, as well as scientists from Harvard University.
As to what the researchers were looking for, Correa said that "people of the jungle who have not been in frequent contact with western civilization…are immune to certain pathologies."