60 Years Later: On the Waterfront and Working-Class Studies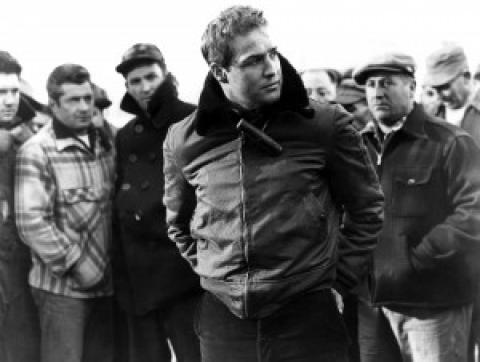 ,
For most Americans On the Waterfront is not a politically controversial film—it's simply one of the best films of all time. Many know that the film's director Elia Kazan did something shady and some might even know that he testified against his former Communist allies at the House UnAmerican Activities Committee (HUAC). An even smaller group might know that after testifying Kazan took out a full page New York Times ad to justify his decision.
But for the American left, Kazan is one of the worst traitors in American cultural history. When progressive scholars write about On the Waterfront, they draw parallels between Kazan, who betrayed his friends in order to clear his name (and to keep working in film), and Terry Malloy [Marlon Brando], who betrayed the members of his mob crew in order to clear his conscience of the wrong he had done in their name.
Kazan has done much to fuel this interpretation of the film. In his 1988 autobiography, A Life, Kazan explained the parallel between his naming names and Terry Malloy's testimony before the Waterfront Commission: "When Brando, at the end [of On the Waterfront], yells as Lee Cobb, the mob boss, 'I'm glad what I done—you hear me?—glad what I done!' that was me saying, with identical heat, that I was glad I'd testified as I had."

But if we reduce On the Waterfront to Kazan's personal story we lose sight of the real working-class social formation out of which this film was born and overlook the genuine progressive political commitments that led both Kazan and Schulberg to make On the Waterfront despite great obstacles.
The social formation of the postwar docks was rooted in the hiring process known as the "shape up." It was estimated that there were half as many jobs as there were men who lined up for them every morning. Arthur Miller, who wrote several plays about the waterfront himself, described the "shape up" as he witnessed it in the late 1940s:
I stood around with longshoremen huddling in doorways in rain and snow on Columbia Street facing the piers, waiting for the hiring boss, on whose arrival they surged forward and formed up in a semicircle to attract his pointing finger and the numbered brass checks that guaranteed a job for the day. After distributing the checks to his favorites, who had quietly paid him off, the boss often found a couple left over and in his generosity tossed them into the air over the little crowd. In a frantic scramble, the men would tear at each other's hands, sometimes getting into bad fights. Their cattle like acceptance of this humiliating process struck me as an outrage, even more sinister than the procedure itself. It was though they had lost the mere awareness of hope.
On the Waterfront began as a response to these working conditions—not as a vehicle for Kazan's revenge. The film began in 1951, before the HUAC hearings, with Budd Schulberg, a self-described Hollywood "prince"—a writer who was the son of movie mogul B. P. Schulberg. Schulberg had never met Kazan when he was asked by a small film company, Monticello, to write a screenplay based on Malcolm Johnson's Pulitzer Prize winning journalistic series, Crime on the Waterfront, which had been published in the New York Sun.
Schulberg became obsessed with the waterfront after Johnson introduced him to one of Johnson's main sources: Father "Pete" Corridan, whom Schulberg described as "a rangy, fast-talking, chain-smoking West Side [priest] who talked the darndest language I ever heard, combining the gritty vocabulary of the longshoremen with mob talk, the statistical findings of a trained economist and the teachings of Christ." Schulberg continued to obsess about the docks even after Monticello folded and the project was declared dead. After the publicity surrounding Kazan's HUAC testimony, Schulberg wrote Kazan a letter expressing sympathy for the "vilification he was undergoing," and, later, after they met for lunch, Kazan proposed they work together on a film about the Trenton Six—six African American youth who had been convicted of killing a white shop owner. Schulberg had other ideas: why shouldn't the two of them work together on his waterfront film? Kazan agreed.
Though Howard Lawson, a blacklisted screenwriter, described On the Waterfront as the ultimate Hollywood film, the film was quashed by Hollywood more than once. In 1952, when Schulberg and Kazan tried to get Darryl Zanuck, head of 20th Century Fox, to produce the film, Zanuck told them, "what you've written is exactly what the American public doesn't want to see." Finally, in late 1952, when they were depressed and about the to junk the film, a washed-up producer, Sam Spiegel, agreed to bankroll it. Filming was completed in 1953, and On the Waterfront was set to debut in the spring of 1954—just in time, everyone hoped, to help the honest dockworkers win an election against the real life "Johnny Friendly" types who controlled the docks.
Throughout the filmmaking, Kazan was inspired by Schulberg's commitment to the dockworkers' cause, and he saw Schulberg's engagement with the subject matter as "passionate and true." Kazan acknowledged that "Budd had made himself….a champion of humanity on that strip of shore."
What about Kazan's engagement? In a much less quoted passage from his autobiography, Kazan explained that his attachment to On the Waterfront came from a desire to show his old lefty enemies that he was the true progressive when it came to representing the working class: "I was…determined to show my old 'comrades,' those who'd attacked me so viciously, that there was an anti-Communist left, and that we were the true progressives and they were not. I'd come back to fight."
This quote points to another parallel between Kazan and Terry Malloy: they were both fighters. In the final scene of On the Waterfront, Malloy is beaten nearly to a pulp by Johnny Friendly's goons. He can barely walk. When his girlfriend Edie (Eva Saint Marie) tries to help him, Father Barry (Karl Malden) waves her off. In 1955, the radical British filmmaker, Lindsay Anderson, argued that this scene is "fascist." Malloy, through violence, has simply become the new de facto "Johnny Friendly," just another tough guy who is ready to rise up and exploit his brethren.
Anderson's argument shows how judging Kazan for his political betrayal can lead to a misreading of the film. The closing scene isn't fascist. It's a scene that uses the language of fighting— specifically boxing. Malloy, a former boxer, is down for the count. If Edie or the priest helps him get up, then he can't continue to fight. In this metaphorical boxing round he'll be disqualified. And so he gets up, on his own, which means that the round is over but the match is not. He will live to fight again. Finally, in this scene, Malloy has become the contender he always knew he could be.
If you get a chance to see On the Waterfront this month, in honor of its 60th anniversary, think about this. As much as Terry Malloy might represent Kazan, ratting on his former friends, it is also true that Kazan and Schulberg were trying to rat on capitalism, to call out American business practices as corrupt, and to argue that something drastic needed to done to reform the docks. What Kazan did was wrong, but what happened to American dockworkers in this period, arguably, was even worse. Though the bitterness against Kazan has lingered lo these many years, we in working-class studies should reclaim On the Waterfront as one of the important texts for understanding what happened to American labor in the postwar period. We do so not to redeem Kazan, but to honor the workers that he and Schulberg were trying to represent.
Kathy M. Newman