labor
Building A Labor Base For Third Party Campaigning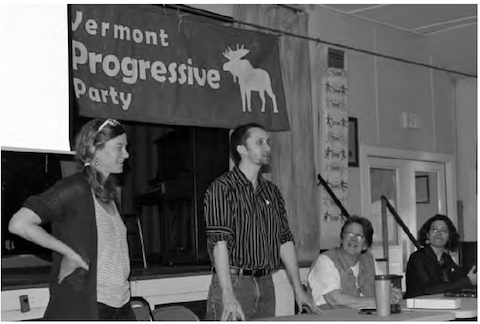 ,
"We will stand by our friends and administer a stinging rebuke to men or parties who are either indifferent, negligent, or hostile, and, wherever opportunity affords, to secure the election of intelligent, honest, earnest trade unionists, with clear, unblemished, paid-up union cards in their possession." --Samuel Gompers2
Like much labor rhetoric, past and present, Samuel Gompers's warning to the Democrats and Republicans contained more bark than bite. When progressive labor activists tried to break with the two-party system in the early 1900s, theAmerican Federation of Labor president rarely backed them, no matter how "unblemished" their union record, if they campaigned under the banner of the Socialist Party. He preferred, instead, to stick with mainstream politicians, often in need of "a stinging rebuke," but rarely receiving one because of labor's still strong tendency to embrace the "lesser evil" on any ballot.
In 2012-14, deepening labor disillusionment with the performance of Democratic office holders led "intelligent, honest, earnest trade unionists" around the country to enter the political arena themselves, as candidates formunicipal office.2 Rather than being ignored as the work of marginal "spoilers," some of these insurgent campaigns by shop stewards, local union officers, and rank-and-file activists actually won substantial union backing, while generating valuable publicity for key labor causes.
In Seattle, city council candidate Kshama Sawant, a community college professor who belongs to the American Federation of Teachers (AFT), won support from a majority of central labor council delegates. Sawant used her campaign to promote the "Fight for Fifteen" in fast food, affordable housing for Seattle workers, and the anti-corporate agenda popularized by Occupy Wall Street. By defeating a well-connected centrist Democrat, who was a longtime incumbent, she became the first socialist elected to a Seattle municipal body in more than a century.3
In Minneapolis, union member Ty Moore stressed similar issues and drew support from the state council of Service Employees International Union (SEIU) for his first-time bid for a city council seat there. For Moore's Democratic opponent to win, she needed the support of U.S. Senator Al Franken and local Congressman Keith Ellison, both influential liberal Democrats, "as well ascorporate interests such as the National Association of Realtors."4
Meanwhile, in blue-collar Lorain County, Ohio, two-dozen incumbent Democrats who had lost touch with their working class base were ousted from city council jobs by union activists running on an independent labor ticket.5 In New Haven, Connecticut, candidates recruited by the Hotel and Restaurant Employees (HERE) at Yale and the American Federation of State, County, andMunicipal Employees (AFSCME) have swept aldermanic races, creating "a new grassroots group, called New Haven Rising, aligned with the city's new labor-backed lawmaking majority."6
In the black-majority city of Jackson, Mississippi, local union activists helpedAfrican-American radical Chokwe Lumumba get elected mayor, after he campaigned as an independent in the Democratic primary (only to lose control of city hall after the new mayor's sudden death in February of this year).7 In the northern California cities of Richmond and Oakland, two white radicals, both longtime supporters of union reform causes, launched their own 2014 mayoral campaigns.
Retired auto worker Mike Parker, one of the founders of Labor Notes and a key organizer of the Richmond Progressive Alliance, is campaigning against twocorporate-backed Democrats, in his race to succeed Gayle McLaughlin, a Green Party member and fellow leader of the RPA. In a parallel race, also to be decided in November, labor attorney and National Lawyers Guild member Dan Siegel is challenging incumbent Mayor Jean Quan, a Democrat who unleashed the Oakland police department on Occupy Wall Street protestors three years ago. Both Parker and Siegel have been endorsed by the National Union of Healthcare Workers and local branches of the SEIU; Parker and his four-member RPA slate have also won backing from the California Nurses Association and local affiliates of the Amalgamated Transit Union and Communications Workers of America.8
As labor-backed independent electoral efforts proliferate, more activists in other state are looking to the example of the Vermont Progressive Party (VPP). More than any other third-party formation in the country, the VPP has campaigned successfully for state legislative seats and municipal office, "whilebuilding support for reform and nudging the Democrats left."9
Over the last three decades, Vermont Progressives have also been able to woo local labor organizations away from their previous knee-jerk support for local Democrats or moderate Republicans. These efforts have produced an influx of younger labor activists into the leadership of the VPP, who are now recruiting more union members to run against Vermont politicians who prove "indifferent, negligent, or hostile" to working class concerns.
While the VPP model of third-party organization may not be viewed as viable in much larger, more diverse states, the idea of recruiting union members to run for office themselves has been embraced and promoted by the national AFL-CIO. So the example of labor organizers and local union officers becoming candidates and, when successful, elected public officials is one worthy of emulation, either in its third party or more frequent mainstream political form.10
What distinguishes the VPP from almost all state and local Democratic Party organizations, backed by labor elsewhere, is its year-round engagement withgrassroots labor causes and campaigns, as well as legislative/ political issues like single-payer health insurance. These non-electoral activities, plus theemergence of homegrown VPP leaders and candidates who have been workplace organizers and local union officers, haves greatly strengthened VPP's ties with the local labor movement.
Progressive Electoral Success
Vermont Progressives now have a track record of electoral success spanning thirty-five years. In 1990, Vermonters sent the first "Prog" to Montpelier, whereseventeen have since served a total of fifty-six legislative terms in the state capitol. Despite the VPP's loss of Burlington City Hall in 2012--when a non-Progressive was elected mayor for only the second time since 1981-- the party retains five city council seats (out of fourteen) in Vermont's largest municipality, as of municipal elections in March, 2014. More than thirty Progressives have been Burlington city councilors over the past four decades.
Progressives have also been elected in nonpartisan races in smaller towns, where they have served on local school committees, select boards, and community planning bodies. On Town Meeting Day, when citizen meetings are held in every Vermont community, VPP members have helped pass resolutions in favor of tax reform, single-payer health care, and Congressional reversal of the Supreme Court's Citizens United decision, which opened the floodgates for corporate political spending of the sort that Vermont Progressives will not accept.
Since its 1999 founding as a statewide entity, the VPP has become the most viable third party in the U.S. In 2012, all of its incumbent legislators who stoodfor reelection--four House members and two state Senators--held onto their seats. Their Progressive Caucus was joined by new Vermont House memberCindy Weed, who defeated an incumbent Republican. Former state rep David Zuckerman, a farmer from Chittenden County, became the third Progressive in the Senate, where he now serves as vice-chair of that body's agriculture committee. Running as a D/P, Doug Hoffer was elected state auditor, the first VPP-backed candidate to succeed in a statewide race. Cassandra Gekas, who put her Progressive backing first, but also campaigned with nominal Democratic Party support, received forty one percent of the vote in her losing race for lieutenant governor.11
While VPP candidates were doing well in various state races, the godfather of the progressive movement in Vermont--Bernie Sanders--was reelected to the U.S. Senate in 2012 with 71.2 percent of the vote. While never running as a VPP candidate himself, Vermont's independent U.S. senator, socialist Bernie Sanders, has backed other Progressive candidates for state and local office, while VPPactivists have, in turn, ardently supported his statewide races. Since his own initial campaign for mayor of Burlington in 1980-81, Sanders has succeeded in defeating Democrats and, more recently, primarily Republican foes by reaching out to union members and unorganized workers ill served by our national political duopoly (and Vermont's local version of this before it was challenged by the VPP). In 2014, Sanders even began putting out feelers about running for president, either as a Nader-style independent or, more likely, a 2016 primary opponent of Hillary Clinton, the centrist Democrat likely to dominate the field.12
Sanders's first electoral break-through occurred in 1981 when he became mayor of Vermont's biggest city by a fourteen-vote margin in a four-way race. Prior to that upset victory, he had campaigned for state or federal office multiple times in the 1970s as an articulate but marginalized standard-bearer for the fledgling Liberty Union Party (LUP).13 In 1976, when Sanders ran for governor, neither the Vermont AFL-CIO nor the more left-leaning Vermont Labor Forum (composed of the Teamsters, United Electrical Workers, and Granite Cutters Union) gave serious consideration to backing his pro-labor Liberty Union slate. During this entire decade, today's much-respected U.S. Senator never gained any official labor support or more than five percent of the total statewide vote.
For the rest of this article, please go to http://www.socialpolicy.org/component/content/article/4-latest-issue/680-union-member-recruitment-by-vermont-progressives