Danny Casolaro Died for You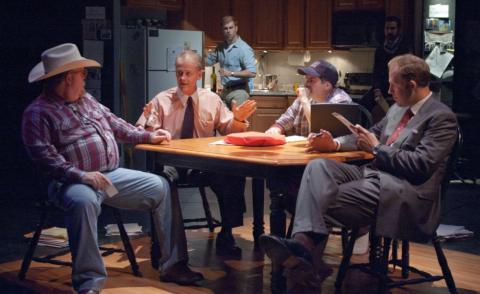 Jamie Vann, Philip Earl Johnson, Kyle Hatley, Mark Richard, Demetrios Troy and Dennis William Grimes in TimeLine's DANNY CASOLARO DIED FOR YOU, Lara Goetsch
Danny Casolaro Died for You
Contras and Drugs, Three Decades Later
Chicago Theater Review: DANNY CASOLARO DIED FOR YOU (TimeLine Theatre Company)
by Lawrence Bommer
Stage and Cenema
October 2, 2014
http://www.stageandcinema.com/2014/10/02/danny-casolaro-died-for-you/
DANNY CASOLARO DIED FOR YOU (TimeLine Theatre Company)
A WHISTLEBLOWER'S CONVENIENT SUICIDE
Urgent, cinematic, and breathlessly intense in everything but its intermission, TimeLine Theatre Company's true-life exposé of a truth-teller and his martyrdom delivers a heavy dose of thinking theater. Its rather un-ironic title accuses the audience as much as the authorities. Soon to become a feature film, Danny Casolaro Died for You unsubtly imposes an "attention must be paid" obligation on its viewers as much as the theater: We must make sense of what inept police in West Virginia in August 1991 preferred to call a suicide.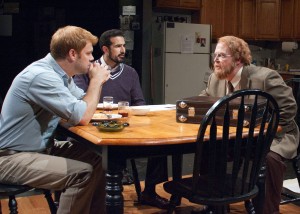 Kyle Hatley, Demetrios Troy, and Jamie Vann in TimeLine's DANNY CASOLARO DIED FOR YOU. Photo by Lara Goetsch.
According to author Dominic Orlando, cousin to Casolaro, this dubious death was the ultimate cover-up-six feet under. The playwright names no murderers-but in his theatrical, non-legal accusations, he prosecutes the NSA, CIA, the Department of Justice, and associated shadow organizations as actors or accessories, witting or not, in the early death of a freelance investigator.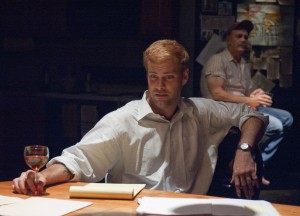 Kyle Hatley and Philip Earl Johnson in TimeLine's DANNY CASOLARO DIED FOR YOU. Photo by Lara Goetsch.
As "now it can be told" theater, TimeLine's Chicago premiere, the second coming of this angry work, works equally well as an exercise in conspiracy-theory paranoia, journalistic sleuthing at its most dangerous, and a cumulative plea for transparency in foreign policy, banking, and law enforcement (Edward Snowden anyone?). As it unspools its Matrix-like plots and counterplots, this murky, multi-layered 135-minute semi-thriller, under Nick Bowling's driving staging, creates its own very daunting maze. This labyrinth requires a flow chart to follow the money and the clandestine creatures who thrive in the dark and live in secret and for secrets. Indeed, it seems at times as if there just aren't enough bread crumbs to get you through this forest. "Oh what a tangled web we weave / When once we practice to deceive."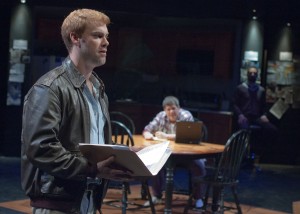 Kyle Hatley and Mark Richard in TimeLine's DANNY CASOLARO DIED FOR YOU. Photo by Lara Goetsch.
Suffice it to say that the action is framed by an FBI visit to Thomas Vaccaro (Demetrios Troy). Under interrogation, this professor-supposedly a different cousin to the author and the victim-recalls the flashbacks that become the back story to a supposed suicide. (Significantly, it was not considered a suicide by both objective evaluators and the House Judiciary Committee. But in 1994 Janet Reno insulated the Department of Justice from any wrongdoing or complicity in Danny Casolaro's death. End of story-until 20 years later and this cri de coeur and conscience.)
 
Kyle Hatley and Demetrios Troy in TimeLine's DANNY CASOLARO DIED FOR YOU - photo by Lara Goetsch.
Orlando's elaborate (and often speculative) exposition of this bubbling quagmire works back from the anti-hero's death in a Martinsburg, West Virginia motel room, his arms slashed more than a dozen times in an apparent self-murder, to his fatal curiosity in 1990 over a software (PROMIS) manufacturer who accused the Justice Department of stealing his invention.
This in turn leads to the gradual exposure of a devious alliance of Mafiosi, Native American casinos, Time-Warner editors, the corrupt Bank of Credit and Commerce International (BCCI - what TIME called "the world's sleaziest bank"), chemical weapons in the California desert, cocaine cartels, arms dealers, the Inslaw software profiteers, and government operatives-including an insidious private and for-profit cabal within the CIA.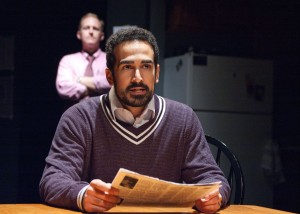 Dennis William Grimes and Demetrios Troy in TimeLine's DANNY CASOLARO DIED FOR YOU. Photo by Lara Goetsch.
As with the very similar Iran-Contra scandal (the Nicaragua "arms for drugs" gambit), their goal is to circumvent the law, much like the "October surprise" that helped to elect Ronald Reagan (a dirty deal made with Iranians to only release the hostages after the inauguration). In this world a good scoop means an early death. Or, as Danny told his brother, "If anything happens to me, don't believe it's an accident."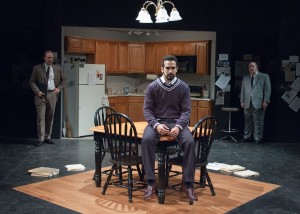 Dennis William Grimes, Demetrios Troy and Jamie Vann in TimeLine's DANNY CASOLARO DIED FOR YOU. Photo by Lara Goetsch.
Sinking as much as swimming in the quicksand of this over-plotted nightmare, Kyle Hatley's embattled, handsome, blonde-haired Danny Casolaro is an intrepid adventurer (he wrote a novel about lost Inca gold). Now facing actual danger, chronically curious Danny bounces from one treacherous agent to another.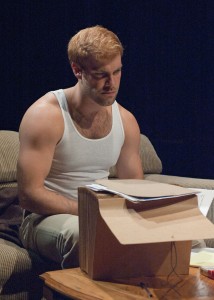 Kyle Hatley in TimeLine's DANNY CASOLARO DIED FOR YOU. Photo by Lara Goetsch.
Cut in the same conspiratorial and caricaturing Kafkaesque cloth (and so unworthy of specific attributions), these needles in a very heavy haystack are entertainingly played by Mark Richard, Philip Earl Johnson, Dennis William Grimes, and Jamie Vann. Each of these dozen-plus schemers or victims has a ready-made motive, edifying strategy or demise, secrets to hide, lies to peddle-and/or all of the above.
It's easy to get lost in this torrent of unprocessed revelations and barrages of name-dropping-an unpeelable onion with a hundred layers or a rabbit hole with no bottom. What nails it in the final scene is Troy's impassioned, Zola-like accusation against the still-unpunished felons who killed his cousin (among others). As always, the TimeLine lobby has been transformed into a stunning "octopus," displaying the major players in this modern morality play and the copious program is a minefield of eye-opening disclosures.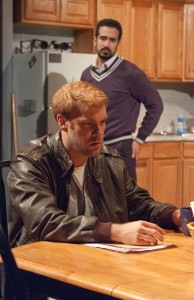 Kyle Hatley and Demetrios Troy in TimeLine's DANNY CASOLARO DIED FOR YOU. Photo by Lara Goetsch.
photos by Lara Goetsch
Danny Casolaro Died For You
TimeLine Theatre Company
Wellington Church, 615 W. Wellington Ave.
Wed and Thurs at 7:30; Fri at 8;
Sat at 4 & 8; Sun at 2
(Thurs 11/27 no performance; Fri 11/28 at 4)
scheduled to end on December 21, 2014
for tickets, call (773) 281-8463
or visit www.timelinetheatre.com
[moderator: and speaking of conspiracies . . .]
Contras and Drugs, Three Decades Later
By Carmelo Ruiz-Marrero
October 25, 2014
http://www.ipsnews.net/2014/10/opinion-contras-and-drugs-three-decades-later/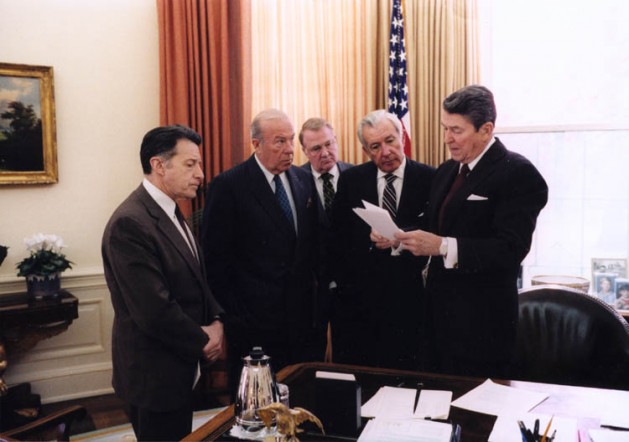 President Ronald Reagan with top aides Caspar Weinberger, George Shultz, Ed Meese, and Don Regan discussing the president's remarks on the Iran-Contra affair, Oval Office. Nov. 25, 1986. Credit: Courtesy Ronald Reagan Library, official government record
SAN JUAN, Oct 26 2014 (IPS) - In late 1986, Washington was rocked by revelations that the Ronald Reagan administration had illegally aided a stateless army known as the contras in Central America.
Thus began the Iran Contra scandal. The contras were an irregular military formation put together by the U.S. Central Intelligence Agency (CIA) in 1981 to overthrow the leftist Sandinista government of Nicaragua. The war they provoked caused tens of thousands of deaths and devastating damage to Nicaragua's economy.
What's truly tragic and ironic in this whole affair is that the main allegations in Webb's contra reporting had been confirmed in 1998 by a CIA report authored by the agency's inspector general, Frederick Hitz.
Reagan's aid was illegal since Congress had banned it. The Reagan administration responded to the congressional ban by setting up secret and illegal channels to keep the contras supplied and armed. The operation was directly supervised by the office of Vice President George H. W. Bush, who himself had headed the CIA in the 1970s.
The contras also benefited from collaboration with South American cocaine cartels. This explosive information was uncovered at least as early as 1985 when Associated Press reporters Robert Parry and Brian Barger co-wrote an article that cited documentation and witness testimony from inside both the contra movement and the U.S. government implicating nearly all contra groups in drug trafficking.
John Kerry, then a U.S. senator, carried out an investigation into illegal contra activities, including drugs, as head of a Senate subcommittee. His investigation was all but ignored by the mainstream media, which was busy covering the congressional Iran Contra hearings, the ones that made a celebrity of National Security Council staffer Oliver North.
The media also ignored the final report of Kerry's investigation, "Drugs, Law Enforcement and Foreign Policy", released in 1989.
In 1996, the subject of contra drug dealing reappeared in a series of investigative articles by reporter Gary Webb published by the San Jose Mercury News in California.
For these articles, Webb was savaged by fellow reporters and editors, particularly from the Washington Post, the New York Times and the Los Angeles Times. The Mercury News buckled under the pressure and got rid of Webb.
Unemployed, shunned by his own colleagues and practically abandoned by progressive sectors that had lost interest in the contra story, Webb took his own life in 2004. His journalistic saga and tragic end are the subject of a new Hollywood movie called "Kill The Messenger."
Some insist that Webb was assassinated by the CIA. Regarding this, Robert Parry, who was friends with Webb, wrote:
"Some people want to believe that he was really assassinated by the CIA or some other government agency. But the evidence of his carefully planned suicide – as he suffered deep pain as a pariah in his profession who could no longer earn a living – actually points to something possibly even more tragic: Webb ended his life because people who should have supported his work simply couldn't be bothered."
What's truly tragic and ironic in this whole affair is that the main allegations in Webb's contra reporting had been confirmed in 1998 by a CIA report authored by the agency's inspector general, Frederick Hitz.
But the mainstream media alleged that the report cleared the CIA and the contras of drug trafficking. The report indeed concluded that the CIA had not conspired to fund the contras with the help of drug cartels.
But Hitz, now a scholar at the University of Virginia's Center for National Security Law, said in the report that the war against the Sandinistas had taken precedence over law enforcement, and that the CIA had evidence of contra involvement in cocaine trafficking and hid it from the Justice Department, Congress, and even from the agency's own analytics division.
Hitz interviewed CIA officers who confessed to him that they knew of contra drug trafficking but kept quiet about it because they thought that such disclosures would undermine the fight against the Nicaraguan regime.
He also received complaints from agency analysts to the effect that field officers who worked directly with the contras hid evidence of drug trafficking, and that then, working with partial and incomplete information, they concluded that only a few contras were involved with drugs.
On Oct. 10, 1998, the New York Times ran a piece attacking Webb's credibility while acknowledging, as if it were a minor detail, that contra drug dealing was worse than the newspaper had originally estimated.
In September the CIA declassified a number of articles from its in-house journal Studies in Intelligence. One of these showed that the agency was genuinely distressed by Webb's contra articles, and that it took active steps against him, relying on "a ground base of already productive relations with journalists".
The article even brags that the CIA discouraged "one major news affiliate" from covering the story.
The article's author tries to fathom the hostility of broad sectors of the U.S. population toward the CIA: "We live in somewhat coarse and emotional times—when large numbers of Americans do not adhere to the same standards of logic, evidence, or even civil discourse as those practiced by members of the CIA community."
That's an actual quote.
The views expressed in this article are those of the author and do not necessarily represent the views of, and should not be attributed to, IPS-Inter Press Service.
Editing by Kitty Stapp