High School Basketball Team Banned From Tournament Over 'I Can't Breathe' Shirts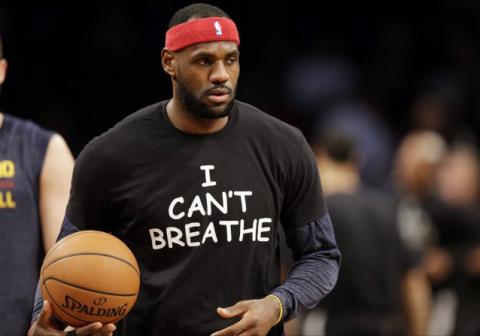 ,
School officials in California briefly banned two high school basketball teams from participating in a holiday tournament this weekend amid fears that players on both teams planned to wear "I Can't Breathe" t-shirts during warm-ups, the Associated Press reported.
The boys and girls teams from Mendocino (CA) High School had worn the shirts, which bear a slogan that has become a rallying cry in nationwide protests against police killings of unarmed black men, before previous games. But the principal and athletic director at Fort Bragg High School, the tournament host, decided that the teams could not play in the tournament unless they agreed not to wear the shirts during it.
"To protect the safety and well-being of all tournament participants it is necessary to ensure that all political statements and or protests are kept away from this tournament," Rebecca Walker, the Fort Bragg principal, wrote in a statement to the AP. "We are a small school district that simply does not have the resources to ensure the safety and well-being of our staff, students and guests at the tournament should someone get upset and choose to act out."

Officials reinstated the boys team after all but one player decided not to wear the shirts. That player sat out the tournament. The girls team did not participate because not enough players agreed not to wear the shirts, according to the AP.
The shirts' slogan is based on the last words of Eric Garner, a black man killed by a New York police officer in July. They became a popular form of protest in the sports world after Chicago Bulls guard Derrick Rose took the court wearing an "I Can't Breathe" shirt before an early December game, three days after a grand jury decided not to pursue charges against the NYPD officer involved in Garner's death. NFL players and other NBA stars, including LeBron James and Kobe Bryant, later wore the same shirts, and other on-field protests have resulted from high-profile police killings of Michael Brown, a Ferguson, Mo. teenager, and Tamir Rice, a 12-year-old killed by Cleveland police. The protests have stretched to the collegiate ranks as well.
The "I Can't Breathe" and "Hands Up, Don't Shoot" protests drew considerable backlash from police unions and officials, who have called on players to apologize and for their leagues and teams to issue fines and suspensions. The NFL and NBA, however, both said they would not punish players who wore the shirts before games.
While school officials at the high school tournament were opposed to the shirts (Walker cited recent police deaths in the area as one reason, according to the AP), the protesting athletes earned praise from others, including President Obama, who called on more athletes to speak out on political and societal issues.
"I think LeBron did the right thing," Obama said in an interview with People Magazine earlier this month. "We forget the role that Muhammad Ali, Arthur Ashe and Bill Russell played in raising consciousness. We went through a long stretch there where [with] well-paid athletes the notion was: just be quiet and get your endorsements and don't make waves. LeBron is an example of a young man who has, in his own way and in a respectful way, tried to say, 'I'm part of this society, too.'"
"I'd like to see more athletes do that," Obama added. "Not just around this issue, but around a range of issues."