Paris Anti-Terror Rally: All Religions, Ages And Nations in Massive Show of Unity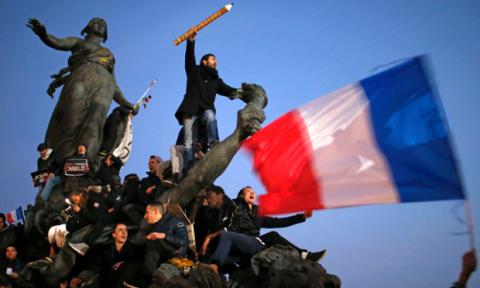 A man holds a giant pencil aloft during the rally in Paris.,Stephane Mahe/Reuters
It was the day Paris united. And with dozens of world leaders joining the millions of people marching to commemorate and celebrate the victims of last week's terror attacks, it was also the day the world united behind the city.

"Today, Paris is the capital of the world. The entire country will rise up," the French president, François Hollande, said.
It was the first time since the liberation of Paris in August 1944 that so many people – the interior ministry said there were too many to count but most estimates put it at somewhere between 1.5 million and 2 million – took to the streets of the city. An estimated 3.7 million took to the streets across the whole country.
As investigations continue into the attack on the offices of Charlie Hebdo magazine by Saïd and Chérif Kouachi, which left 12 dead on Wednesday, the killing of a female police officer the following day, and the attack on a Kosher supermarket by Amédy Coulibaly on Friday in which four died, the mood among the crowds in Paris was one of unity.
This was a nationwide outpouring of grief, solidarity and defiance. Parisiens of all ages, religions and nationalities turned out en masse not only to show their respect for the victims but their support for the values of the Republic: "liberté, égalité, fraternité" – freedom of speech and freedom of the press.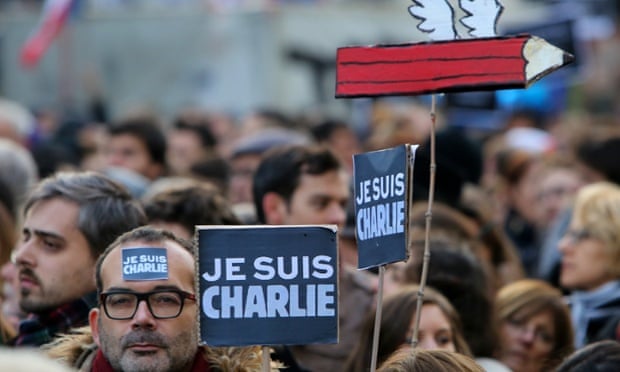 A man holds a placard reading "Je suis Charlie" (I am Charlie) during the rally. Photograph: Loic Venance/AFP/Getty Images
"On est tous Charlie" (We are all Charlie), they chanted, waving French flags, singing La Marseillaise, brandishing pens, pencils, placards and banners in French, English and Arabic.
Some read "Nous sommes la République" (We are the Republic) and "Je suis Muslim". One child held a banner reading: "I am Charlie, I am the police, and no Chérif will take away my liberty." Another young boy carried a placard reading: "Later I will be a journalist. I'm not afraid!"
"We are united – Muslims, Catholics, Jews, we want to live peacefully together," one woman told reporters.
A group of marchers carried a large model of a pencil with "NOT AFRAID" written on the side.
The noise along the route, where around 2,200 heavily armed police and gendarmes, including crack snipers on roofs, were deployed, rose and fell in waves, with songs and chants of "Charlie, Charlie, Charlie" punctuating the solemnity of the atmosphere and drowning out the helicopters overhead.
At regular intervals, the crowd stopped to applaud police and gendarmes shouting "merci police"; three police officers died in the attacks.
On a political and diplomatic level, it was unparalleled. Protocol rules were ignored as around 50 world leaders congregated in the French capital. Presidents, prime ministers, statesmen and women took buses from the Elysée palace to join the march from Place de la République to Place de la Nation, two of Paris's best-known squares.
The occasion was sombre and heavy with symbolism. As the dignitaries left the Elysée, it rained. By the time they arrived, the grey clouds had parted, allowing a rare ray of winter sunshine.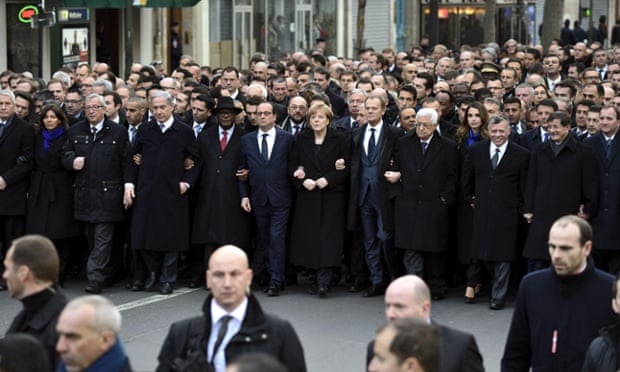 Heads of state take part in the march. Photograph: Eric Feferberg/AFP/Getty Images
Here were some of the most powerful people on earth jostling for space in the Paris boulevard named after Voltaire, the French Enlightenment writer, historian and advocate of freedom of religion and speech.
The leaders then set off, arm in arm, Hollande in the centre, the German chancellor, Angela Merkel, and the Palestinian leader, Mahmoud Abbas, to his left. To his right, Ibrahim Boubacar Këita, the president of Mali – where French troops intervened to push back Islamist forces in 2013 – the Israeli prime minister, Binyamin Netanyahu, and the British prime minister, David Cameron. As they marched, the crowds that lined the route broke into cheers and applause.
As a powerful mark of respect for those who died, the world leaders took second place, walking behind the families and friends of the victims of last week's attacks.
Charlie Hebdo staff, including those who survived Wednesday's attack, wore white headbands bearing the name Charlie.
In the leading cortege, tears streamed down faces etched with pain, grief and shock. Several mourners had to be gently supported as they made their way towards Place de la Nation.
In one poignant and profoundly emotional scene, Hollande hugged Patrick Pelloux, an A&E doctor who is also a journalist at Charlie Hebdo. Pelloux arrived late at the magazine office on Wednesday to find many of his colleagues had been slaughtered. He and other survivors have vowed to publish Charlie Hebdo next Wednesday despite the attack with a record print run of 1 million copies.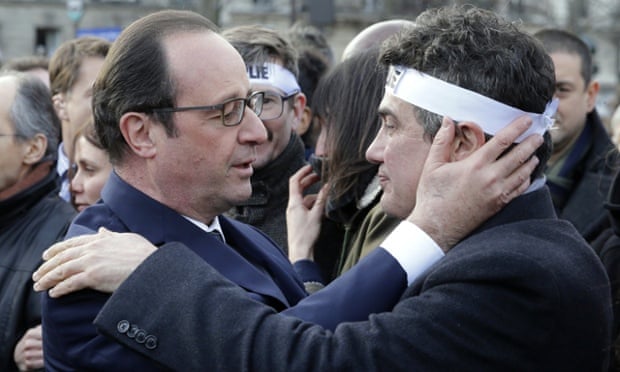 Hollande comforts Charlie Hebdo columnist Patrick Pelloux at the solidarity march. Photograph: Philippe Wojazer/AFP/Getty Images
Leaders of all the religions marched behind a banner bearing the slogan "We are Charlie".
Earlier in the day hundreds gathered to honour Ahmed Merabet, 42, the police officer gunned down in the Charlie Hebdo attack. The hashtag #JesuisAhmed has become widely used on Twitter along with #JesuisCharlie.
Pierre-Yves Martin, mayor of Livry Gargan in the north-east of Paris, paid homage to a "calm and talented" man. The Muslim officer was killed at close range by the fleeing gunmen Saïd and Chérif Kouachi.
"Ahmed Merabet, your life was stolen and no one can give it back, and so it was not taken in vain we are here, united against barbarism and to uphold the values of the Republic," Martin said.
The mayor asked those gathered to hold hands for a minute's silence. Flowers were laid in front of a portrait of the assassinated man, and the crowd sang La Marseillaise.
On Sunday evening, after the march, Hollande was due at the Grande Synagogue in Paris to meet Jewish leaders. The Jewish community has been traumatised by Friday's hostage-taking at the kosher supermarket at the Porte de Vincennes in eastern Paris.
Speaking to reporters before meeting Hollande and the French prime minister, Manuel Valls, Roger Cukierman, president of the Jewish umbrella group CRIF, condemned those who were using social media to express support for the Kouachi brothers killed in a shootout by police on Friday, around the same time a separate police assault killed gunman Amédy Coulibaly at the supermarket.
"It is intolerable that there is a hashtag on social media saying #IamKouachi," Cukierman said. He branded the tweets as "an apology for murder" which should be pursued through the courts.
Government ministers, led by prime minister Manuel Valls, and representatives from France's political parties, including the former president Nicolas Sarkozy and his wife Carla Bruni-Sarkozy, were part of another delegation at the march. The far right Front National, which has linked immigration with terrorism, was not invited to take part in the official cortege.
France's Socialist government had called for a Republican march, but so many citizens responded to the call it became more of a crowded shuffle along the 3km route.
The events of last week have deeply shocked and scarred the French people who found a sense of collective comfort in coming together on Sunday to say "We are not afraid". As night fell, they continued to march and gather, reluctant to leave the comfort of the crowd and the momentous occasion.
Barack Obama's French Kiss-Off
Edward-Isaac Dovere
Politico
January 11, 2015
http://www.politico.com/story/2015/01/obama-charlie-hebdo-events-no-show-114166.html#ixzz3OaXgGcP9
Barack Obama n'est pas Charlie — or at least, he wasn't this weekend.
Don't look for the president or vice president among the photos of 44 heads of state who locked arms and marched down Boulevard Voltaire in Paris. Nor did they join a companion march the French Embassy organized in Washington on Sunday afternoon.
Indeed, Obama's public reactions to the attacks in Paris last week have been muted. His initial response Wednesday to the killing of 12 people at the Charlie Hebdo newspaper offices was delivered as he sat calmly in an armchair in the Oval Office speaking about the "cowardly" acts and defending freedom of the press. Two days later, as a gunman took hostages and went on to kill four people in a kosher grocery, Obama took a few seconds away from a community college proposal roll-out in Tennessee because he said with events unfolding, "I wanted to make sure to comment on them" — but never then or afterward specifically condemned that attack.
Obama wasn't far from the march in D.C. on Sunday that wended silently along six blocks from the Newseum to the National Law Enforcement Officers Memorial. Instead, he spent the chilly afternoon a few blocks away at the White House, with no public schedule, no outings.
Joe Biden was back home in Wilmington, Delaware.
Neither they nor any high-level administration official attended either event.
France's top American diplomat, diplomatically, tried to make the best of it.
"Thank you to Victoria Nuland, assistant secretary at the Department of State, who has represented the U.S. Authorities at the demonstration in DC. A friend," Ambassador Gérard Araud tweeted Sunday evening, as criticism of the administration mounted.
And though it's symbolism—Obama made several statements last week condemning the terror, and the government has been supporting French efforts throughout—the symbolism has caught a lot of attention.
"I wish our US President had gone to Paris to stand with our European allies," tweeted James Stavridis, the retired Navy admiral and current dean of Tufts University's Fletcher School of Law and Diplomacy.
"It's stunning, truly stunning," said Aaron David Miller, who among other responsibilities during his time at the State Department under both Republicans and Democrats, helped deliberate over which officials to send to which events. "It's a poster child for tone deafness."
Miller said he could only see two explanations for not sending the president, vice president or even first lady Michelle Obama to Paris: either a deep terror threat, or if Obama were secretly planning a larger event with NATO allies—bigger than the visit that British Prime Minister David Cameron (who was in Paris Sunday) will be making to the White House at the end of the week. But there's no sign of such an event being organized, and Miller said there's no reason to believe one is coming.
But Miller said he couldn't see a reason to skip the rally even if there is a bigger leader event in the planning, and the idea of a security threat didn't make sense either—after all, the security in the area met the standards of so many other leaders, including Israeli Prime Minister Benjamin Netanyahu, combined.
It's unclear what role security concerns may have played in the decision not to have any senior American officials take part in the Paris march. As a general rule, the Secret Service doesn't let either Obama or Biden be in the open air in areas that haven't had a full security sweep, and the White House tends to be mindful of having security precautions create distractions around events.
If there were threats, "a willful president would dismiss many of them given the fact that this is presumably a response and terrorism creating an abnormality. You want to counter that and you want to show up," Miller said. "It's very much about symbolism. And France and the United States, for a longer period of time, embody the very propositions that are under attack."
There was "an Administration presence at the rally," a White House aide insisted Sunday afternoon in a background statement sent to a number of news outlets by way of explanation: "Ambassador Hartley is there."
That's Jane Hartley, the former Obama bundler whom he sent to France last year, and whom even most insiders in Washington and Paris couldn't pick out of a crowd. Instead, she tweeted photos of her view of the crowd, which she wrote was "Très émouvant." (Very moving.)
Her boss, Secretary of State John Kerry, kept up his previously planned schedule in India, meeting with the new prime minister and visiting the Gandhi Museum, though he noted on a stop in Gujarat, "even as I stand here at this moment, a great march is taking place in Paris, where leaders have come from around the world in order to stand up against extremism."
Deputy Secretary of State Antony Blinken tweeted—in French.
"En solidarité avec #ParisMarch, la France, les Français et tous ceux qui dénoncent la haine," he wrote Sunday morning. "In solidarity with the #ParisMarch, France, the French and all those who denounce hate."
The White House aide pointed out that Attorney General Eric Holder and deputy Homeland Security Secretary Alejandro Mayorkas were also both in Paris on Sunday for "substantive meetings." Neither joined the march.
A Justice Department official said that Holder met with French President François Hollande and the French interior minister, and then "he had to depart."
But the White House did announce early Sunday morning as the streets were filling up in Paris, that it will host a "Summit on Countering Violent Extremism." A month from now. After rescheduling it from October, for reasons that still haven't been explained. It will feature panel discussions.
The event, said White House press secretary Josh Earnest in an accompanying emailed statement, will "highlight domestic and international efforts to prevent violent extremists and their supporters from radicalizing, recruiting, or inspiring individuals or groups in the United States and abroad to commit acts of violence, efforts made even more imperative in light of recent, tragic attacks in Ottawa, Sydney, and Paris."
In other words, the White House is being careful not to suggest the attacks in Paris had anything to do with their decision to suddenly announce an event that's been shrouded in mystery for months, that they put out word via an email early Sunday morning just because that's when they happened to be ready to do it, not motivated by the news of the last week.
As far as the dealings with the French, the White House aide said, there was also Obama's phone call to Hollande on Wednesday and his visit to the French embassy to sign a condolence book the next afternoon.
"Beyond these public signals," the aide said, "can assure you all relevant components of the United States government have been working on supporting the French capabilities right now — information sharing, etc. Officials at the White House and across the agencies (State, Justice, CIA DHS) have all been in touch with their French counterparts on essentially a minute-by-minute basis to support their efforts."
Josh Gerstein contributed reporting.