labor
Cuomo Escalates Fghts with Teacher, Public Employee Unions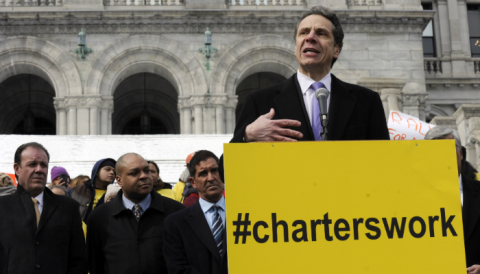 New York Governor Andrew Cuomo at a rally in support of charter schools in Albany in March 2014.,AP Photo/Tim Roske)
ALBANY -- Gov. Andrew M. Cuomo has escalated his fights with teacher and public employee unions that did not endorse his re-election by targeting major policy changes the unions oppose.
Cuomo, a Democrat, battled organized labor regularly during his first term over contracts and pensions. Now, just weeks after his re-election, he's roiled the Public Employees Federation, the white-collar state employees union, by attempting to turn more than 2,500 union jobs into nonunion posts.
He has also angered the teachers' unions by threatening to change teacher evaluations, the process for firing teachers and the probationary period for new hires, and by vetoing a bill he negotiated to slow down the impact of Common Core academic standards on teachers.

The verbal fracas has heated up over the past week.
Last Wednesday, about 75 teachers' union members demonstrated outside the Executive Mansion in subfreezing temperatures as Cuomo, holding his traditional open house on New Year's Eve, stoked the rhetorical fire inside.
"The teachers' union represents the teachers. . . . I represent the students," Cuomo said.
In his inaugural speech the next day, Cuomo was sharply critical of the performance of schools in low-income neighborhoods. "Today, we have two education systems, if we want to tell the truth -- one for the rich and one for the poor," he said at One World Trade Center in Manhattan.
"If you happen to be born in the wrong ZIP code and go to a failing public school, you can get left behind and never catch up," he said. "Public education that was the great equalizer in the society has become, in some communities, the great discriminator."
Cuomo said the initiatives aimed to make state government more efficient and improve school performance.
New Year's Eve showdown
While saying he "respects teachers," he has promised an "aggressive" education agenda this year. Among other things, he wants to address "a bad process where it takes years and years to get a bad teacher out of a classroom."
During his first four years in office, Cuomo's push for a new teacher-evaluation process, a property-tax cap and charter schools upset teachers' unions. His initiatives for business tax cuts, pension reductions and health-facility closures displeased state workers' unions.
PEF fired back by endorsing Cuomo's opponent, Fordham University Professor Zephyr Teachout, in a Democratic primary.
Switch in job classification
The governor last month moved to change the designation of 2,500 jobs in 42 different agencies from union to managerial, sending a letter to the potentially impacted employees.
Larry Schwartz, secretary to the governor, said those jobs involve decision-making roles that categorize the workers as management.
PEF contends the jobs -- with titles such as "parole hearing officer" and "information system auditor" -- have been in the union ranks for decades. Just before Christmas, the state Public Employees Relations Board asked the Cuomo administration to provide evidence requiring the classification changes, which gives PEF a chance to fight them.
Benjamin said that while there is an element of electoral payback with the teachers, Cuomo's fight in this arena is more about policy and timing.
The job of state education commissioner is vacant, and though the Board of Regents, not the governor, appoints the commissioner, Cuomo has an opportunity to push for changes in education policy before the board acts, Benjamin said.
"It's an attempt to capture the education agenda," he said. "I think he's trying to insert himself in a serious way. It's a big spending area, big policy area. It's tied to the property-tax cap, which is part of his fiscal agenda. It's not just about the backflow of electoral politics."
New York State United Teachers declined to endorse Cuomo or Republican Rob Astorino in this year's election.
But it went a step further by fighting to block Cuomo from getting the endorsement of the AFL-CIO, an umbrella organization for numerous labor groups.
Cuomo has made schools a battleground since taking office. "Ineffective," Cuomo once said in a 2012 Newsday interview when asked to describe, in a word, how he viewed the state's school system upon taking office. "Here's another word: wasteful. Bureaucratic. Commercialized."
Eyeing education reforms
The Cuomo administration signaled last month that he'll try to make education changes this year. Jim Malatras, Cuomo's director of state operations, sent a letter on behalf of the administration to state Education Department officials questioning the validity of a teacher-evaluation formula that found 98 percent of instructors "effective" or "highly effective," and knocking the "education bureaucracy" as the "enemy of change."
The letter also questioned whether a governor should have more power over education. Currently, the board is elected by the State Legislature, which means it's effectively controlled by Assembly Speaker Sheldon Silver (D-Manhattan) because his conference by far has the most members.
NYSUT countered that the governor was "clueless" about education and was "beholden" to hedge-fund billionaires who backed charter schools and donated to the Democrat's campaign. It said the governor's focus on teachers overlooks the learning deficits and poverty that hamper some students.
State Sen. John Flanagan (R-East Northport), chairman of the Senate Education Committee, said the exchange signals a heated battle in the first year of the governor's second term.
"It's like happy holidays and fasten your seat belts, ladies and gentlemen," Flanagan said last month on The Capitol Pressroom, a public radio program originating in Albany. "It's going to be a little bit of a wild ride early on."