I Will Grieve. I Will Laugh. But I Am Not Charlie.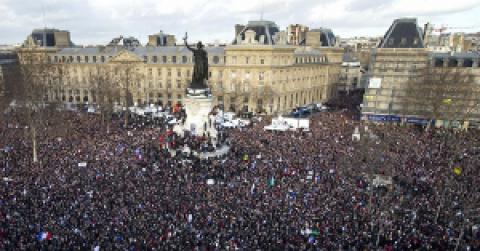 Thousands of people begin filling iconic Republique Square in Paris in a rally of defiance and sorrow, Sunday, Jan. 11, 2015.,AP Photo/Peter Dejong // Common Dreams
I am a satirical writer. On my good days, I find comedy in the contradictions of daily life, using humor to illuminate larger points about race, class, and the undeniable musical genius of Justin Bieber.
So when I heard about last week's tragic murders at the French satirical weekly Charlie Hebdo, my first reaction was: Oh God, don't let this be real. ??
Don't let this disgusting, heartbreaking thing be real. And please don't let this inevitable tragic backlash to Charlie Hebdo be real either.
Which led to my second reaction: Wait. Who the hell is Charlie Hebdo?
As I saw many of my Facebook friends (and even more of my Facebook enemies) taking up the hashtag #JeSuisCharlie, I wondered, Do we really know who we're claiming solidarity with? Is the enemy of my enemy necessarily my friend? Or is this a situation not of righteous heroes and evil enemies, but bad jokes and even worse policies?
Murder is murder. That line is clear. The attacks on the Charlie Hebdo offices in Paris were murder. We should all grieve the twelve people whose lives were stolen, as well as the four people who were taken hostage and killed at the kosher market. We should also stand against the Islamophobic reaction from Western governments and media, from old douchebags like Rupert Murdoch to young douchebags like Don Lemon.
The definition of murder is clear (to everyone outside of NYPD internal affairs, that is), but other terms are more malleable to political calculations. According to mainstream media, the mass killers in France are "Islamic terrorists," while the American generals who order drone strikes on children in Pakistan are "heroes of war." Printing anti-Muslim cartoons is "freedom of speech," while Holocaust jokes are "unacceptable" to a civilized society.
To which I say, as a Jew: it just depends on the Holocaust joke.
And that gets to the heart of what makes Charlie Hebdo such a problematic hero. Since the attacks, the American media has taken to calling the French publication a "satirical" magazine. To Americans, satire is something that is fun and harmless that you watch at night on Comedy Central. Here's the thing, though: Charlie Hebdo isn't the French version of Jon Stewart. It is closer to the bastard lovechild of Bill Maher and Rush Limbaugh, with all of their nastiness and even worse jokes.
In a country (France) and an era (post-9/11) where Muslims face rampant discrimination and often violent exclusion, Charlie Hebdo's cheap shots at Islam added fuel to the racist fire. I understand the desire to make fun of organized religion in all its absurdities, but it's possible to do that without graphic cartoons of Muhammad being sodomized. That's not brilliant satire, that's pornographic hate speech. And I don't know about you, but I prefer my porn without violent hatred.
Of course, the cartoonists at Charlie Hebdo didn't deserve to be killed for their drawings. Not in a million years. But that doesn't mean that what they drew or published was worth defending in its own right. I love free speech as much as anyone, but I can separate the right of people to have free speech with my support for their actual speech. When the ACLU supported the right of neo-Nazis to march through the suburban shtetl of Skokie, IL, they didn't go around saying #IAmHitler.
Let's be fair: Charlie Hebdo isn't the graphic novel version of Mein Kampf. In fact, as much as some of my progressive friends don't want to admit it, it often leans politically more to the left than the right. The magazine ridicules fundamentalism in all forms, from the Pope to ultra-orthodox Jews. It was against the bombing of Gaza. This doesn't mean they're not bigots, it just means they're liberal bigots. (Something that we never have a problem with here in America. Right, Hollywood?)??
While Charlie Hebdo mercilessly mocks others, it practices its own religion, a kind of "ultra-secularism" that I sometimes believe in myself. But as we've seen with Bill Maher, the problem with ultra-secularism, especially the so-called colorblind version, is that it believes that all targets are equally worthy of derision. And as Saladin Ahmed pointed out, "In a brutally unequal world, satire that mocks everyone equally ends up serving the powerful." (Note the countless presidents and dictators all rushing to march for free speech in Paris, then going home to suppress their own dissidents.)
From Lenny Bruce to Aaron McGruder, the number one rule of political comedy is to punch up. Make fun of the corporate billionaire who owns a golf course on each Hawaiian island -- not the chubby guy who has to work as a caddie just to pay the rent. That doesn't mean that certain topics are off limits. It means that while in search of that big laugh, we should expose social divisions with the goal of empathy and solidarity -- not further division.
As the late great Molly Ivins said, "Satire is traditionally the weapon of the powerless against the powerful. I only aim at the powerful. When satire is aimed at the powerless, it is not only cruel -- it's vulgar." ??
Charlie Hebdo is cruel, vulgar, and what in their eyes would be the harshest criticism possible, just not funny. ??And as my uncle Jerry once told me: if it's racist and it's not funny, then it's just racist.
So I will grieve. I will condemn the violence. I will push against the backlash. And I will fight and write and laugh in the hope that we can create a political world, an artistic world that is both principled and nuanced. And it precisely because of these principles and nuance that at the same time that I stand against the violence and the backlash, I also make it clear: ??
I am not #Charlie. ?
[Josh Healey is an award-winning writer, performer, and creative activist. He is currently the Culture Shift Director for Movement Generation, producing innovative shows, comedic videos, and creative interventions from the frontlines of the climate justice movement in the Bay Area and beyond.]
This work is licensed under a Creative Commons Attribution-Share Alike 3.0 License