NYU, grad student union reach agreement on wage hike, benefits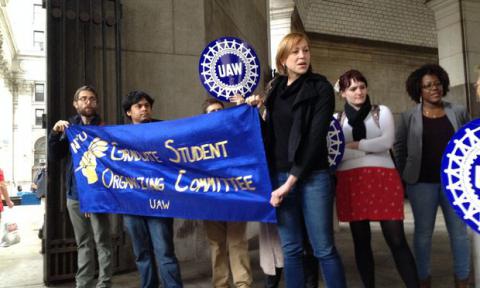 NYU graduate student employees rally at the Manhattan Municipal Building for better wages and benefits, María Villaseñor/WNYC
NEW YORK — New York University and the school's graduate student union — the only one in the country recognized by a private college — came to a tentative contract agreement early Tuesday morning on wages, health care, child care and tuition remission after about a year of tense negotiations.
The university's compromise with the
Graduate Student Organizing Committee
(GSOC), the graduate employee union of teaching and research assistants, averted a strike planned for Tuesday through Friday. While union members and supporters held signs reading "GSOC on strike" and lined the hallway leading to the bargaining session room, NYU's negotiators and the union's bargaining committee members spent five hours ironing out the agreement, which they reached at about 1:30 a.m.
Last year NYU became the only private university in the country with a recognized graduate employee union — a distinction it had once before, from 2001 through 2005. However, using a 2004 National Labor Relations Board decision stating that graduate employees at Brown University were primarily students, not workers, the administration refused to negotiate a new contract when the GSOC's original agreement expired.
The university maintained that stance until the fall of 2013, when it approached Detroit-based union United Autoworkers (UAW) — which represented the NYU graduate students even in the years when they weren't recognized by the administration — with an offer to hold a union election.
The GSOC won that election in December 2013 with 98.4 percent of the vote and soon elected a bargaining committee. Negotiations began in the spring semester of 2014 but stalled.
Over the summer, members who had grown frustrated with the UAW's bargaining tactics created a reform caucus,
NYU Academic Workers for a Democratic Union
(AWDU). Its members won a majority of seats in a bargaining committee election in September 2014 and have been largely responsible for mobilizing membership, holding open bargaining sessions and escalating toward threatening to strike.
Facing that tangible threat last night, NYU agreed to significant gains for the workers in the main bargaining categories, including wages, individual health care, family health care, child care and Ph.D. tuition remission.
Ph.D. students currently teaching both semesters will receive 4 percent more in total compensation for their work as teaching assistants in the academic year 2014-2015, bringing the average compensation up to approximately $36,600. The agreement also guarantees yearly minimum wage increases of 2.25 to 2.50 percent through 2020. For graduate employees at NYU's Polytechnic School of Engineering, some of whom currently make only $10 an hour, hourly wages will increase to $15 next fall and reach $20 by 2020. Those employees will also receive a $1,500 bonus for work done over the past three semesters.
The university will pay 90 percent of premiums for individual health coverage for those not already receiving health care through their graduate program. Additionally, funds have been created for family health care and tax-free child care, and the university will cover fees for basic dental work. Various fees relating to enrollment will be waived for working Ph.D. candidates.
Despite these major gains, the union was unable to make the university budge on one item: contract length. The union pushed for a short contract but agreed to a five-year one. Bargaining committee members said they believed that they received enough in every other area to warrant the compromise.
"Grad students don't stick around the workforce for very long. By it's very nature, it's a very transitory thing, and we hoped to give grad students a chance to have a say in their material conditions in an ongoing basis," said David Klassen, a bargaining committee member and an AWDU organizer. "The way that it got resolved was that the university really moved quite far on basically every position that they had so far been intransigent on, in an effort to make the longer contract happen."
John Beckman, NYU's vice president for public affairs, said in an email, "NYU is very pleased to have come to agreement with the UAW on a tentative contract for graduate student workers."
In the lead-up to the final bargaining session, the GSOC rallied the NYU community, including undergraduates, faculty and other campus unions to urge the administration to negotiate a fair contract. More than 600 undergraduates signed a petition supporting the union. The AWDU's recent efforts to increase the union's visibility and engage with other campus struggles helped lay the groundwork for a credible strike threat.
"Without the union reform leadership of NYU Academic Workers for a Democratic Union, we would not have been able to make these maximum material gains," said Natasha Raheja, a GSOC bargaining committee member and an AWDU organizer. "AWDU has been instrumental in activating our membership and fostering relationships with community and campus allies and executing collective action, through which we were all collectively able to exert pressure on the administration to win maximum material gains."
After a year of strained negotiations in which the university refused to budge on many economic items — as well as over a decade of organizing by former GSOC members — last night's agreement demonstrated to organizers the power of a union, even up against the country's largest private university.
"The university has been stalling for a year now, and we would go into these sessions, and they would make gestures, and they would do this and that," Klassen said. "But there was a real urgency last night and, I think, a lot more willingness on their side to make significant moves."
TORONTO, ONTARIO--(Marketwired - March 10, 2015) - The 3,700 striking teaching assistants, graduate assistants and contract faculty of York University, members of Local 3903 of the Canadian Union of Public Employees (CUPE 3903) have completed their ratification vote on a tentative agreement reached last Friday.
Members of Unit 1, representing teaching assistants, have voted to reject the tentative agreement.
Members of Unit 2, representing contract faculty, have voted to accept the tentative agreement.
Members of Unit 3, representing graduate and research assistants, have voted to reject the tentative agreement.
Faiz Ahmed, Chair of CUPE 3903, said the Local's executive and bargaining team will attempt to schedule a meeting to map out their next steps, and hope to resume bargaining with York University quickly.