Wind Could Power 35 Percent of U.S. Electricity by 2050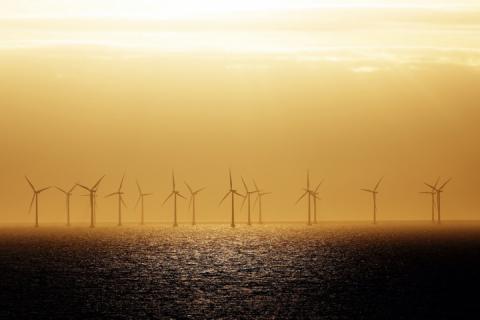 Europe is ahead of the U.S. in developing offshore wind power. , Hakan Dahlstrom/flickr
Wind power in the U.S. has grown significantly over the last decade, with Americans using three times as much wind power as seven years ago and wind now provides about 4.5 percent of the nation's electricity.
The U.S. Department of Energy believes those numbers can grow a lot more, projecting that  wind turbines could supply as much as 35 percent of U.S. electricity by 2050.
Building that much capacity over the next three decades is an ambitious but attainable goal, the report says. It would mean a 1 percent increase in consumer electricity costs before 2030, shifting to a 2 percent cost savings by 2050 as more wind farms come online. If wind power expands that much, U.S. greenhouse gas emissions can be reduced by about 14 percent.
As wind grows, investments in wind energy would reach as much as $70 billion annually by 2050, at which point the industry would support 600,000 jobs, the report says.
"Wind's growth over the decade leading to 2014 has been driven largely by wind technology cost reductions and federal and state policy support," the report says.
The report recommends that federal and local governments do what they can to bolster wind's competitive position in the power market or the existing manufacturing infrastructure will languish and fade over time without support, and an opportunity to reduce greenhouse gas emissions may be diminished.
AWEA plans to launch a year-long campaign to convince the public to support wind power.
The "Wind Vision" report, drew an immediate rebuke from some members of Congress who see wind as a bad deal.
"Our country uses about 25 percent of the electricity in the world. Relying on windmills to produce that electricity when nuclear power is available is the energy equivalent of going to war in sailboats when nuclear ships are available," U.S. Sen. Lamar Alexander, R-Tenn., said in a statement.