The Evocative Paintings of Chicago's Jazz Age Modernist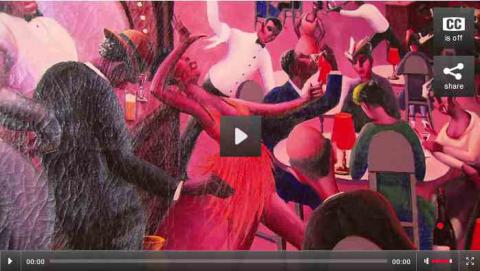 Motley is one of the most significant yet least visible 20th-century artists, despite the broad appeal of his paintings. Many of his most important portraits and cultural scenes remain in private collections; few museums have had the opportunity to acquire his work. With a survey that spans 40 years, Archibald Motley introduces the artist's canvases of riotous color to wider audiences and reveals his continued impact on art history.  -- from the website of the Nasher Museum of Art at Duke University
The FREE exhibition Archibald Motley: Jazz Age Modernist celebrates twentieth-century American artist Archibald J. Motley, Jr. (1891-1981) and reveals his continued impact on art history. While considered a major contributor to the Harlem Renaissance, Motley never lived in New York but rather played that role from Chicago – his home for most of his life.

This full-scale survey of 42 remarkable paintings chronicles the African-American experience, including life in Chicago's Bronzeville, and gives a radical interpretation of urban culture of the Jazz Age 1920s and 1930s. Spanning 40 years and representing various periods of his lifelong career, the exhibition also includes his noteworthy canvases of Jazz Age Paris and 1950s Mexico, as well as works that address slavery and racism.
Archibald Motley: Jazz Age Modernist at the Chicago Cultural Center is presented by the Chicago Department of Cultural Affairs and Special Events and programmed by Columbia College Chicago. The exhibition originated at the Nasher Museum of Art at Duke University and was curated by Dr. Richard J. Powell, John Spencer Bassett Professor of Art and Art History at Duke. Grant support to the Chicago Department of Cultural Affairs and Special Events provided by the Nasher Museum of Art at Duke University and the Terra Foundation for American Art. Support to the Nasher Museum of Art at Duke University provided by the Terra Foundation for American Art; the National Endowment for the Humanities: Exploring the human endeavor; and the Henry Luce Foundation; and the Wyeth Foundation for American Art.​ 
Dates:
March 7-August 31, 2015
Upcoming Programs
Exhibition Preview: March 6, 2015, 5:30-9pm
Lecture in the Claudia Cassidy Theater, 6-7pm
(Lecture by Exhibition Curator Dr. Richard J. Powell, John Spencer Bassett Professor, Department of Art, Art History & Visual Studies, Duke University; Programmed by Columbia College Chicago)
Gallery Talk: March 10 & April 14 at 12:15pm in the Sidney R. Yates Gallery, 4th Floor North
Concert: Columbia College Jazz Ensemble
March 16 & 17 from 12-1pm in the Sidney R. Yates Gallery, 4th Floor North
Under the directorship of Scott Hall, Columbia College Chicago students will interpret the standard repertoire of Motley's era.
Columbia College Chicago Storyweek: Chicago Classics
March 20 from 6-8pm in the Millennium Park Room, 5th Floor South
Chicago Tribune and WGN Radio legend Rick Kogan moderates a panel of guests reading works by their favorite Chicago authors, including Willard Motley who was recently inducted into the Chicago Literary Hall of Fame.
Jazz and Jive I: Music and Dance Inspired by Archibald Motley
April 11 from 3-4pm in the Claudia Cassidy Theater, 2nd Floor North
Under the direction of renowned tap dancer Jimmy Page, jazz choreographer Keesha Beckford and trumpeter/composer Scott Hall, Columbia College Chicago students will perform a tribute to Archibald Motley that draws from the dynamic and innovative black cultural traditions of jazz and dance.
--  from the website of the City of Chicago
A rare survey of the painter Archibald Motley has opened at the Cultural Center. Chicago Tonight spoke with the curators and focused on the brilliantly colorful canvases of this often-overlooked African-American painter. From dignified portraits of family members to rollicking views of Chicago night life in the '20s, '30s and '40s, Motley painted a variety of subjects and captured the Jazz Age like no one else. We get a preview of the new exhibition, Archibald Motley: Jazz
Artbeat Blog: The Talented Mr. Motley
View a gallery of Motley's works.
An interview with Valerie Browne, Motley's daughter-in-law:
Professionally, Motley was a renowned artist and major Harlem Renaissance Figure. What was he like in person?
I met him just before he passed away. He was in a small apartment, a gallery lined with his paintings.  He had a deep, resonant voice. He was incredibly engaging and bright but physically very frail. I remember he sat near the windows because he loved the play of light—you could see it in his painting. He was very gentlemanly. He had a sharp mind.
Was he still painting?
No, he was too frail to paint and had arthritis in his hands. His last painting was The First One Hundred Years: He Amongst You Who Is Without Sin Shall Cast the First Stone; Forgive Them Father for They Know Not What They Do. The long title was taken from the Bible. It was about civil rights. He was inspired by the Birmingham Church bombings. He worked on it for a decade, and it's very different from his other paintings. Like all artists, he painted his feelings. You can see it through the portrait of his grandmother; she had been a former slave.
Speaking of his family, what were his parents like? Were they supportive of his art?
They were from New Orleans, French Negro background. They moved the family to Chicago for his father to be a porter, which was a very good job for an African-American at the time. His mother was a schoolteacher. They were very supportive and that was quite amazing.  His mother especially was a very important figure in his life.
He knew he wanted to be an artist from the time he was little. He worked on the trains with his father for a while. There, he met Frank Gonzales of the Illinois Institute of Technology who wanted to give him a scholarship to study at IIT. He turned it down it down to be an artist.
"Blues" (1929)
Motley studied painting formally at The Art Institute and in Paris on a Guggenheim Fellowship. How did that training influence him?
It gave him a very strong foundation, and he moved out on his own and became more innovative. The training gave him confidence in his abilities. In Paris, he painted Blues, which is the painting most associated with the Harlem Renaissance, but he never lived in Harlem. And he actually left Paris to return to Chicago.
Why was he so drawn to Chicago?
He felt at home here. It was home. There was wonderful subject matter right here. And it's wonderful that the exhibit is here. It's the hometown. With the paintings in the Chicago Cultural Center and having the back drop of Chicago, it's really very apropos.
Motley is known for his depiction of the Jazz Age in the African-American community. Did he participate in that scene?
He was kind of an insider-outsider. He came from a middle-class black family in Englewood, a neighborhood that was more white than black. He would go to Bronzeville because he was so taken with it and the people there. He was almost like an anthropologist.
Beyond his "nightlife" paintings, he also painted formal portraits. Can you talk about that?
A lot of his early work is portraiture, and they were really quite wonderful. He painted a variety of people and skin tones. He used the terms "Octoroon and Quadroon," which came out of New 
"The Octoroon Girl" (1925)
Orleans. "Octoroon" means one-eighth and "Quadroon" means one-quarter. African-Americans with lighter skin usually had a higher status in society. There are people who can almost pass, and some with darker skin who were marginalized. He's been criticized for that but he was just painting what was happening. And there was a lot of dignity in all the portraits.
People are more interested in the Bronzeville scenes and don't always give the portraits the same attention. He was a master portraitist. The range of his talents was very staggering. The more you look, the more you see. But the portraits were also very real.
Anything you want to add about his life or his art?
I want to see him gain his rightful place in American Art history. He wanted to be known as a great artist, not just a great African-American painter. People are recognizing him as a really modern painter and it's really richly deserved.
Interview has been condensed and edited.