labor
Unions Must Be Able To Fight For Workers - Even If It Means Breaking Bad Laws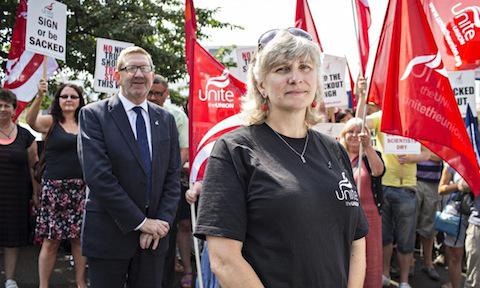 'Restrictions imposed on our campaigning role in the Lobbying Act will be followed by laws to make picketing nigh on impossible.',David Levene
Unite's rule book sounds just the sort of dusty tome to give employment lawyers headaches. Last week our governing body, Unite's executive, unanimously agreed to make it shorter. It recommended the deletion from our rules of six little words that have governed our union's actions: "so far as may be lawful". So far, so mundane, you would be forgiven for thinking.
But that would be the wrong conclusion: the proposed change in the constitution of the biggest union on these isles marks the sorry place we have reached in our national democracy.

Our executive wants these words gone not because we are anarchists, not because we are suddenly planning a bank robbery, but because we have to ask ourselves the question: can we any longer make that commitment to stick, under any and all circumstances, within the law as it stands? I am aware that this is a dramatic question to raise anywhere, let alone in a room full of lawyers, as I did last night when I addressed the Law Society.
Let me emphasise Unite's continuing determination to operate ever more effectively within the law, even when that law is an ass and ill-serves our people. Legislation restricting the right to strike, attacking the capacity for trade unions to organise and conduct their own business in line with their own rules, became some warped national consensus last century. Other aspects of that "consensus" - a deregulated financial sector, a flexible labour market, being intensely relaxed about the filthy rich - have been discredited since the global crash. Re-regulation, not deregulation, is the order of the day.
Yet trade union law remains untouched and politically untouchable, the great unmentionable of British politics. It is time it was subjected to the same scrutiny as all the other nostrums and dogmas of the 1980s. Trade unions do not need a change in the law; society as a whole needs a change in trade union law, or little else can change for the better.
The financial crash pulled back the screen on the ugly reality: widening inequality, wealth concentrated at the top, a shrinking percentage of GDP going into the pockets of workers, and governments unable or unwilling to confront vested interests. This is the world in which trade unions now operate. It is not by chance that these trends have accelerated at the same time the role and function of trade unions have been restricted and diminished. As long as companies can make more money by paying their employees less, or by sacking easily and then hiring cheaply, or by cutting corners on safety, then trade unions will need to exist. This was the case at the onset of industrialisation and it remains the case today.
Labour's victory in 1997 was one of the happiest days of my life, and it brought many achievements to be proud of, not least extending civil rights for minority groups, the minimum wage, the family friendly policies that saw vast improvements for women and children, and significant investment in our public infrastructure and the NHS. But that first Labour government, with its huge parliamentary majority, did nothing to alter the legal superstructure that allows for the skewed accrual of wealth and power in our society. Tony Blair even boasted that Britain's labour laws were the most restrictive in Europe.
Today, thanks to those laws, it is hard for any employer to fail to get an injunction against a contemplated strike - even a fully balloted and mandated strike. It is no exaggeration to say that the right to strike in this, the first country of free trade unionism, was and is hanging by a thread. Should there be a Conservative majority in May, there will be a new attack on trade union rights and democracy. The bar for a strike ballot will be raised to a level that hardly any MPs would reach in their own constituencies, by a government that has refused our requests to use modern, more effective balloting methods.
Agency labour scabs will be licensed to break strikes. Restrictions imposed on our campaigning role in the Lobbying Act will be followed by laws to make picketing nigh on impossible, too, attacking our ability to put pressure on an abusive employer in defence of our members.
It's tempting to see this as simply a reversion to type by the Tories but that's only half the story. The attack on trade unions is Tory core practice because they are well aware that they can get away with their desired assault on our national fabric only if they neuter any potential opposition, and the trade unions above all. They want to reduce us to the role of concerned spectators while they tear to bits every advance that working people have secured, every protection we have built up. Against that background, should the law, when made by an elected parliament rather than a despot or a dictatorship, be respected under all circumstances?
To take a stark example, before 1967 any man who slept with another man was breaking the law, as made by an elected parliament. Who, today, would dare to say that they were criminals, or that they should have been obliged to obey a law that, however democratically sanctioned, represented no more than the prejudice of ages? A more recent example: when Margaret Thatcher criminalised trade unionism at GCHQ, would any employee there who, in secret, maintained his or her trade union membership, be a criminal? Were they not right to break that law while it was in force?
It was, of course, a Tory, and eminent lawyer, Quintin Hogg (Lord Hailsham) who first warned of "elective dictatorship", of a majority imposing its views - ignorant ones in the case of both gay rights and trade unionists as a security risk - on a vulnerable minority. People have intrinsic rights that can sometimes be violated, even by democratically elected legislatures. The right of working people to combine, to organise, is one of them.
If partisan legislation designed to push the legitimate democratic work of trade unions outside of the law is driven through parliament then we, in Unite, will not go gently into the night. We will rage against the dying of the light. We will drive forward with modern technology and use it to increase turnouts in our ballots without being shackled by prescriptions - such as postal ballots - imposed in another age. We are not going to let the Tories destroy our democracy by shackling us to archaic procedures.
A union's job is to fight for working people's rights. If, in the year in which we mark the anniversary of Magna Carta, the government wants to challenge fundamental rights of the citizen, then I believe they will be facing not just the trade union movement, but a huge section of our civil society. When the law is misguided, when it oppresses the people and removes their freedoms, can we respect it? I am not really posing the question. I'm giving you the answer. It ain't going to happen.
Leonard David "Len" McCluskey is an English trade unionist who has been the General Secretary of Unite since 2011. He previously spent some years working on the Liverpool Docks prior to becoming a full-time union official.