labor
Connecticut Has its Share of Exploited Workers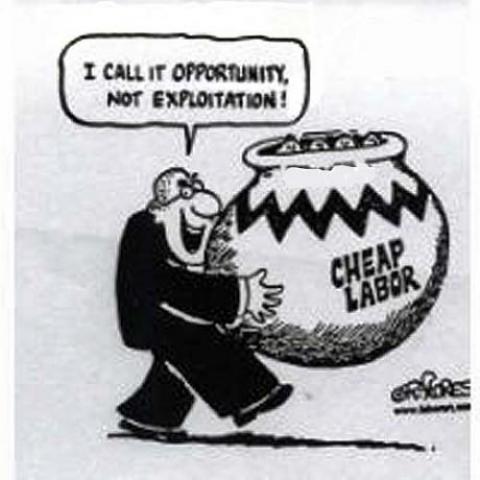 HARTFORD -- As New York State cracks down on exploited nail salon employees, worker rights advocates say similar reforms are needed in Connecticut to battle wage theft and cruel working conditions.
The abuse is particularly prevalent in the wealthy suburbs of Fairfield County, where day laborers toil in construction, cleaning and domestic service jobs, and in the nail solon industry -- which hires low wage workers from New York City.
Those workers are often immigrants and commonly paid below the minimum wage, denied overtime, or are not paid at all. Working conditions can be dangerous and lead to illness, such as respiratory problems suffered by some nail salon workers.
"Nail salons are an industry where wage theft is extremely common," said James Bhandary-Alexander, an attorney with New Haven Legal Assistance.
"They come up from New York for salons every morning," Bhandary-Alexander said. "Many are also restaurant workers. We hear about this & that it's in their business model."
The plight of low wage workers was recently detailed by the New York Times in a series of articles about nail salon workers in New York State forced to toil long hours amid toxic chemicals while performing manicures and pedicures for little wages.
The stories also reported that many workers suffered serious health problems and there was little, if any, protection for them. In response, New York Gov. Andrew Cuomo on Monday created a task force to investigate nail salons and crack down on worker abuse.
Connecticut has its own history of abuse. In response to worker complaints, the state Department of Labor in 2014 forced Cozy Nail and Spa in Greenwich to compensate its employees $120,000 for unpaid overtime and wages below the minimum wage, according to state records.
Finger Nail in Westport in 2013 was forced to pay employees $54,473 for overtime not paid to workers, labor department records show.
New York Crackdown
"New York State has a long history of confronting wage theft and unfair labor practices head on," Cuomo said in a statement on that state's new task force. "We will not stand idly by as workers are deprived of their hard-earned wages and robbed of their most basic rights."
Investigators will seek to recover unpaid wages, shut down unlicensed businesses and create new health regulations to protect nail salon workers, Cuomo said.
The New York Department of Labor probed 29 salons in 2014 -- finding 116 state labor violations alone, the Times reported.
In Connecticut, 12 complaints from nail salon workers were filed with the state labor department since 2013, and seven of the complaints were found to be valid.
During the 2014 fiscal year, the Connecticut state labor department received 2,776 complaints over unpaid wages and returned $6.5 million in wages to workers, according to the state labor department.
Connecticut Task Force
Connecticut worker rights advocates hailed Cuomo's response and called on the state to form a similar task force.
"It's a conversation we need to have statewide," said Bhandary-Alexander.
They also pointed out for every complaint filed with the state labor department dozens of abuses are not reported because workers fear reprisals.
"There are many who don't complain because they will be fired," said Megan Fountain, a volunteer with the New Haven Workers Association.
Fountain wrote a report this year documenting numerous examples of wage theft and unsafe working conditions, including at two now closed nail salons in Darien and New Canaan.
Devon Puglia, a spokesman for Gov. Dannel P. Malloy, said the governor supports paying a fair wage.
"We believe workers deserve fair wages because no one should have to work 40 hours per week and have to live in poverty," Puglia said. "If the Legislature passes something, we will carefully review it."
The state Senate recently passed a bill which would allow courts to double the amount of back wages owed to a worker if the court finds an employer failed to pay wages, accrued fringe benefits, an arbitration award or mandated minimum wage and overtime rates.
The double-damage requirement does not apply to employers who can show a good-faith belief their underpayments were legal.
Nadine Nevins, managing attorney for the Bridgeport Office of Connecticut Legal Services, told the General Assembly's Labor and Public Employees Committee wage theft is an ongoing problem.
"Unfortunately, wage theft is a fact of life when you are a low wage worker in Connecticut, especially when working in construction, retail, cleaning, restaurant and day labor industries," Nevins said.
"Connecticut is lagging behind other states in trying to combat it," Nevins said. "Employers are directly profiting from the exploitation of venerable members of Connecticut's workforce."
Fountain said employers ignore current law because the penalty is small.
"The laws in Connecticut are not strong enough to prevent the kinds of abuses; the fines are so small employers say it's no big deal," Fountain said.