The World of Soccer Must Be Rebuilt From the Ground Up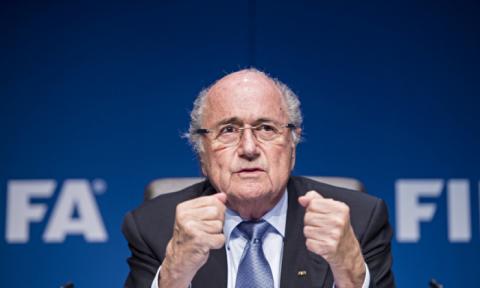 In comedy, football and politics, timing is everything and today's events in Zurich have brought all three together with quite exceptional synchronicity. Just two days before Fifa's annual congress and a fiercely contested presidential election, the Swiss attorney general's office and their American equivalent in the Eastern District of New York have done what much of the football world has been longing for and launched separate criminal investigations into bribery, corruption and money laundering in world football in general and into the allocation of the 2018 and 2022 World Cups to Russia and Qatar in particular.
This is going to be good. There are going to be a lot of questions asked about who did what, who knew what and who got what. But important, tantalising and outrageous as the answers will no doubt be, it is worth taking a moment to ask two other questions. First, how did we get into the mess? Why is it that Fifa, as an organisation, has been so profoundly dysfunctional and incapable of reform? Second, what kind of Fifa are we going to replace this with, how we are going to make it happen and who, if anyone, is going to lead this?
Fifa, like many sporting organisations, was born in another age, when international football administration was the preserve of enthusiastic amateur gentlemen operating on a shoestring budget, responsible to no one but their own tiny circles. As late as the early 1970s Fifa was still a cottage industry, with few full-time staff, selling the World Cup TV rights for peanuts. All that changed in 1974, when Joao Havelange, the president of the Brazilian FA, beat the incumbent Englishman Sir Stanley Rous in a fiercely contested election for the Fifa presidency.
Havelange won by mobilising the votes of football associations in the newly decolonised states of Africa, the Caribbean and Asia, long patronised or neglected by the Europeans who had hitherto run Fifa. As well as respect, he offered them more places at an expanded World Cup and more seats on the Fifa executive. The new football nations duly delivered their votes.
All of this required money, and Havelange with the help of Adidas and Coca-Cola made that happen by transforming the World Cup into a highly commercialised and globally televised media spectacle. Over the next 24 years and six successive elections, Havelange turned this system of exchange and patronage, fuelled by the spiralling value of the World Cup, into an art form. To this he added a penchant for the generous expense account and the hidden kickback. Under his protege and successor, Sepp Blatter, this deeply entrenched culture of clientelism and corruption has been allowed to flourish.
While Fifa itself is at the heart of the problem, it is not the only guilty party in the circus masquerading as the governance of football. In the end, votes for the Fifa president are cast by national football associations and the members of the executive committee are chosen by the regional football confederations, themselves made up of national football associations. They are, in many places, every bit as untransparent, unaccountable and cliquish as Fifa.
Of course, the corrupt and self-serving administrators of the football world bear primary responsibility for this – they have been allowed to get away with it. All over the world, sponsors and television companies have long turned a blind eye to these issues. Politicians, often in cahoots with the football world, have chosen to stay silent. Until recently, judicial, tax and police services have chosen not to investigate. It is only in the last few years that Swiss law has recognised bribery in international organisations in their jurisdiction as a criminal act.
So who is going to lead this process of change? This Friday, the 209 football associations – if all their presidents and chairs are able to make the congress – will elect the next Fifa president. As I write, there is no reason to think that Blatter will not be reinstalled by an electorate that remains impervious to press criticism and public disgrace. Even were he to lose, it is simply not plausible to believe that his opponent Prince Ali, a member of a hereditary monarchy, is the person to lead a process of democratisation.
As the Fifa spokesman Walter de Gregorio made clear at today's crisis press conference, since the organisation could not tackle its internal corruption, it will need outside agencies to do so. The same is true of the process of reform. The world's football associations, the Fifa executive and its senior leadership have demonstrated that they are practically, ethically and intellectually incapable of conducting this process alone.
When the International Olympics Committee was, at last, forced to reform by US judicial investigations into corruption surrounding the Salt Lake City Winter Olympics bid, the end results of the process, led by the IOC alone, were negligible. It is time for the politics of Fifa to be extended beyond the eternal insiders of the dysfunctional football family, the royal houses of the Gulf, and the stooges of authoritarian regimes and commercial interests that pass for representatives of the world's football nations. At the very least, representatives of fans, players, football NGOs and grassroots football should have a seat at the table.
Reform should not be confined to chucking out the bad apples – it's too late for that. Instead, Fifa's constitution should be rewritten, specifying and intensifying the democratic and social obligations of its constituent members, and transforming its mode and rationale for awarding World Cups. This is the bare minimum that the situation demands. That neither candidate for the presidential election is running on anything close to this agenda is testament to how badly political reform is needed and how hard it is going to be to achieve.
David Goldblatt has written two highly acclaimed books about football. The Ball is Round: A Global History of Football and The Game of Our Lives, both published by Penguin.