Government Impunity and the Protection of Attica's Ugly Past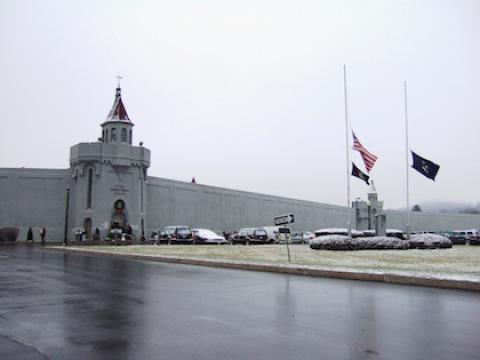 Attica Correctional Facility, Attica, New York,Jayu
On the morning of Sept. 13, 1971, New York State troopers, along with other members of law enforcement, shot 39 men to death. They wounded scores of others so severely that many suffered permanent disabilities. Not only did these men shoot countless rounds of ammunition at people who had no guns, but they also decided not to log the serial numbers of the deadly weapons they wielded. Some of them had even removed their badges so they couldn't be identified.
This carnage took place at one of America's most forbidding penal institutions—the Attica State Correctional Facility in upstate New York—where, four days earlier, over 1,200 prisoners had begun a historic protest against abysmal conditions and abuses. To ensure that the State of New York would consider their demands and not harm them, these men had taken hostages and also asked that outside observers come to the prison to oversee their negotiations with state officials. On day five, however—despite hostages, observers, and prisoners alike begging them to continue talks—state officials decided to retake the prison with force.
The results were disastrous. Within 15 minutes of hundreds of troopers, as well as some sherrifs, park police and corrections officers storming the prison, Attica's D Yard was soaked in blood. Hundreds of men lay dead, dying or descending into shock from their gunshot wounds.

Despite this horrific scene, however, no member of law enforcement was ever held responsible for what he did that day. Indeed, even though 39 people had been felled by bullets, including the state's own employees, no one ever stood trial for these killings. Instead, the State of New York spent the next 40 years resisting any attempt to make public its extensive records regarding who exactly did what to cause so much trauma at Attica.
A few days ago, however, Attica's survivors and families of the deceased had some measure of hope that this might finally change. On Thursday morning, they waited with bated breath because finally, it seemed, the State of New York was going to release some particularly key records related to Attica, thanks to their relentless pressure and a judge's ruling back in April. For decades these survivors have wanted the records opened. They believe that, if nothing else, they have the right to know who was responsible for their catastrophic losses. And, at 2:00pm those records were officially released–at least sort of.
What survivors hoped to see was insider information about the retaking of Attica, information that is contained in two previously-sealed volumes of the so-called Meyer Report—a report commissioned back in 1976 when the state was accused by one of its own of, among other things, covering up law-enforcement crimes committed at Attica. Finally getting to read volumes two and three of this report might mean, for example, that surviving hostage Michael Smith could finally find out who had riddled his lower abdomen with bullets, almost killing him and causing him years of agony. These volumes might also allow Traycee Barkley, the younger sister of slain 21-year-old prisoner L.D. Barkley to learn who had shot her brother to death and perhaps also to learn whether in fact, as various prisoners as well as respected state assemblyman observer Arthur Eve kept insisting back in 1971, he was shot to death after the retaking was complete. Or possibly the family of Attica prisoner Kenny Malloy might finally learn the name of the trooper who not only shot him to death, but also then proceeded to shoot out his eyes. Maybe the family of correction officer John Monteleone could finally learn how he ended up bleeding to death from a bullet wound to his chest.
Instead they learned little more than many of them already knew firsthand.
Prisoners' decades-long insistence that police officers had brutalized them long after the state had regained control of the prison was, for example, confirmed in this release of records. This is no small thing since, for decades, state officials firmly denied that such abuses ever took place. Notably though, the prisoners who endured the retaking of Attica already knew that they had suffered mightily at the hands of law enforcement and, thanks to their tenacity in the courts over the last 40 years, their trauma had been acknowledged legally; juries awarded them damages for that trauma back in 1997 and in 2000 the State of New York was forced to pay them a settlement. That troopers had used excessive force when they retook Attica had also been confirmed and legally censured in 1982 when a judge issued his scathing ruling in a case brought against the State of New York by the widow of a slain hostage.
But, remarkably, of the 340 pages of the Meyer Report that the judge viewed for release, only 46 pages were given to the public and even these pages were partially redacted. It was no surprise that there would be redactions: To the satisfaction of the state's Police Benevolent Association, the April ruling that led to the release of the papers had specified that no grand-jury testimony would be disclosed, in respect for the traditional secrecy of such proceedings. Still, the extent of the omissions came as a shock. The crucial names and the hoped-for details contained even in non-grand jury materials also remain hidden.
And so, despite the fanfare that accompanied the recent release of records related to the Attica uprising, Attica's victims are left disappointed. Still they remain in the dark as to whom state officials knew, or believed strongly, had killed 39 people during the retaking or who had worked so hard to make sure those shooters would never be held accountable. Still those who retook Attica with such ugliness are protected–those individuals who unloaded round after round of buckshot and countless explode-on-impact bullets into the backs and bellies of hundreds of unarmed men. Indeed, in this disclosure of the Attica records there is no mention of these acts or these men–let alone any information revealed about them that might allow Attica's victims some sense of closure.
Perhaps the State of New York is right to be concerned about disclosing all it knows about what exactly happened at Attica back in 1971. After all, there is no statute of limitation on murder in this country, and not only has the public been glad to see quite a few decades-old cases reopened in recent years, but men have gone to prison for crimes they committed long ago. And, what is more, for many months now Americans in cities across the country have been taking to the streets to demand that law enforcement be held accountable for citizen deaths. But Attica's survivors don't seem to be out for that kind of justice—or at least they hold no hope that it might be attained. Yet individuals, along with organizations like the Forgotten Victims of Attica, continue to press for an opening of the records. They just want closure. One day, they hope, state officials will finally care more about Attica's victims than protecting those who caused the chaos.
[Heather Ann Thompson is a professor of history at the University of Michigan and soon will be publishing the first comprehensive history of the Attica Prison Uprising of 1971 and its legacy for Pantheon Books.]