Study: Private Contracts Encourage Federal Immigrant Detentions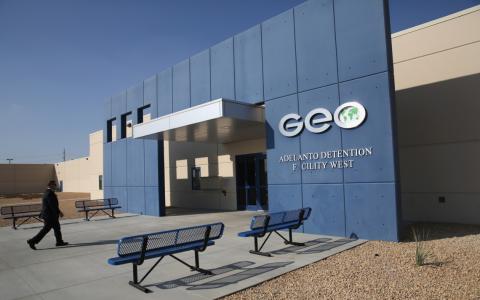 The Adelanto Detention Facility, the largest and most recent IE) detention center in California, houses an average of 1,100 immigrants in custody pending a decision in their immigration cases or awaiting deportation. , John Moore/Getty Images/Al Jazeera
A system of local quotas for privately run immigration detention facilities across the United States has created a strong incentive for federal immigration authorities to detain more immigrants than it would otherwise need to, while increasing profits for private companies, according to a study.
The report (PDF), released Thursday by the Center for Constitutional Rights and Detention Watch Network, says that the U.S. Immigration and Customs Enforcement (ICE) – the division of the Department of Homeland Security that manages immigration detention facilities – supports a system where its contracts with private companies establish "guaranteed minimums," taxpayer-supported monetary obligations to pay for a set number of detention beds, regardless of whether they are used.
That, the report says, means ICE has an incentive to detain individuals, and gives private companies that run detention facilities a say in the number of immigrants the U.S. detains annually. "Local lockup quotas that serve to protect the bottom line of private companies thus incentivize the imprisonment of immigrants," the report said.
"Immigrants have become market-based commodities," said Carol Wu, a research associate with Detention Watch Network, in a call with reporters.
Though ICE does not outsource all of its detention facilities to private companies, even those that it owns and operates itself include sub-contracting for "detention-related services" to private firms, the report said. 
The study says that local quotas have been encouraged by a pre-existing national policy, in place through successive federal appropriations since 2009, which mandates that a minimum of 34,000 beds be available daily for individuals in detention facilities across the nation, regardless of ICE requirements.
"What's important about this study is that the impact of the detention bed mandate is now being felt at the local level," Rep. Ted Deutch, D-Fl., said on a call with reporters. "It only perpetuates a terrible, wasteful, inhumane policy."
ICE told Al Jazeera that the "guaranteed minimums" policy is merely a best practice for achieving the congressionally-mandated minimum of 34,000 daily beds.
"In order to meet that mandate and use our limited resources in the most efficient way, we have developed agreements with certain facilities to make available certain numbers of beds to ICE at all times," said ICE spokesperson Jennifer D. Elzea. "The availability of those beds in no way impacts ICE's enforcement priorities or actions."
Immigration detention quotas are unique among law enforcement and incarceration sectors.
Law-and-order advocates among Republicans and Democrats favor the policy. They say the government could do more to crack down on undocumented immigration.
Immigrant-rights groups say the detention requirement forces the government to needlessly lock up thousands of people who could be supervised in less-confining ways for much less money, subjecting them to sometimes-harsh treatment in prison-like facilities as they await immigration hearings.
According to the report, half of ICE detention facilities across the country rely on guaranteed minimums of detention beds, which exceeded 8,500 individuals based on 2013 data.
"For the federal government to contractually guarantee a certain number of immigrant detainees per day violates best practices in law enforcement and is an affront to our entire conception of justice in America," said Deutch in a press release.
Moreover, a system of "tiered pricing" means that if ICE is able to reach the minimum of beds covered in its private contracts, it is granted a discount on further individuals above the agreed upon minimum. "Tiered pricing creates direct financial incentives for ICE, not only to meet the guaranteed minimum, but also to fill guaranteed-minimum facilities to capacity in order to take advantage of discounts for additional immigrants," the report said.
An October 2014 report (PDF) by the U.S. Government Accountability Office faulted ICE for not meeting minimums, saying it must try "to ensure that field offices comply with guidance to place detainees, whenever possible, in facilities with guaranteed minimums and tiered pricing."
An ICE official acknowledged that saving money was a motivation for contracts that guarantee minimums, which also allow its contractors to more accurately determine the amount of medical and detention personnel required. ICE said this was both a sensible policy given its mandate and also in line with policies of other federal agencies who contract out for detention space.
The findings released Thursday related to minimum guarantees are based largely on a Freedom of Information Act (FOIA) request from November 2013 filed by the Center for Constitutions Rights and the Detention Watch Network. But they also draw on federal business solicitations and contract data from a FOIA previously filed by the National Immigrant Justice Center.
Currently, the U.S. spends close to $3 billion a year on its detention operations, almost double the cost of 2006, while the number of those detained increased by almost 100,000 people between 2009 and 2012, the report says.
Regino Pompa Gutiérrez, who was detained for two years and released last Friday from Seattle's Northwest Detention Center, which has a guaranteed minimum of 800 persons and is operated privately, told reporters on a conference call Thursday that he was treated like an "animal" at the facility and only paid one dollar a day for labor.