labor
On Domestic Workers Day, Millions of Indian Women Continue to Work in the Shadows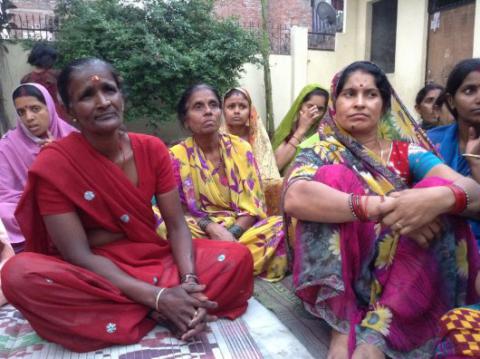 Domestic Workers of the Gharelu Mahila Kamgar Union, Kanpur, Uttar Pradesh, air their grievances during one of their monthly meetings., Sindhu Menon
"Dogs and Indians not allowed," proclaimed a notorious 1930s signboard at the Pahartali European Club in the Chittagong region of India (now in Bangladesh), when the country was under British rule.
Today, in the 21st century, in recreational and residential spaces throughout Indian cities, there's an invisible sign which says: "No domestic workers allowed".
Saroja, who works for five different households in Bangalore knows all about this unspoken rule.
"The residents take their dogs downstairs through lift. Their dogs walk in the garden, but we [domestic workers] are shooed away by the security guards".
Nagamma, a 63-year-old asthma sufferer who used to work as a domestic help tells Equal Times:
"I had to climb to a seventh floor apartment because I wasn't allowed to take the lift. Eighty-four steps at a go! I had to quit."
Saroja and Nagamma are not exceptions; they are just two of the between 4.1 million and ten million people [editor's note: the huge disparity comes from the high incidence of undeclared domestic work and the varying definitions of domestic work]– the vast majority women - working in private households in India as servants, cleaners, cooks and carers.
Hundreds of thousands of them endure untold suffering because of their perceived subordination due to caste, class and simply because of what they do for a living.
Abuses range from un- to underpaid wages to forced labour, physical violence, starvation and even death.
To coincide with International Domestic Workers' Day on 16 June 2015, the International Domestic Workers Federation (IDWF), the International Trade Union Confederation (ITUC) and Friedrich-Ebert-Stiftung (FES) are teaming up with various national trade union centres in India to hold a two-day strategic meeting about how to better organise domestic workers, and how to ensure India's ratification of the International Labour Organization (ILO) Convention 189 on the Rights of Domestic Workers.
Poverty wages
Domestic workers perform a vital role in India's so-called "tiger economy".
By outsourcing their household chores, the minority of educated housewives from the middle- and lower-middle classes are able to enter the labour market and climb the career ladder.
But India's domestic workers seldom have such opportunities.
Statistics reveals that 73 per cent of working women in India are illiterate or educated only up to primary level.
In such a context, domestic work is one of the few areas of work available for the majority of unskilled women workers.
They frequently work seven days a week, enduring poverty wages [despite often working in multiple households], no paid leave, zero maternity or social protection, violence and unhygienic living and working conditions.
"We are not given off days and when we fall sick or take leave, our wages are deducted for that day. When we return the amount of work is double, but the employers don't take that into account," says Rajkumari, a domestic worker from the city of Kanpur (population 2.5 million) in the state of Uttar Pradesh.
Domestic workers also suffer from high incidences of chronic diseases, malnutrition and other poverty related ailments.
For this, they barely earn enough money to survive.
"There is no minimum wage for domestic workers in Uttar Pradesh [editor's note - seven states in India do have a minimum wage for domestic workers]. The average wage they earn in the industrial city of Kanpur isn't even enough to cover the food expenses of their family," says Meenu Sur, general secretary of Gharelu Mahila Kamgar Union,(the Domestic Women Workers' Union, or GMKU) in Kanpur which has organised some 15,000 members, mainly poor women from Dalit and other marginalised communities.
"What strikes me most with the issues of domestic workers is, why they are not recognised, respected and protected, though they are very much part of a productive economy," says Geeta Menon of the Karnataka Domestic Workers Union.
Father Chetan Chandra of the National Domestic Workers Movement, agrees: "The biggest problem is the non-recognition of labour, and minimum wages or decent wages for domestic workers."
But Veena Singh, president of the India National Trade Union Congress (INTUC) Women's Committee says that policies are not the main problem when it comes to protecting the rights of domestic workers; putting them into practice is.
"It is not that there is a dearth for policies benefitting domestic workers," Singh tells Equal Times, "but the issue is how to get it implemented".
Discrimination
Caste plays an unavoidable role in the lives of domestic workers in India, where lower caste families still continue to work as bonded labourers for upper caste households.
Lower caste workers are seen as dirty which is why they are considered "suited" to task of performing household chores.
"Even if I go to work after taking a bath, my employer doesn't trust [that I am clean] until she sees water dripping from my hair", says Saraswathy, a domestic worker from Karnataka state.
"The employer pours water on everything I have cleaned and sprinkles water in places where I have walked to 'purify' the area since I am of a lower caste," she says.
Pankajam, a domestic worker from Bangalore can relate.
"I bath the baby of my employer. But, I am not allowed to touch the baby after that," she says, revealing that she is often verbal assaulted and taunted. "Even the small child calls me names. It hurts."
There are a large number of Bangladeshi immigrants working in New Delhi households, but many of them have to replace their traditional Muslim dress and even their Muslim sounding names in order to get work.
The discrimination against domestic workers also extends to the issue of sanitation.
Domestic workers are usually barred from using the toilets inside the houses they clean.
In multi-storied apartments, they are asked to use the common toilet which is always on the ground floor.
Lakshmi, a 60-year-old with arthritis works in a ninth floor apartment. She tells Equal Times: "My work starts at 8.00 am and continues until 6.00pm, but I have to take the stairs to go to the toilet on ground floor, which makes life miserable"
Radha, a domestic worker from Tamil Nadu, says: "We are the ones who clean the toilets and keep them spick and span, but we cannot use them because we are servants".
This has serious health consequences.
"Most domestic helps suffer from urinary tract and bladder infections, as well as the mental tension they undergo to control urination," says Vahidha Nizam, General Secretary for the All India Trade Union Congress (AITUC) domestic workers' union in Tamil Nadu.
She says that "initiatives [to improve the lives of] domestic workers cannot be successful unless the caste and class stigma is removed".
But for Champa Verma, head of the Hind Mazdoor Sabha (HMS) women's committee, it will take more than language sensitisation to improve the lot of domestic workers.
"Replacing the usage of 'servant' to a more sophisticated word like 'domestic help' will not change the situation. Society should learn to acknowledge them as workers".
However, everyone agrees that unionising domestic workers is not an easy task.
"Despite the fact that there is an increase in the number of domestic workers, the trade is still unregulated," says Manali Shah, the national secretary of the Self-Employed Women's Association (SEWA).
"Domestic workers work in isolation from other workers because the place of work is a private household. Due to this complexity they are never capable of individual and collective bargaining," she adds.
But in spite of these challenges, Indian trade unions are currently working with domestic workers in 13 Indian states.
And the government of India has a number of other steps to promote decent work for domestic workers.
Thanks to initiatives from the Ministry of Labour and Employment, seven states have fixed minimum wages for domestic workers and ten states have established Welfare Boards registering the placement agencies which recruit domestic workers.
But put in a global context, India needs to do better. So far, 21 countries have ratified Convention 189 on domestic work, but India is yet to act.
National legislation which recognises domestic work as real work, and not simply as an extension of unpaid household and care work, is an urgent task for one of the world's biggest economies.
But for millions of women at the bottom of the care economy food chain, this continues to be a distant dream.
Sindhu Menon is Special Correspondent for Labour File, a bimonthly journal on labour and economic affairs, produced by the Information and Feature Trust in New Delhi.