Update on Rana Plaza: Analysis Linking to Cotton and Slavery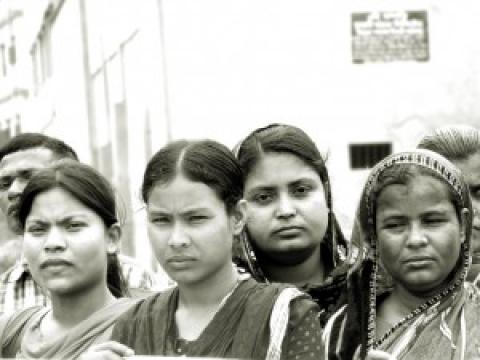 Bangladesh, Rana Plaza Demonstration April 2015, Balmi Chisim, Solidarity Center
At the recent LAWCHA conference here in Washington, D.C., I was among those applauding heartily when Empire of Cotton: A Global History, Sven Beckert's sweeping study, received the Philip Taft Labor History Book Award. It's worth taking a look at how the "empire," carries on today, as Beckert asserts.
Beckert's examination of centuries of production, trade and consumption of cotton is predicated on a thesis that privileges the state as an actor on behalf of the entrepreneurs, traders and others who coalesced, dispersed and regrouped in ever-shifting coalitions in search of profit.
Central to this endeavor is what Beckert defines as "war capitalism." "Slavery, the expropriation of indigenous peoples, imperial expansion, armed trade and the assertion of sovereignty over people and land by entrepreneurs were at its core." (xv)
One of the threads that best illustrates how cotton, capitalism and the state intersected in lives of laborers is the evolution of cotton production in Dhaka. For two hundred years after the British East India Trading Company set up shop there in the 1600s, weavers maintained control of their working conditions, with British merchants forced to subcontract the securing of cloth through banias, local traders who guarded their relationships with inland farmers who grew, spun and wove the goods with the world's finest cotton. (33-34) This internal control prevented the British from maximizing profit through cotton production.
But through a combination of technological advancements, state-supported protectionism and prodigious cotton production, largely by slaves across the British Empire and in the United States, British cotton quality and production soared—and the livelihoods of Dhaka workers were destroyed. "Spinners, especially hard hit, 'died of famine,'" and the people of the once thriving manufacturing city had been "reduced and impoverished." (74-75)
Desperate to survive, spinners left their homes and farmers their cotton fields, forced by the 1800s to work in factories where their wages, hours and lives could be channeled and controlled for the creation of cotton goods for export.
Today, many players have shifted roles in the evolution of cotton capitalism, but in Dhaka, much remains the same. Bangladeshis move from impoverished villages where there are no jobs to Dhaka, where they work in garment factories making clothes for export and often risking their lives doing so. Some 1,100 were killed when Rana Plaza collapsed in 2013, and more than 120 died when the Tazreen Fashions Ltd. factory went up in flames and the workers, like those at the Triangle Shirtwaist factory, were unable to escape because of locked exits.
In the two years since the Tazreen fire, at least 31 workers have died in garment factory fire incidents in Bangladesh, and more than 900 people have been injured (excluding Rana Plaza), according to data from the Solidarity Center, an international labor rights organization where I work.
After the U.S. government in 2013 suspended its Generalized System of Preferences (GSP) agreement with Bangladesh for chronic and severe labor rights violations—an extremely rare move—more garment workers organized and formed unions to address safety problems and low wages, and the government accepted union registrations with increasing frequency.
But in recent months, those freedoms are increasingly rare, say garment workers and union leaders.
"After the Rana Plaza and Tazreen disasters, it had become easier to form unions," says Aleya Akter, president of the Bangladesh Garment and Industrial Workers Federation (BGIWF). But since November 2014, the government is more frequently rejecting registrations, she said, speaking through a translator while at the Solidarity Center's Washington, D.C., office.
Overall government rejections of unions that applied for registration increased from 19 percent in 2013 to 56 percent so far in 2015, according to data compiled by Solidarity Center staff in Dhaka. Despite garment workers' desire to join a union, they increasingly face barriers to do so, including employer intimidation, threatened or actual physical violence, loss of jobs and government-imposed barriers to registration. Regulators also seem unwilling to penalize employers for unfair labor practices.
Bangladesh's $24 billion garment industry is the world's second largest, after China, and the government works closely with its garment manufacturers to ensure a steady profit stream, one dependent upon the often brutal exploitation of workers. Sohel Rana, the owner of Rana Plaza, was a leader of the youth section of the government's ruling party, and despite the U.S. trade sanctions, the Bangladeshi government has stalled in bringing to justice to those responsible for the 2012 murder of garment union leader Aminul Islam.
As Beckert succinctly summarizes:
"The violence of market making—forcing people to labor in certain locations and in certain ways—has been a constant throughout the history of the empire of cotton." (441)
The views expressed in this article are solely the author's.
Tula Connell is senior communications officer at the Solidarity Center, an international labor rights organization. She received her Ph.D. in American History from Georgetown University in 2011 and is the author of Conservative Counterrevolution: Challenging Liberalism in 1950s Milwaukee, forthcoming from the University of Illinois Press in 2016.
Thanks to Rosemary Feurer for submitting this posting to Portside.