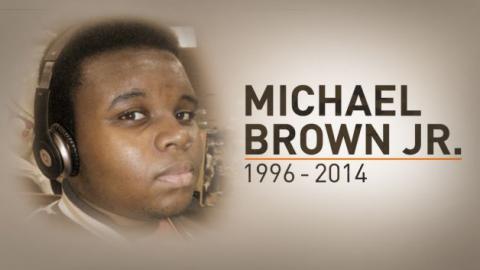 ,
Kids Who Die
Hate Groups Surge, Raking In Cash and New Recruits After Charleston Massacre
Kids Who Die
Frank Chi and Terrance Green
Color of Change
August 6, 2015
http://colorofchange.org/amovementgrows
It's been 77 years since civil rights activist and poet Langston Hughes wrote his chilling poem "Kids Who Die," which illuminates the horrors of lynchings during the Jim Crow era. Now, as we approach the one year mark of the tragic police killing of Michael Brown and the Ferguson uprising that sparked a growing movement, Hughes' words remain painfully true today.
Frank Chi, a progressive media consultant, and Terrance Green, a filmmaker and strategist, have created a powerful video visualizing the injustice of present day police violence through Hughes' poem. Inspired by the incredible acts of resistance that have taken place since August of last year, Terrance and Frank's creative work confronts the reality of what it means to be Black in America.
August 9th is a big day for the movement and many of us will wrestle with the weight of its many meanings. While this Sunday represents a day of unconscionable tragedy, it also marks the rebirth of a powerful Black-led movement to end systemic racism that is poised to change the world.
Click here to watch the "Kids Who Die" video. Once you are done, help us spread its message by sharing with your friends and family.
Thanks and peace,
— Arisha, Rashad, Shani, Lyla and the rest of the ColorOfChange.org team
August 6th, 2015

---
ColorOfChange is building a movement to elevate the voices of Black folks and our allies, and win real social and political change. Help keep our movement strong.
Hate Groups Surge, Raking In Cash and New Recruits After Charleston Massacre
Heidi Beirich
Southern Poverty Law Center
August 5, 2015
https://www.splcenter.org/hatewatch/2015/08/05/hate-groups-surge-raking-cash-and-new-recruits-after-charleston-massacre
The hate site Stormfront and other racist groups have raked in hundreds of new members and tens of thousands of dollars since Dylann Storm Roof's brutal June 17 killing spree in Charleston, S.C. Now, Florida officials are investigating Stormfront for illegal business activity.
At its current pace, the hate forum Stormfront will have collected more than $20,000 in donations from its racist supporters in the eight week period following the Dylann Storm Roof massacre in Charleston, S.C. While the rest of America mourned the murders of nine members of an African American church, the mass killings generated a 100 percent spike in Web hits for Stormfront and record cash flow for the world's largest and most lucrative hate site. 

An odd and macabre kind of commerce took off after the violence in Charleston. Just days after the murders, confederate battle flag sales spiked on Amazon and elsewhere before retailers began removing them from the shelves.
Hate groups, however, appear to be the biggest and most shameless "beneficiaries" of the tragic, senseless killings by one of their own. 

Even negative publicity directly linking the murderer to a specific group seems to have generated money and members. Earl P. Holt, C.E.O. of the Council of Conservative Citizens, bragged online two weeks after the killings that the media attention brought on by the shooter, Roof, mentioning his group in his manifesto had "swelled our membership."
And word of federal law enforcement scrutiny targeting certain hate groups generated even more money. After the FBI visited Stormfront's founder, Stephen Don Black, 62, early last month, possibly presenting him with a federal subpoena regarding his connection to the killer, an additional fundraising campaign was started on Stormfront for Black's anticipated legal fees. (According to an interview in The New York Times, Black "would not comment when asked if he had been served with a subpoena but said lawyers were involved.")
One of the most clever and cynical online fundraisers in the racist right, Black took in more than $5,000 within a few days of the announcement he needed money for legal help.
But at least in Stormfront's case, the cash may not flow so easily for long. Questions have emerged about the legality of operating the world's largest hate website from a private home in suburban West Palm Beach, Fla.
Donald Trump's Mansion is "Across the Street"
The facts seem to suggest that he does indeed run a business. The website's self-described "proprietor," Don Black, solicits funds online, ostensibly to pay expenses for his Web connection and Stormfront's radio broadcast fees. Black collects more than eighty percent of this money via credit card transactions and typically takes in close to $100,000 a year.
Black, a former Klansman, often complains online about the "rich Palm Beach Jews" living in the wealthy community where he runs his family business, though he recently bragged that Donald Trump's mansion is "across the street."
Local government officials have indicated to Hatewatch that Stormfront may be operating as a business in violation of city ordinances. They confirmed that Black does not have a "business tax receipt" which is required to run a home business. Such permits are only issued after zoning officials sign off on them, according to city officials.
Stormfront is not a registered non-profit or tax-exempt organization and it appears to meet the legal definition of a business "engaging in commerce" in Palm Beach County. Black also appears to be illegally operating at a location that restricts home businesses under municipal zoning regulations unless explicit permission from the city is given. City officials told Hatewatch that without the business tax receipt, no business can be conducted from a home in their locality.
It's a simple question: Is Don Black soliciting donations or is he, in fact, selling a product? Technically, in the state of Florida, Stormfront is currently set up in a way that seems to meet the definition of a business, since it sells an online product to consumers through a pay wall that offers users a tangible service or consideration for a fee.
Specifically, Stormfront sells bandwidth and access to private sections of its site and even publishes a price list for these services.
The "Sustaining Member" fee of $50 a year, for example, grants the user a larger avatar, color-coded user-name recognition on the forum as a sustaining member and exclusive access to the sections of Stormfront available only to paid-up subscribers.
The online offering reads: "Those who contribute at least $5 a month (or $50 for a year) and supply us with their username on the board will be added to the Sustaining Members usergroup, which will mean they get a few special privileges -- a special 'Friend of Stormfront' designation under their username, custom titles, larger Avatars, higher PM limits, higher attachment limits, personal blogs, social groups, and access to a special private forum and chatroom, including financial guru Yggdrasil's Market Track."
The "Core Member" fee of $360 a year (minimum of $30 a month) grants the user even more access and consideration. And the "Lifetime Member" fee of $1,000 grants more exclusive access.
An online service that sells content or site access through a pay wall is considered a taxable business in the state of Florida. And in Palm Beach County that requires a license.
"The law requires any business in Palm Beach County selling merchandise or services to purchase a Business Tax Receipt. This includes one-person companies and home-based businesses," reads the municipal code.
The statute is clear: "It shall be unlawful for any person, either directly or indirectly, to conduct any business, profession or occupation or to use in connection therewith any vehicle, premises, machine or device, in whole or in part, for which a business tax receipt, license or permit is required by any law or ordinance of this city without a business tax receipt, license or permit therefore being first procured and kept in effect at all times as required by this article or other law or ordinances of the city. Such business tax receipts shall be required of…" (Code 1979, § 18-22; Ord. No. 4006-06, § 1, 12-18-2006)
According to a clerk in the Palm Beach County business tax office, Stormfront had a business license for Black's Lakeland Drive residence in 2011 but has not renewed it in the past four years. (The clerk recommended the SPLC file a fraud report on their website.)
Technically, Stormfront can't collect funds without being licensed in West Palm Beach. It is against banking regulations to operate a credit card merchant account or a business checking account without a business license in the state of Florida.
In the City of West Palm Beach, business licenses are also restricted by location through zoning laws and Black's residence is in a restricted area that prohibits operating a business without a zoning waver.
According to a staffer in the City of West Palm Beach's Development Services office, there has been no zoning variance issued for Black's Lakeland Avenue address.
Nor does Stormfront appear to collect or pay sales taxes for these online transactions. Legally, the site is a private membership organization that charges an admission fee for access, which are among the taxable business activities in the State of Florida. According to city officials, Black may be required to pay three years of back taxes as well as taxes for the current year, if he is operating in violation of various local and other codes.
Additionally, the state's department of revenue could ostensibly subpoena Stromfront's bank and credit card transaction records to determine if Florida residents in particular paid sales taxes for transactions on the site. Those users could be held personally liable for any unpaid sales taxes.
Last year, Amazon began collecting sales tax in the state of Florida.  And much of Amazon's business in the state is similar to Stormfront in that it charges a fee for digital content, including Kindle books, music and video downloads.
There are substantial fees and fines for failing to collect the six percent sales tax on business sales transactions in the state of Florida. There are also costly consequences in Palm Beach County for operating a business without a license. Fines can be further levied by the City of West Palm Beach for operating a business in an area prohibited by zoning laws.
Under Don Black's user name on the hate site he does not identify as a philosophical leader in the racist movement. He self-identifies as the "proprietor" of the site, the person who owns the business of Stormfront.org.
Three weeks ago, Black seemed to admit he is knowingly operating an illegal business. On July 12, in the Sustaining Members section of Stormfront, Black responded to users who wanted to send money or merchandise to his home by registered or overnight delivery. He wrote: "Anything else, particularly if you want a signature, should be sent to me at 203 Lakeland Drive, West Palm Beach FL 33405. Any of the shipping companies will work, but Fedex might be best."
Then he added: "My home address is all over the Net anyway, circulating in particular among the anti-White crowd, so I would probably use it as Stormfront's address, if that didn't technically violate zoning laws." (italics added)
Technically, the "proprietor" of the business called Stormfront, knows it certainly does.