Art Show Captures Wrenching Effects of Closing a School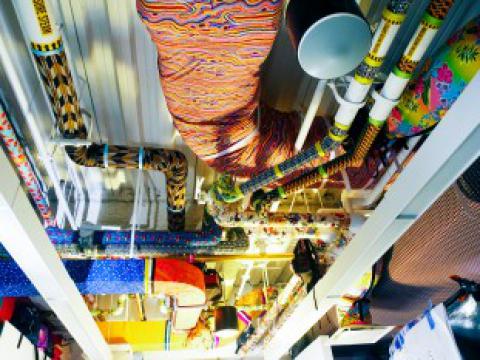 , reForm
A school may be made of bricks and mortar, but when one closes, the loss can feel like a death in the family.
So, when Philadelphia started to close 31 public schools three years ago, there was an outpouring of protests, grief and tears — emotions captured in "reForm," a show that opened on Friday and focuses on one shuttered school and its neighborhood.
The exhibition, in a converted basement space at Temple University's Tyler School of Art in North Philadelphia, is a model of a classroom at Fairhill, a kindergarten-through-eighth-grade school a mile away that closed at the end of the academic year in 2013.
The space is filled with familiar equipment like lockers, books and desks — 80 percent of which comes from the school itself — but also includes written and oral testimony about the closure and its wrenching effect on students. In a corridor, a row of cubbies from Fairhill has backpacks, jackets and coat hooks, and a glass case houses a stuffed bobcat, the school's mascot, standing on a pile of opened books.
Inside the classroom, a blackboard is covered by the text of a letter sent by Dr. William R. Hite, the school district's superintendent, to Fairhill's principal, Darlene Lomax, informing her of the decision to close the school.
"Our circumstances require us to reduce the unused space in our schools so that we can better use resources on providing students with a safe environment and a higher-quality learning environment," says the letter, written on the board in what looks like a chalk script.
The room also contains a teacher's lectern, affixed with part of a "property available" sign. This recalls the actual placard on the shuttered building, with which the school district hopes to attract buyers.
Among the most eloquent components are essays by nine Fairhill students who contributed to the show. They wrote in pencil directly onto the walls of the exhibition that are covered with oversize lined paper to look like exercise books.
"Whenever I see the school and the ruins, I wanna break into tears," wrote Jacob Rodriguez, 17, who attended Fairhill from kindergarten through eighth grade. The direct application of pencil to the walls expresses the authenticity of the students' feelings about the closure, said Pepón Osorio, the creator of the exhibition and a professor at Tyler.
"There is a sense of the urgency; there is a sense of allowing them to be able to say what they think is important right there in the moment," Mr. Osorio said. "They had control; I wasn't filtering." (On the wall, Mr. Rodriguez's use of 'wanna' is corrected to 'want to' in red pen by a former English teacher who also corrected other students' submissions.) In an interview, Mr. Rodriguez recalled his feeling of belonging to the school. "Every time I went there in the morning, it was just a positive atmosphere, even though it was a real bad neighborhood," he said. "People would say good morning to you as soon as you walked through the door. It was a genuinely good place."
Kiara Villegas, 15, wrote on the wall: "They closed our school, for what reason though?"
Ms. Villegas, who attended the school from first to seventh grades, described it as a haven. "It was like a second home to me," she said in an interview. "The teachers were like parents to me." Spoken responses to the closure by Ms. Villegas and 12 other students are recorded in a row of video screens, built into shrinelike structures and supported by giant yellow pencils, standing along one wall of the classroom.
The video statements, which provide a repeating oral backdrop to the show, express a sense of powerlessness against bureaucratic decisions and a fear that the closure would damage their education and increase the danger of falling into a life of crime and incarceration.
In an effort to understand how their school was chosen for closure, the participating students made models of the senior officials who were connected to the decision, including Superintendent Hite; the former Pennsylvania Gov. Tom Corbett; and members of the state-appointed School Reform Commission who made the final decisions.
"It's really about understanding not only the implications but also the system itself," said Mr. Osorio, a prominent installation artist and former social worker. "Very few of them knew there was a School Reform Commission."
Fernando Gallard, a spokesman for the school district, said, "We completely understand the feelings of the students and their community that something that was part of their community was closed." He said Fairhill was in a neighborhood where there were two other elementary schools a few blocks apart. Each school was operating at 58 percent to 65 percent of student capacity, but Fairhill was chosen for closure because it was low-performing and was in poor physical condition, he said.
Mr. Gallard said district officials would be willing to meet with any community groups that might form in response to the exhibition, and he said that he personally would visit it.
Mr. Osorio, whose previous work includes the 1994 creation of a crowded inner-city barbershop, said he chose the school over others that were shuttered because it is on his commute to work.
"The ghost of the building, and the presence of that ghost around the neighborhood, and what that meant for the community," he said, "was overpowering to me."
"reForm" opened Friday and runs through April 2016, at Temple University's Tyler School of Art, 2001 North 13th Street in Philadelphia, tyler.temple.edu/reform.