tv
US Television Wakes Up to Growing Latino Audience with New Options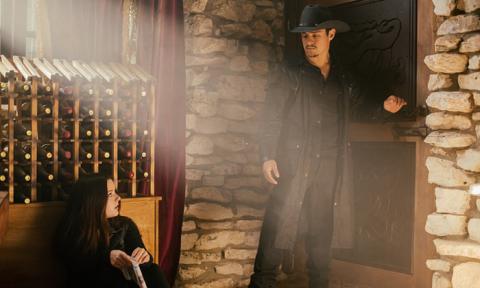 El Rey's From Dusk Till Dawn: The Series, Ryan Green
We're approaching the end of Hispanic Heritage Month (15 September to 15 October) and those channels that cater to Latino audiences have produced lineups of influential movies, rollouts of new series, and even a contest for first-time film-makers looking to break through into television. But as 1 October approaches, Latino audiences will still be tuning into their televisions as much as those in mainstream markets – if not more – and will find a very different landscape for them than just a few years ago.
There are about 54 million Latinos living in the US as of 2013, according to the US Census Bureau, making up approximately 17% of the population and 20% of the 18-39 demographic that advertisers crave. Those young Latinos, one of the fastest-growing demographics in the country, now have some new television options aimed at them.
El Rey is a cable channel currently carried in about 40 million homes that is co-owned by film-maker Robert Rodriguez and Spanish-language powerhouse Univision. It launched a 24-hour programming schedule in February of last year. "Our mission statement is to connect the most culturally diverse generation in history through fearless, bold, original, badass content," says Dawn Holiday-Mack, the vice-president of audience strategy and insights for El Rey.
That means English language programming that can catch on with a mainstream audience but that is geared toward Latinos. "We don't want a sitcom or a drama that is exclusively about anything we stereotypically attribute to a Latino family or household," Mack says. "We want them to grapple with things that every household grapples with, but when you look at all the characters, you just don't see white faces. That's what we want to strive for. And diversity behind the camera as well."
In contrast, according to a 2014 study from Columbia University's Center for the Study of Ethnicity and Race, no Latinos wrote pilots for network television during the 2011-2012 season. El Rey's commitment to engaging English-language Latinos has translated itself into programs such as From Dusk till Dawn: The Series, based on supernatural movie directed by Rodriguez and written by Quentin Tarantino. There is also reality program Lucha Underground, about the Mexican professional wrestling circuit.
Mack says that El Rey's audience is currently about 20% Latino, 20% African American, 10% Asian, and 50% white, though the specific demographics shift based on specific programming.
Fusion, a joint venture between ABC and Univision that launched in 2013 and is also in about 40 million homes, also focused on the English-speaking Latino audience, but has since changed its strategy and pivoted away from the Latino focus to try to attract millennial viewers in general. (But don't confuse that pivot with Pivot, another channel aimed at younger viewers.) A spokesman from Fusion did not return repeated requests for comment for this story.
NBC Universo, a cable channel formerly known as Mun2 that launched this February, is striking a balance between programming that is in English and Spanish. The channel shows major sporting events like the Super Bowl, Olympics and World Cup in Spanish, but its entertainment offering consists of original programming in both languages, shows like Battlestar Galactica dubbed into Spanish, and some English-language programs with Spanish subtitles.
"When we're doing a show and it goes into English that's fine for us," says Rubén Mendiola, president of NBC Universo. "I think that is a reflection of Latinos in the United States. A lot of us, we express ourselves better in English and sometimes better in Spanish. I think that back and forth is something that is more natural nowadays in general."
What Mendiola sees as the big differentiation between his channel and others, however, is that it is more like an English-language cable channel like FX or AMC, with high-quality original programming that is edgier or more daring than the things found on broadcast television. In the Hispanic market that means no telenovelas, the dominant form of melodrama that is a limited run but airs every night of the week. Upcoming original programs on the network include El Vato, a story about a Mexican songwriter who moves to LA to become a huge star, and El Sexo Débil, about five successful men whose lives are turned upside down when their women leave them.
"I don't see a lot of Latino characters and figures on the television," Mendiola says. "For us to bring the American sensibility that we are used to but with Latino characters, I think that has been very welcome and very needed for Latinos in the United States. I think that's important to have the younger generations reflected as all sorts of characters on television. That allows the younger generations to find a situation where they can do whatever they want."
Telemundo, a broadcast network headquartered in Miami that produces 70% of its own content, is dedicated both to Spanish-language content and the familiar telenovela format, though the content is getting a lot more savvy for American audiences. El Señor de los Cielos, a ratings hit that draws about 3 million viewers and sometimes outperforms English-language networks in its time slot, is about a Mexican drug kingpin who is also dealing with his family, sort of like a Spanish-language Breaking Bad.
"We're sticking to Spanish language because we think that's our differentiating characteristic in being authentic," says Glenda Pacanins, the senior vice-president for programming and content at Telemundo. She notes the language isn't the key difference between her show and Breaking Bad. "The approach to how the story is told is very different. How they talk, the slang they use, the music: It's very different. It's very culturally relevant to our audience."
But what if American Latinos stop speaking Spanish? Pacanins says that has been a question for the 20 years that she has worked in Spanish-language media and it has yet to happen. Both Pacanins and Mendiola note that many viewers are commenting about their Spanish shows on social media, but speaking in English, the language they're more comfortable expressing themselves in. Experiments with targeting younger Latino viewers only in English are still so new that it's hard to draw any conclusions about its effectiveness.
This all comes at a time when Empire is the hottest show in town and multiculturalism has proven that it can be huge for ratings. The CW is pushing the telenovela format toward the mainstream with Jane the Virgin, which has been a critical hit and Golden Globe winner for the network. Netflix has seen success by allowing American subscribers to watch Spanish-language content it acquired from other markets. The streaming service launched its first Spanish-language original, the comedy Club de Cuervos this summer, and recently debuted Narcos, a show about Pablo Escobar and the DEA agents trying to capture him that is equally in English and Spanish, though subtitled for the general audience.
"Everyone is waking up to the fact that [Latino viewers] are a huge component to the audience of any series," Pacanins says. "You have to do it in a way that is real for people and for them to say, 'That is me.' And I think mainstream media is trying to get there."
While Hollywood tries to catch up to this growing population, still there were zero Latino lead actors or actress in the top 10 movies or scripted broadcast television shows in 2013, according to the Columbia University study. That means Latino-focused television continues to play an integral part in reaching this large and fast-growing segment of the population.
In order to keep current, Telemundo is now offering its content not only through broadcast, but also its website and mobile devices. According to Nielsen, Hispanic audiences spend more time watching video content streaming online and on mobile devices than mainstream audiences. In response, last week Telemundo launched the second season of Señora Acero not only on broadcast but simultaneously on Telemundo.com, YouTube, and streaming service Periscope, reaching more than 3 million total viewers on premiere night.
Even as mainstream outlets start to pay more attention to Latino viewers and with new frontiers popping up on cable, things are changing as rapidly on television for the Hispanic audience as they are for everyone else. What seems to be a new constant, however, is that the focus on this market is certainly going to grow.
This article was amended on 8 October 2015; NBC Universo is not operated by Telemundo.